How to Use the 10 Motives E-Cigarette
Wednesday, 19 August 2020 | Eugene
You may have heard that the 10 Motives Rechargeable Electronic Cigarette is a cost-effective alternative to smoking regular cigarettes, but is it as easy to use? At Health and Care, we've been supplying e-cigarettes and other smoking cessation devices to our customers for years, and we're here to confirm that 10 Motives makes it as easy can can be. Below, we'll outline how simple the 10 Motives E-Cigarette is to use in just three steps!

Every 10 Motives Rechargeable E-Cigarette Starter Kit is supplied with a battery and a refill cartridge – everything you need to start vaping right away!
To ensure freshness, the 10 Motives refill cartridges are sealed with a rubber cap on each end. Take them off to unleash the flavour!

The white battery and orange refill cartridge are made to go together. Screw them together to get your vaping journey on the road.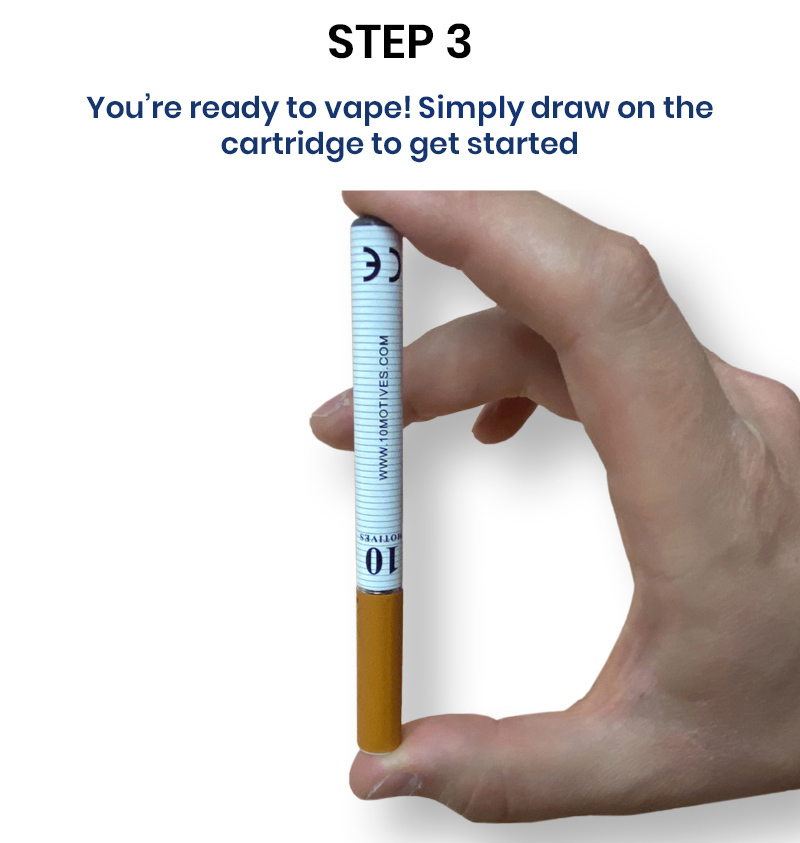 That's it, that's all. Once the battery and cartridge are screwed together with a tight seal, you're ready to go!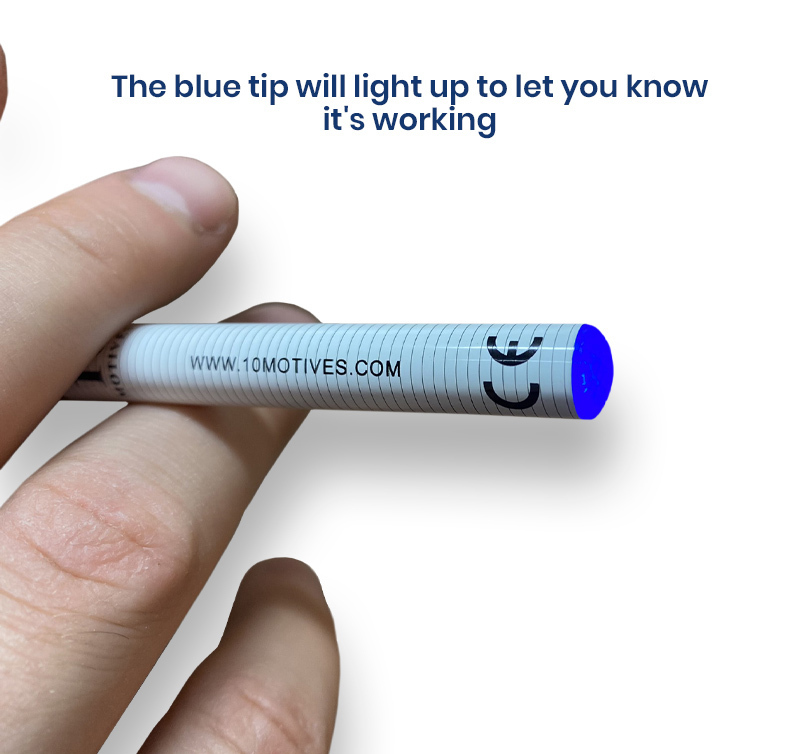 As if the vapour hit won't be enough to tell you that you've started, the helpful blue tip lights up to confirm that your 10 Motives E-Cigarette is working properly!
What's the Best Kit to Get Started?
To get started with 10 Motives, we recommend the 10 Motives Rechargeable E-Cigarette Starter Kit, which is supplied with a battery, refill cartridge and charger. This kit is also available in a Menthol Version. You can see all of the 10 Motives kits and refill packs available on the 10 Motives Electronic Cigarettes and Refills page, all available with free UK delivery.
How Do I Activate the 10 Motives E-Cigarette?
No buttons, no switches, nothing to adjust at all. To use the 10 Motives E-Cigarette, simply bring it to your lips and draw. This will provide you with a full-bodied hit every time, allowing you the pleasure of that real tobacco or menthol taste with none of the harmful smoke or tar.
How Strong is the 10 Motives E-Cigarette?
The 10 Motives E-Cigarette is available in a range of nicotine strengths, allowing you to perfectly match your e-cig to your needs. Choose between low, medium and high strengths, ensuring you can find an e-cigarette that packs just the sort of punch you're looking for. See below for a list of strengths and flavours.
FREE Starter Kit Offer On 10 Motives!
To get you started on the right foot with 10 Motives, Health and Care is offering a FREE 10 Motives Rechargeable Regular E-Cigarette Starter Kit with any purchase of a 10 Motives product. This offer is limited to one per customer and/or household and is available ONLY to existing Health and Care customers who have not already purchased a 10 Motives product. Please enter your details below and we will offer you the voucher code to use at checkout.
What Flavours and Strengths are Available?
10 Motives goes above and beyond other e-cigarettes by offering a huge range of strengths and flavours, each designed to satisfy a different taste. Flavours and strengths include:
Are you considering trying 10 Motives? Why not let us know in the comments below, or find us on Twitter or Facebook!
Tags: E-Cigarettes, Smoking Alternatives, Brand Focus, 10 Motives E-Cigarette
Disclaimer
Please be aware that this products mentioned contain nicotine, which is a highly addictive substance. E-cigarettes are not intended as an aid to smoking cessation and are only intended as an alternative to other tobacco products.