How To Stop Your Shoes Wearing Down On One Side
1 Comment
Monday, 17 March 2014 |
Paul
Nobody likes when their favourite pair of shoes starts breaking down before they're supposed to. Over time, every pair of shoes will eventually succumb to wear and tear, but there are plenty of ways to keep them at their best for longer. One of the most common causes of breakdown is that shoes may begin to wear down on one side, creating a lopsided effect that can destroy your shoes and throw off your step.
Luckily, it doesn't have to be this way. The rate and way in which our shoes wear down is affected by many variants: from body alignment and bio mechanical stresses to the kind of shoes we choose to wear. The common problem of having your shoes break down on one side is related to all of these factors, and by changing a few key things you can almost eliminate the problem entirely.
Your Shoe Saviour: Pedag Correct Heel Pads
Out of all the methods to keep your shoes from breaking down, this is the most effective solution. The Pedag Correct Heel Pads are well-cushioned heel pads that provide a soft, pleasant walking experience, helping to correct a range of gait problems that lead to shoe breakdown.
These heel pads will correct your walking posture and therefore level out your heels to reduce the pressure that causes shoes to wear down. By evening out the pressure you place on your instep or the outside of your shoe, your weight will focus on the centre of the sole, providing optimal pressure distribution that your shoes can deal with. As an added bonus, you'll feel much more comfortable as you walk as well.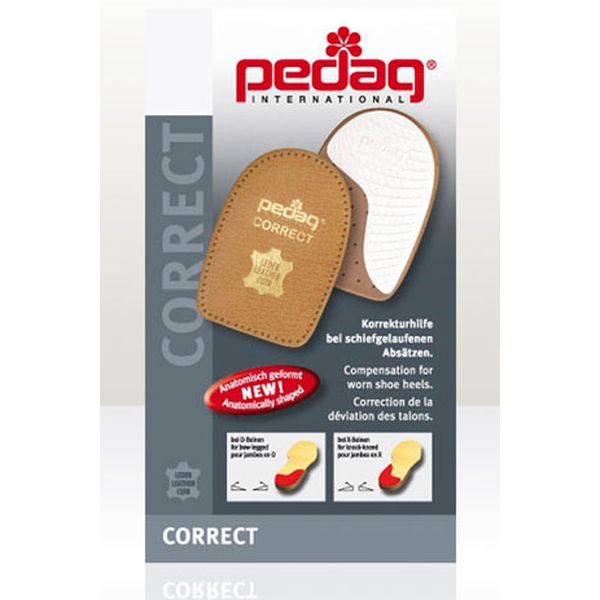 Comfort and Durability
These heel pads are not only a solution to shoes wearing on one side; they're great for a range of other problems as well. They provide a simple solution to bow legs or knock-knees, levelling out your legs as you walk for a smooth, uninterrupted stride. Made from genuine leather, these pads feature a self-adhesive underside, ensuring they stay where they need to be for all-day relief and shoe protection.
Visit us at www.HealthandCare.co.uk to purchase your own pair of Pedag Correct Heel Pads with free delivery. Buy any 3 Pedag Products and get the cheapest FREE!
Do you have any questions about Pedag Correct Heel Pads, or something to add? Share your thoughts below or find us on Facebook and Twitter!