How to Stop Face Sweating 2022
Tuesday, 14 December 2021 | Paul
Excessive sweating on the face can range from being mildly annoying to being a life impacting problem. The medical term – hyperhydrosis – is often nothing to worry about, however it can make social situations awkward, make work meetings a cause for embarrassment and can lead to clothes getting soaked within a few minutes.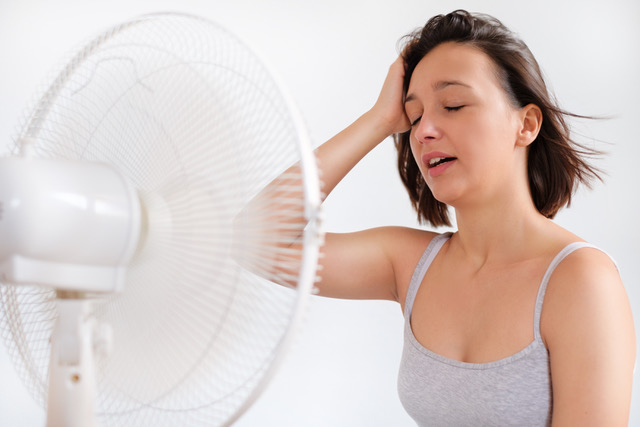 How to Beat Facial Sweating
While excessive sweating can be a product of a serious underlying health condition, more often it is just your genetic make up, making it a problem that isn't serious despite being it causing major disruption to your life. The good news is that there is something you can do about it, starting with facial antiperspirants.
Try Facial Antiperspirants
Our Number One Facial Antiperspirant: Neat 3B Face Saver Gel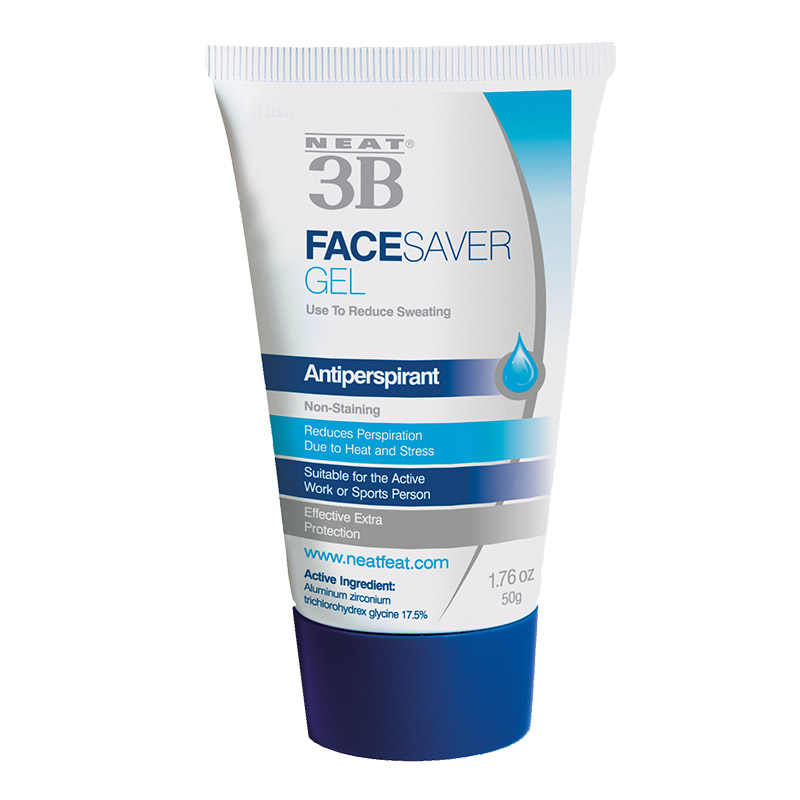 Why We Love It...
✔ Makeup-resistant gel for relieving facial sweating
✔ Apply anywhere on the face aside from the eyes and scalp
✔ Works just like any other antiperspirant, but for the face!
Ideal For...
✔ General everyday use
✔ Menopausal sweating, hyperhydrosis and social anxiety
✔ Work meetings, social events, sports and school
Key Points...
✔ Proven to reduce facial sweating just like an antiperspirant
✔ Use before you apply make-up, suncream and moisturiser
✔ Suitable for medical conditions like hyperhidrosis
✔ Apply once in the morning for a full day of protection
✔ Leaves behind no residue, sticky feeling or deposit

Neat 3B Face Saver Gel is an antiperspirant that is safe for your face, designed to be applied before make up, sunscreen and moisturiser in the morning for 24 hour protection against facial sweating. It is highly popular for use in work meetings, social events and for sports, while also resisting the sweating caused by social anxiety, menopause and hyperhidrosis.
What Do Our Customers Say?
"I've tried just about everything but this stuff WORKS. It keeps my makeup from sweating off and I've worn it to test by doing a days worth of heavy physical work and guess what my makeup was in place. I've suffered the humiliation of sweat trickling down my face but never again thanks to this product. Honestly I cannot praise it enough." - Ruth
"I've suffered with a sweaty face and head for years but it's so bad lately I can't even wear makeup. It was starting to get me down till I found this magic in a bottle. I've worn makeup all day today with NO sweat or shine. I literally had to scrub my makeup off with remover and that's NEVER happened it's usually been sweated away. Get some ladies it works wonders!" - Hayley
Perspi Guard Maximum Strength Antiperspirant Wipes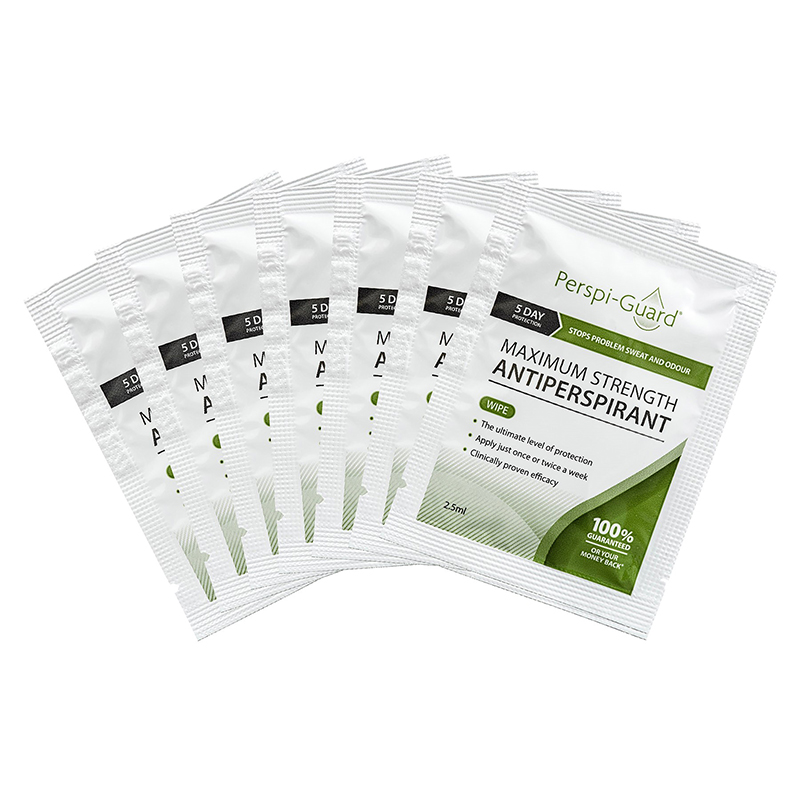 Why We Love It...
✔ Relieves sweat from medical level problems such as hyperhidrosis
✔ Place anywhere on the face aside from the eyes and scalp
✔ Five days of facial protection with just one wipe!
Ideal For...
✔ General everyday use
✔ For conditions such as hyperhidrosis
✔ Work meetings, social events, sports and school
Key Points...
✔ Proven to reduce facial sweating just like an antiperspirant
✔ Odour-free for improving hygiene and feeling fresh
✔ Apply just once every five days for long-lasting protection
✔ Apply easily by rubbing wipes across the face
✔ Leaves behind no residue or deposit

The Perspi Guard Antiperspirant Wipes are designed to be rubbed on your face, where they will prevent sweating for up to five days after use. Containing seven sachets for five weeks worth of protection, these gentle wipes are designed for medical-grade sweating on the face. Odour free and easy to use, these wipes are perfect for anyone who's excessive sweating is becoming a serious problem.
Use Home Remedies
Lower the Room Temperature or Use a Fan
This seems like a very obvious solution, but it's often easy to forget that the easiest way to prevent excessive sweating is to make your body more comfortable. Adjust the thermostat to suit your condition, and when that's not an option, invest in a portable fan that you can use to cool you down wherever you are.
Use Relaxation Techniques
One of the main factors that trigger excessive face sweating is stress or anxiety. If you feel this is true for you, learning a few simple relaxation techniques you can do anywhere can be a great way to not only prevent your face from sweating, but learn how to stay calm as well.
Avoid Caffeine
Caffeine promotes the release of adrenaline, speeds up your heart rate, increases your blood pressure, and gives you a quick boost in energy. This is very similar to what happens to your body when you exercise, and the side effect is usually the same: more sweat. If you're suffering from excessive face sweating, cutting out caffeine is one of the simplest things you can do to mitigate the problem.
Drink More Water
It may sound counter-intuitive, but drinking more water actually leads to less sweating. If you're dehydrated, your body has a harder time cooling down, and feels the need to release more sweat.
Cut Out Spicy Foods
Similar to caffeine, spicy foods will increase your heart rate and make you sweat more. What's worse, strong spices can intensify the odour of your sweat. Try to cut out dishes made with peppers and pepper sauces like harissa or srirarcha, and instead opt for foods seasoned with herbs such as basil, thyme and rosemary
Don't Take Any Chances and End Excessive Sweating Now
Neat 3B is the number one way to beat facial sweating. This is because it works just like any other antipersirant, beating sweating by tackling the pores in your skin and if you're a little unsure, check out the Product Reviews and see why it is perfect for you. Alternatively, if you're unsure about rubbing gel on your face, then the Perspi Guard Wipes offer the same protection with a cooling wipe every five days.
How do you deal with excessive face sweating? Let us know in the comments below, or find us on Facebook and Twitter.
Tags: General Health, Skincare, Sweating