How to Get to Sleep in the Hot Summer Weather 2020
Tuesday, 14 July 2020
It's hot, and for those of us that are not blessed with air conditioning or the ability to fall asleep just about anywhere, getting to sleep at night is turning into a nightmare. With no sign of the hot sticky nights coming to an end we're all starting to wonder, just how do we sleep at night in this heat?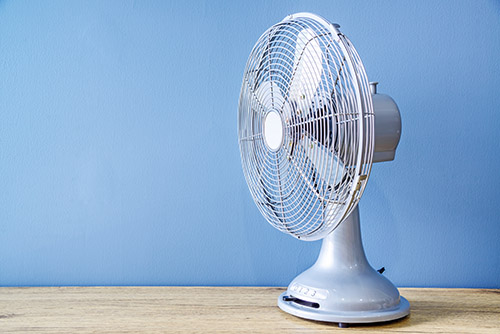 Using a fan is one popular way to cool your body at night
Well thankfully having a long peaceful rest isn't impossible, and no matter how long this heatwave lasts, it's important to not get frustrated and remember that people have been sleeping without the help of air conditioning for years. So how is it done? We've put together this list of simple tricks to help you sleep peacefully this summer.
Control Your Room Temperature
Our first suggestion is probably the most obvious, which is to control your room temperature. It's difficult to do this, but it's recommended that if you shut your curtains and windows during the day and then open the curtains and the windows as the sun sets, then cool, fresh air will fill your room.
Additionally, instead of pointing your fan (if you have one) at yourself, point it out of your window! This will prevent hot air from entering your room and leave the nice cool air inside.
Cool Your Body
Another choice is to cool your body using whatever cold items you can find. There are a number of ways to do this, such as the following:
Place a flannel in the freezer before bed and then rest it on your head as you sleep
Sleep with an ice pack near your feet
Fill a bottle with cold icy water and sleep with it near your body
Place cold water in an empty spritz bottle and spray it on your face
Put a pan of ice in front of a fan so it blows cold air at you
Drink water regularly throughout the day but not immediately before bed

Sleeping on or near cold water bottles can lower your body temperature
You can also use the Pro11 Cooling Pillow for Better Sleep and Comfort, which is scientifically designed using memory foam and a revolutionary gel that provides relief in hot conditions. It's recommended that a comfortable pillow and mattress is the key to a good night's sleep, and the Pro11 Cooling Pillow uses a memory foam construction to guarantee that, even in intense summer heat, comfort leads to sleep.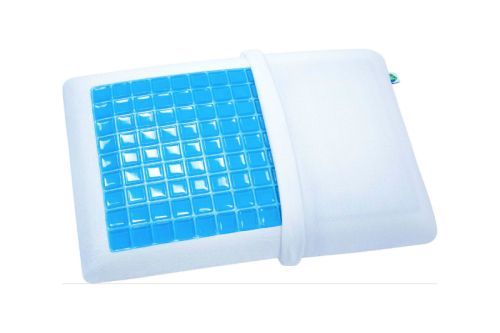 A Cooling Pillow Keeps Your Head Cool
Choose Cotton
The third way is to choose cotton. Cotton is light and thin on the skin and is the ideal bedding material as its totally breathable. If you don't have cotton then we would recommend the Cooling Air Layer Mattress and Cushion Cover as it is designed to prevent the sticky-sheet effect that is blighting us this summer.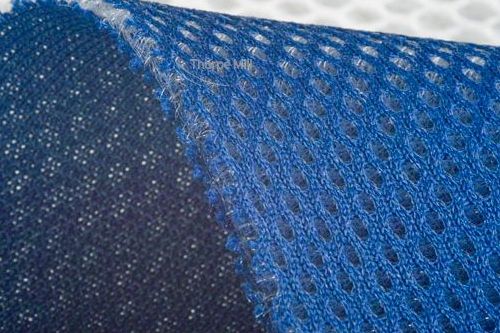 The trick to preventing the sticky-sheet effect is to create air between skin and material
Both silk and the Cooling Air Layer Mattress prevent the sticky-sheet effect by providing circulation between the the skin and the material, which helps to reduce sweat by allowing the skin to breathe. All-night comfort is provided making this perfect for those who are really struggling with the heat.
Cool Off Before Sleep
Another trick is to actually cool off before you get into bed. This can include going for a cold shower, drinking a small amount of water, staying away from cooking hot foods (eat salads), and removing all electronic devices from near your bed as these transmit heat.
Use Your Freezer
Your freezer is probably the coldest place in the house, and when we say use your freezer we don't mean opening it and shoving your head inside. You can fill bottles, ice packs and boxes full of water, put them in the freezer, and when cold enough place it near you before you sleep.
Alternatively you could use a hot water bottle such as the Mini Hot Water Bottle and use it for the reverse effect as you would in winter. Fill it with ice, freezing cold water, or normal water, place it in the freezer for twenty minutes, and then place it under your pillow, in your sheets or beside you in bed. The bottle can fit up to half a litre of water in it, so it will stay cold long enough for you drift off, and you can use it for its designed purpose in the winter!
Home Remedies
If you're still struggling, there's plenty of other ways to cool your body and get a good nights sleep. So if you are still a bit stuck, take a look at this list of proven ways below:
Eat spicy food three hours before bed to make you sweat and lower your temperature
Don't eat meat and other proteins as this only makes you warmer
Moisturise your skin with aloe vera-based aftersun cream
Sleep in a separate bed from your partner to reduce body heat
Try sleeping downstairs, as heat rises
Control Your Emotions
Remember, even if you are incredibly tired, if you let your emotions get the better of you you will only be awake for longer. Humans can cope pretty well on a few days of little sleep, after which you should get a decent night's sleep anyway. But if you are struggling, take time out from your bed and read a book or have a short walk before trying again.
Do you have any questions or something to add? Share your thoughts below or find us on Facebook and Twitter!
Tags: Heath and Care Expert Series, Sleep Better, Stay Cool This Summer, Sweating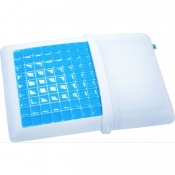 Memory foam pillow with revolutionary cooling gel cells
Provides contoured and firm support for head and neck
Gel layer cools the head in warm conditions
Can be used to treat headaches, sunburn and fever
---
Cooling mattress topper to relieve hot flushes
Ideal for night sweats or sleeping in summer
Allows air to circulate between skin and your mattress
Available for single, double and king size beds