How to rebuild your leg muscles following knee injury or knee surgery
Tuesday, 2 October 2012 | Paul
Key product: Kneehab XP Knee Muscle Rehabilitation System
After suffering a serious knee injury or following knee surgery, muscles are weakened due to the leg not being used or not being used as often as it should be. Building up the leg muscles is part of rehabilitating the knee and leg and it can be extremely difficult. The Kneehab XP is a knee muscle rehabilitation system which helps to rebuild leg muscles following muscle wastage. The Kneehab XP is ideal for use following ACL injury, other ligament injury, fractures, dislocation, osteoarthritis and stroke.
The Knee XP wraps around the affected knee and delivers Neuromuscular Electrical Stimulation. Neuromuscular Electrical Stimulation (NMES) is clinically proven to specifically strengthen the quadriceps muscles and improve knee stability. The Kneehab uses NMES to re-educate and strengthen the quadriceps through cycles of contraction and relaxtation. It can also be used to help avoid or delay surgery where there is quadriceps atrophy (thigh muscle wastage).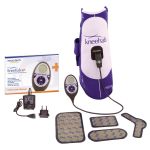 Kneehab XP Knee Muscle Rehabilitation System
Used by professional sports men and women including Manchester United footballer Phil Jones, ice dancer Christopher Dean and snow boarder Zoe Gillings, the Kneehab XP is a highly regarded rehabilitation aid with excellent results. Professional footballer Phil Jones used the Kneehab XP in the first 6 weeks of his rehabilitation following a knee injury and subsequent surgery to repair knee meniscus damage. Phil Jones used the Kneehab XP to reinforce his gym0based rehabilitation programme. Professional Snowboarder Zoe Gillings used the Kneehab XP to aid her recovery from cartlidge surgery. Due to an injury Zoe had already lost muscle in her quadriceps and the operation led to her being able to use her leg for two weeks. She used the Kneehab XP to keep her quad muscles strong until her leg was back to full fitness again.
The Kneehab XP can be used in a number of scenarios where the leg cannot build up muscle due to injury. Along with re-educating and strengthening the quadriceps muscles and improving knee stability, the Kneehab can also be used to increase the range of motion of the knee joint. The Kneehab XP is also suitable for increasing local blood circulation to decrease swelling. The Kneehab is ideal for people who have suffered ligament injury, dislocation, fracture, osteoarthritis and stroke.