How to Protect Your Employees Against Coronavirus
Wednesday, 13 May 2020 | Sean
As we return to a new normal, it's important that we adapt every part of our life to reduce the spread of coronavirus infection. This extends to offices too, where social distancing will become increasingly difficult as more staff return to work. Luckily, there's plenty of PPE and equipment available that can help keep employees safe.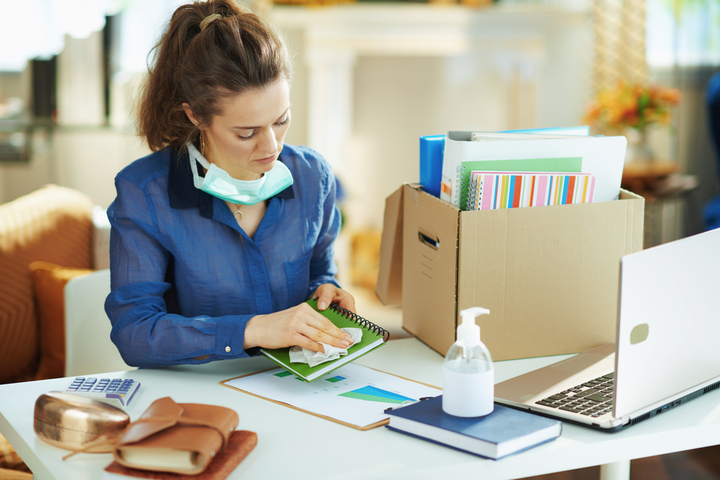 Masks, sanitiser and more can all reduce the spread of infection
Whether you're after gloves, wipes, thermometers and more, we've been hard at work to bring you the best products at the best prices. Below, we explain the best ways to virus-proof your office.
The New Normal
Unfortunately, we're going to be living with the effects of coronavirus for a long time. From social distancing to hand sanitiser, it's important that we all take the right steps to reduce the spread of infection. As an employer, it's your legal duty to ensure that your office is a safe space for your employees to work.
Thankfully, there are a number of things that you can do to quickly get your office up to health and safety standards. These include:
Provide Hand Sanitiser at All Entry Points
Providing hand sanitiser across the office allows for the instant disinfectant of hands, ideally used once an employee has entered the office from transport, after they've returned after lunch, or even after handling incoming parcels and packaging. Below is the Relisan Hand Sanitiser and the Medi9 Antibacterial Hand Foam, both of which medically certified to destroy viruses after use. The perfect solution for when soap and water is not available.
Check Temperatures Every Single Morning
The most common symptom of coronavirus is an elevated fever, which is something that you can easily check for every single morning when an employee has entered the building. The two thermometers below, the Genius 3 and the Jumper FR202 provide pinpoint temperature readings within seconds, perfect for quickly checking an employee every single morning. Both are fully certified, ensuring the very best measurements that you can trust.
Clean Equipment Before and After Use
Office equipment can be touched by hands hundreds of times every single day, so providing wipes such as the Sani-Cloth Disinfectant Wipes means that you can disinfect phones, screens, keyboards, door handles, kettles and more within just 30 seconds. You can even go one step further and use the Purekeys Infection Control Keyboard, a keyboard that enables the cleaning of all aspects of the keyboard, making hot desking safer.
Wear PPE During Work Hours
Coronavirus is changing our lives, and there's nothing more irritable than having to wear PPE in an office environment. You can use goggles and gloves to prevent viruses from touching your hands and to prevent viruses from reaching your eyes. The reusable MaxiFlex Gloves are skin tight which enables typing, while the Uvex Goggles are airtight, preventing the virus from reaching your eyes.
Please note that the MaxiFlex Gloves can prevent you from touching a virus. However, they must be washed after use to destroy all remaining cells.
Enforce Social Distancing and Stagger Shifts
Staggering shifts, enforcing social distancing and ensuring that employees take two weeks off work after any sign of symptoms are all recommended for reducing the virus risk. It is recommended that staff are no closer than two metres from another worker, which while being difficult to enforce, will be made easier by staggering shifts and allowing some staff to work from home on a week by week basis. One way of ensuring that social distancing guidelines are followed is by using social distancing stickers, such as Arrow Stickers, 2 Metre Green and Yellow Alert Stickers and 2 Metre Save Lives Red and Yellow Stickers.
Dispose of Contaminants Properly
The last way to ensure that your workplace is as protected against Coronavirus as can be, is by disposing of contaminants properly. This can include tissues or the wipes mentioned earlier in this article, or any disposable PPE that needs to be removed. The WIVA Yellow 60 Litre Container is a medical-grade bin for clinical waste which features a lid that can't be removed, ideal for disposing of any contaminated material safely.
What Else Can I Buy?
Hopefully you have found what you are looking for. If you want to view more products, take a look at our Coronavirus Protection category for our full range.
Due to high demand you can expect our Coronavirus Range to change regularly. However, we encourage you to return to our website in the future as we are striving to bring in FFP3 and FFP2 masks, disposable gloves, hand sanisiter and more throughout the crisis.
Are you looking to transform your office? Let us know how you're getting on in the comments below or get in touch via Twitter or Facebook!
Tags: Coronavirus Information, Viruses