How to Keep Your Workplace Safe After the Coronavirus Lockdown
Friday, 29 May 2020 | Paul
Returning to work in the midst of a global pandemic is enough to make anyone nervous, especially those who work on the high street and in independents. For these small local businesses, official advice and precautionary measures have been scant, increasing both employee and public anxiety.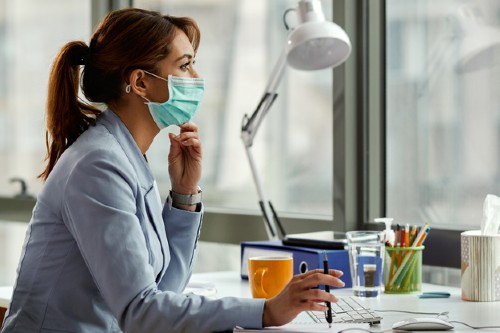 Sanitiser, masks and more reduce the spread of coronavirus
What we do know is how coronavirus is transferred, and we've learned a lot from successful containments of the virus. That's why here at Health and Care we've chosen to compile a full-proof list of advice and products to help you keep your workplace safe after coronavirus.
How Does Coronavirus Spread?
In our Coronavirus Infographic we explored the ways in which coronavirus spreads from person to person. Cough droplets and other discharge from the nose or mouth are the known methods of transfer. Consequently, social distancing measures and efficient means for disposing of, and eradicating, traces of coronavirus, are the primary objectives in maintaining a clean and hygienic work place.
Keep Your Hands Clean: Hand Sanitiser at All Entry and Exit Points
Hand sanitiser is the number one method of stopping the spread of coronavirus in its tracks. Quality hand sanitiser eradicates all traces of bacteria and germs on the palms and fingers. Consequently, customers and workers handling products and furniture in your workplace will have clean hands. Below, are the highly efficient Relisan Hand Sanitiser and the Medi9 Antibacterial Hand Foam - two medical-grade hand sanitisers that kill 99% of germs and bacteria.
Clean Equipment Before and After Use
It's unavoidable that your work equipment will be shared and handled by other employees and customers. That's why your best bet is to thoroughly disinfect all surfaces and equipment in your workplace. Below are some of the best disinfectant wipes available, the PDI Sani-Cloth Disposable Disinfectant Wipes and the Ebiox Trionic Wipes. Medically sourced and designed to kill traces of all viruses and germs.
Cover Your Hands and Face: Wear PPE During Work Hours
Annoying though it may be, it's essential that workers and employees all wear protective equipment (PPE) during work hours. For your comfort and security, we've chosen the best goggles and gloves for the job. The reusable MaxiFlex Gloves are skin-tight and allow for typing, whilst the air-tight Uvex Goggles prevent the virus from reaching your eyes.
Please note that the MaxiFlex Gloves can prevent you from touching a virus. However, they must be washed after use to destroy all remaining cells.
| | |
| --- | --- |
| | |
Social Distancing: Stagger Shifts and Enforce Workplace Rules
To reduce the risk of coronavirus, it's essential that employees displaying symptoms of coronvirus take a mininum of two weeks off work. Moreover, ensuring staff are well-minded to keep a mininum of 2 metres from one another will further enhance the safety of your workplace. The best way to ensure constant vigilance of these rules is by using social distancing stickers around the workplace, such as Arrow Stickers, 2 Metre Green and Yellow Alert Stickers and 2 Metre Save Lives Red and Yellow Stickers.
Bin Your Rubbish: Dispose of All Contaminants Safely
Every workplace has bins, but you would be wrong to think that normal household bins are enough to keep coronavirus at bay. Once a bin is knocked over and those tissues are on the floor, you are dealing with a great deal of contamination. The WIVA Yellow 60 Litre Container is a medical-grade bin for clinical waste with a lid that cannot be removed, perfectly designed for safe disposal of waste.
What Else Can I Buy?
We hope that this blog has been useful in helping you make your workplace safe after Coronavirus. If you want to view more products, take a look at our Coronavirus Protection category for our full range.
Due to high demand you can expect our Coronavirus Range to change regularly. However, we encourage you to return to our website in the future as we are striving to bring in FFP3 and FFP2 masks, disposable gloves, hand sanisiter and more throughout the crisis.
Are you looking to keep your workplace safe? Let us know how you're getting on in the comments below or get in touch via Twitter or Facebook!
Tags: Coronavirus Information, Viruses