How the Pressure Relief Bed Fleece Can Help You
Monday, 11 September 2017 | Paul
If you're someone who is facing a long stretch of being bed bound, and are prone to bedsores (also known as pressure sores or pressure ulcers), you may be looking at ways to protect yourself. If so, you've already taken a very important and necessary step, as bedsores can become a painful and distressing condition.
One of our best products for increasing comfort and reducing pressure on the body when sleeping is the Pressure Relief Bed Fleece. It is a great way to combat prolonged pressure with natural materials, all coming at a fantastic price.
Stellar Reviews
Our customers have always found the Pressure Relief Bed Fleece, and it's little surprise that it's one of our top-selling items. See below for a taster of what our customers have said:
Freda - My husband recently had an operation on his calf, the bed fleece seems to have relieved the pressure on his heel and leg, and he is sleeping much better.
Carole - I bought this for my elderly mother to prevent pressure sores. She uses it on her lounge chair. It looks attractive and the neutral color goes with all furnishings. The fleece is very comfortable and has eased the pressure and helped her sore skin.
Rosemary - Great product which immediately made a huge difference to the comfort of my heels when in bed. It's really helping to eliminate the extra pain and my concerns regarding skin breaking down from constant pressure. Highly recommend this item, as do my cats who have noticed there's something extra comfy at one part of bed - they can feel the extra comfort through the duvet and throw. I wouldn't dare leave this on the settee if not in the room: it would be covered in cat fur by now. You know it's guaranteed comfort when it's where the cats choose to sleep!
Comfy enough for cats! If this endorsement from our feline friends isn't confirmation of the Pressure Relief Bed Fleece's supreme comfort, we don't know what is.
Natural Relief
What makes the Pressure Relief Bed Fleece so special is that it is made from 100% pure new wool with a woven polyester backing. Because natural wool is exothermic, it is able to absorb up to 33% of its weight in water without feeling damp, and it also doesn't feel cold. This is ideal for the skin, keeping it dry and allowing it to breathe, which reduces skin maceration and helps to reduce the incidence of pressure sores.

Great Versatility
Another great facet of the Pressure Relief Bed Fleece is its inherent versatility. Not just suitable for beds, it can be used on chairs, sofas, wheelchairs, and pretty much any other seating area. It comes in four sizes, so you can select a size that is appropriate for your purposes. It can also be easily cut down to size for those small nooks and crannies where pressure relief is needed. Some of our customers are particularly vulnerable to pressure sores on their heels, and so use the smaller sized fleece at the foot of their bed to provide pressure relief there.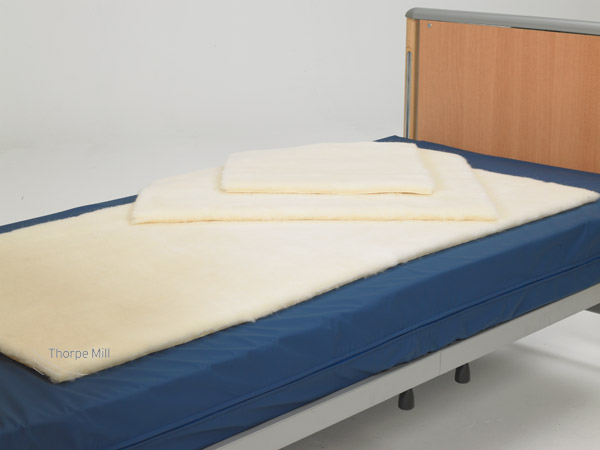 The Pressure Relief Bed Fleece comes in various sizes
Easy to Care For
It's easy to care for the Pressure Relief Bed Fleece while it cares for you. Every fleece is pre-treated so that it can be washed at up to 40°C and even autoclaved for ultimate cleansing. Every fleece can be washed up to 50 times and still provide great softness and comfort. In the case that your fleece does come to the end of its long lifespan, it can be easily replaced due to its low price tag.
Buy It Now
If you're experiencing pressure-related discomfort, the Pressure Relief Bed Fleece can be of huge benefit. Buy it today from Health and Care with free UK delivery on all orders.
Do you know of someone who's used our Pressure Relief Bed Fleece? Let us know in the comments or find us on Twitter and Facebook!