How Much Does IQOS MESH Cost?
Monday, 10 December 2018 | Eugene
The NHS tells us that vaping is a healthier alternative to smoking, but for many of us, the fact that it's a whole lot cheaper is just as important. But how much does vaping really cost, and how much cheaper is it than conventional cigarettes? We've decided to put the cost of vaping to the test using a new premium vaping device: the IQOS MESH.
What is the IQOS MESH?
The IQOS MESH is a new vaping device designed after four years of research and development in Switzerland. The aim was to create a vape that provides consistent taste and vapour, while providing convenience, durability and reliability. The result is a sleek device with a new German-made heating device that outperforms the wick and coil systems in other vapes, leading to consistent vapour without the mess and hassle of other vapes. After all this, is it really cheaper than cigarettes?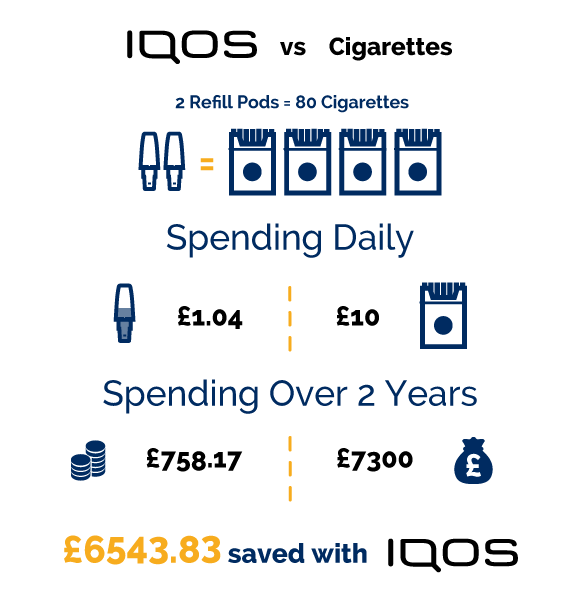 How Much Does the IQOS MESH Cost?
The IQOS MESH Starter Kit is available at Health and Care for £29.99. The e-liquid cartridges for the IQOS MESH are known as IQOS VEEV Refill Pods and are sold in packs containing two pods each, available at Health and Care for £3.99. It's worth noting here that the IQOS MESH device is expected to last for two years of use.
Each pod contains the equivalent of roughly 40 cigarettes, meaning each £3.99 pack of two pods contains about 80 cigarettes' worth, or four standard packs. That means, including the cost of the device, a pack-a-day smoker would spend £758.17 over two years, or £1.04 per day if using the IQOS MESH the same amount as their cigarettes.
Cost of IQOS MESH: £758.17 over 2 years (£1.04 per day)
How Does that Compare to Cigarettes?
The cost of cigarettes can vary, but usually a pack of 20 falls between £8 and £12. For the sake of convenience, we'll split the difference in this article and assume your cigarettes cost £10 per pack of 20. Using that price, if you're smoking a pack a day that means you're spending £7300 over two years, or £10 a day.
Cost of cigarettes: £7300 over 2 years (£10 a day)
Final Verdict: IQOS MESH Saves You £6543.83 Over Two Years
The numbers speak for themselves. Over a two-year period, IQOS MESH will be £6541.83 cheaper than smoking a pack a day, assuming the same usage in both cases. For most of us, those savings are hard to ignore. If the health of your body isn't enough for you to choose vaping over smoking, maybe the health of your wallet will be.

Save Money with IQOS MESH
If the combination of massive savings and quality vapour that the IQOS MESH offers seems right for you, you can order your IQOS MESH Vape Starter Kit today with free UK delivery from Health and Care. Refill Pods are also available in four flavours, including Cool Peppermint (11mg or 18mg), Mellow Tobacco (11mg or 18mg), or Tobacco Harmony (11mg or 18mg).
Do you have any questions about IQOS MESH? Don't hesitate to let us know in the comments below, or find us on Facebook and Twitter! You can also get in touch with our Customer Care Team at 020 7720 2266, where we'll be happy to help you with anything you need.
Please note: The approximation of refill pods to cigarettes is an estimate based on average use. Actual equivalence may vary.
Tags: Electronic Cigarettes, General Health, Product Focus, Smoking Alternatives