How Does an Offloading Knee Brace Work?
Tuesday, 19 January 2021 | Sean
Osteoarthritis is a form of arthritis that is common in young people as well as old. Also known as "OA", it is one of the most common forms of arthritis, and occurs when the cartilage between joints in your knee starts to wear away. The symptoms from this are mild to moderate pain, stiffness, immobility and bone spurs that can become worse over time.
Unfortunately, there are no known cures for OA, however there are a range of treatments that can help you to regain mobility. One thing that you can do is "offload" your knee, which reduces pressure and realigns your patella through the use of a knee brace.
What Is Osteoarthritis in the Knee?
Osteoarthritis occurs when the bodies natural cushioning (the cartilage) becomes worn. With less cartilage, it means that bone rubs again bone, leading to pain and stiffness that ranges from a mild hinderance to a severe immobilising condition. Although the condition is more common among the elderly, factors that can exacerbate the condition in both the young and old are injury, overuse or excess weight.
Who Can Get Knee Arthritis?
In the UK along there are an estimated 8.5 million people who suffer from osteoarthritis. Studies have also shown that at least 50% of people over the age of 65 suffer from the condition to at least some degree. The fact is that you aren't alone, which also means that there are a lot of different things out there to help you if you feel that your life is affected by the condition.
How Do Offloading Knee Braces Work?
Here at Health and Care, we sell a wide range of OA Knee Braces, designed to prevent and repair damaged cartilage and the pain and stiffness associated with it. Offloading knees work by:
Offloading knee braces offload the pressure from one side of the joint to the other
This means that the stronger side of your knee bears the pressure, and the other side gets a break
Offloading knee braces tend to fit all around the leg but are often made from lightweight metals and plastic
You may be asked to choose between medial and lateral models (medial means inner and lateral means outer)
Offloading knee braces will often stabilise and reposition the knee, ensuring better leg posture
We recommend that you wear your brace for shorter increments and ask your GP for advice before use
Did You Know?
Studies have found that activities such as walking, running, biking and swimming can help with pain and slow down the onset of Osteoarthritis. OA Knee Braces can help you to get active again without causing more damage to your knee.
How Can We Help?
Here at Health and Care, we sell a number of Donjoy OA Braces that can help you to get active again. However, we recommend that you read our guide on the Best Donjoy OA Brace for You, as this includes a breakdown of each brace by pros and cons and suitability.
Where Can I Buy Offloading Knee Braces?
Alternatively, we very briefly explain the differences between the braces available below.
Donjoy OA Adjuster 3 Unloader Osteoarthritis Knee Brace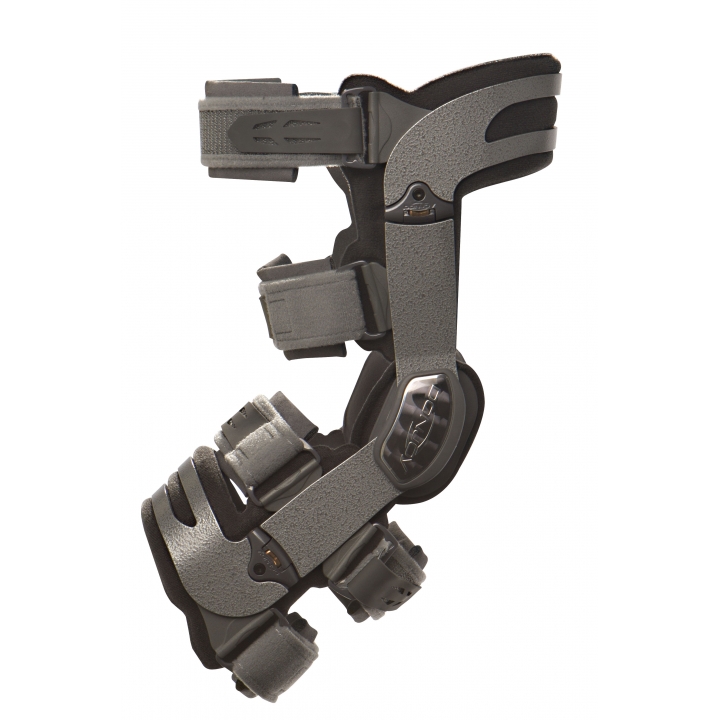 The Donjoy OA Unloader is the heavy duty OA brace for unicompartmental osteoarthritis. Suitable for more active users, this brace uses a contoured design to make movement and exercising pain free.
The most durable and functional Donjoy OA Knee Brace
Uses a 4 point leverage system for ligament stability
Nano MAG Technology on the offloading side provides lightweight fit
Provides clinically proven ligament stability
Donjoy OA Clima-Flex Knee Support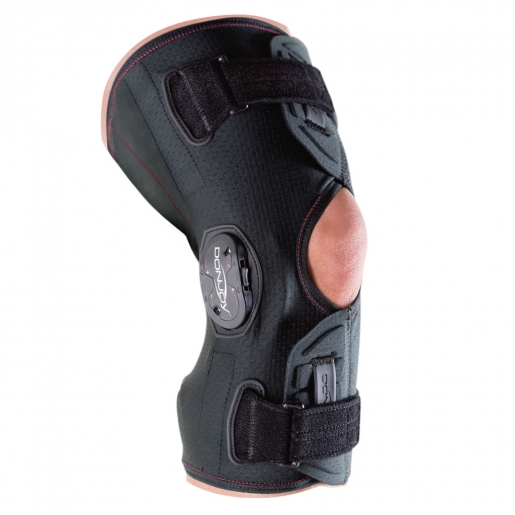 The Donjoy OA Clima-Flex Knee Support is best suited for light activities such as walking, golf or hiking. Using innovative technology to ensure breathability, coolness and comfort, this support is best suited to users with mild to moderate OA pain.
New level of cooling comfort through compression and off-loading
For mild to moderate OA knee pain
Antimicrobial and breathable with special temperature control
For mild to moderate OA knee pain, helping you to walk, play golf or hike
Donjoy OA Nano Unloader Osteoarthritis Knee Brace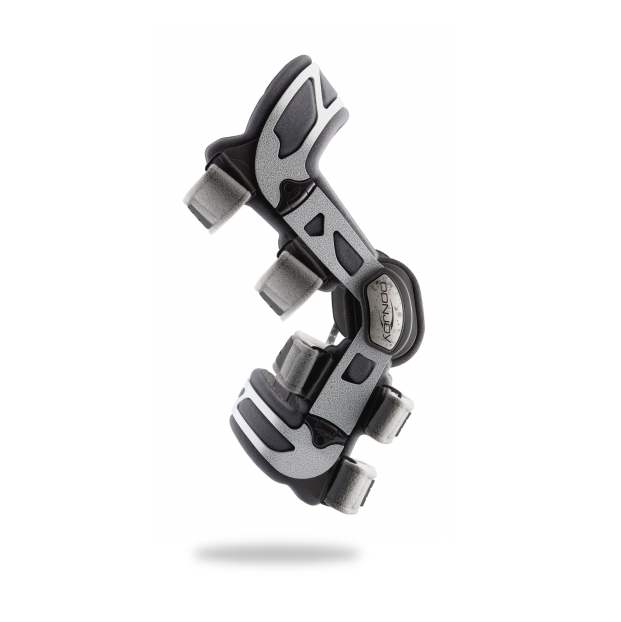 The Donjoy OA Nano Unloader Osteoarthritis Knee Brace is a lightweight unloader for those with mild to moderate knee osteoarthritis, helping you to stay active and avoid surgery. It's the ideal choice for stabilising the joint and avoiding invasive treatments.
As light as air thanks to high tech functional design
Magnesium frame and intimate fit provides offloading strength for pain relief
Designed for those with mild to moderate knee osteoarthritis
Allows you to stay active and move freely, making the patient compliant
Donjoy OA Reaction Web Right Medial/Left Lateral Knee Brace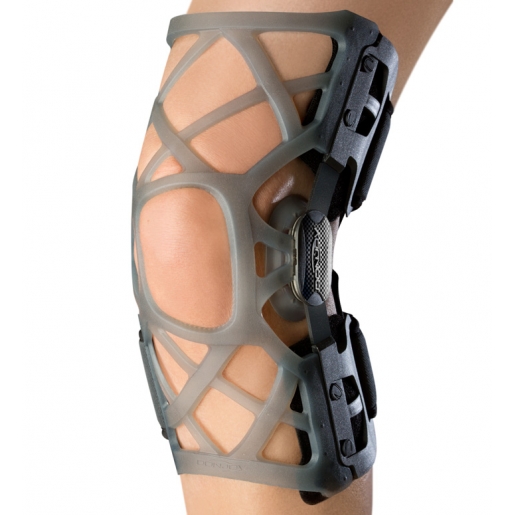 Available in both a right and a left, the Donjoy OA Reaction Knee Brace is designed to help you become accustomed to wearing a knee brace. A discreet solution for early to mid unicompartmental osteoarthritis of the knee and patella.
Unique and effective way to treat osteroarthritis knee pain
Open frame work encourages patient compliance
Designed to absorb shock and treat anterior knee pain
Low profile and has a wraparound design for a comfortable fit
Thuasne Action Reliever Osteoarthritis Knee Brace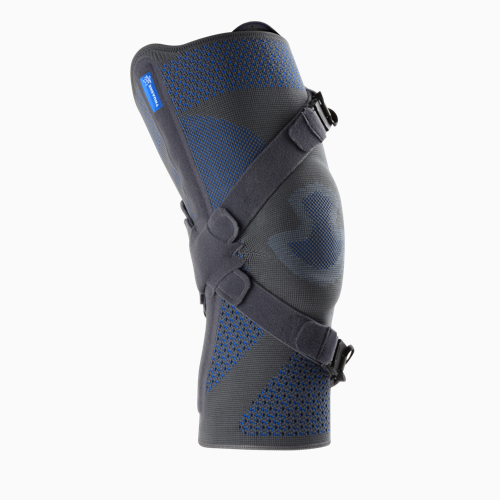 The Thuasne Action Reliever Osteoarthritis Knee Brace has a special three point pressure system that offloads stress from one part of the knee to the other. This lightweight and slimline brace can fit underneath clothes without too much trouble.
Semi-soft knee brace for fitting underneath clothes
Designed to help you go outdoors with a discreet brace
Three point pressure system offloads pressure
Easy to fit with a simple two step process
Shop OA Knee Braces Now
Here at Health and Care, we sell a full range of Donjoy OA Braces. To view our full range and to get more information, please view our Donjoy OA Category.
Do you have any questions about our knee supports, or would you like a recommendation based on your symptoms? Please don't hesitate to let us know in the comments, or find us on Facebook and Twitter!
Tags: Arthritis, Knee Pain, Donjoy OA Braces