How Do I Fit the Bio Bidet Supreme BB 1000 to My Toilet?
2 Comments
Wednesday, 11 October 2017 |
Paul
All Bio Bidet products have been created with you in mind. The company's toilet attachments can all be fitted to your toilet by yourself, and all the necessary parts are included as standard. Bio Bidet products use your existing plumbing instead of needing major work to function so you'll be finished in no time at all. Find out how to install the Bio Bidet Supreme BB 1000 to your toilet by reading our guide below.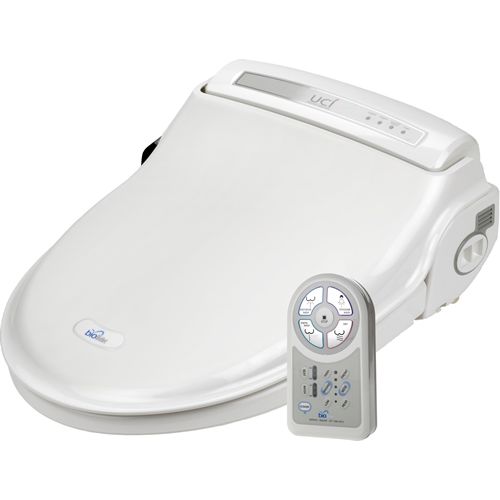 Step One: Remove Your Existing Seat and Lid
Before doing anything, please make sure that your water supply to the toilet cistern has been turned off.
Drain the cistern completely by flushing the toilet.
Disconnect the water supply hose from the cistern.
Remove your existing toilet seat and lid by releasing the nuts on both sides of your toilet seat.
Step Two: Connect the Tee to the Cistern
Next, connect the check valve supplied to the tee and the 0.5" male-male adaptor to the check valve.
If required, connect the water supply to the tee using the hose supplied with your order.
Step Three: Install the Base
Place the two bolts into the two installed bolt cases.
Place these assembled pieces into the installation base.
With the guide arrows face up and towards the toilet tank, place the installation base and guide the bolts into the two holes where the nuts used to be on your toilet bowl.
From below the toilet bolt, fit the cone packaging and plastic washers onto the bolts.
Loosely tighten the nuts by hand.
Step Four: Assemble the Shower Toilet Seat
Slide the seat onto the installation base by centring the unit with the guide arrows.
Once the seat is securely mounted on the base, you will hear it click into place.
Adjust the seat's fit from front to back and side to side to ensure it's in the correct place.
Tighten the nuts on both bolts.
Step Five: Supply Water to the Bidet
First, connect the flexible tube from the male-make adaptor to the seat.
Open the water valve and check for leaks.
If there aren't any leaks and the area is clean and dry, connect the power cord to a ground-protected power outlet.
If you still aren't sure about how to fit the Supreme BB 1000 to your toilet, the video below can be used as a visual guide. And don't worry; the Bio Bidet will come complete with instructions!
If you have any questions about how to install the Bio Bidet Supreme BB 1000, leave us a comment below. Alternatively, contact us through Facebook or Twitter!