Hotteeze: The Simple Solution to Muscle Pain
Wednesday, 6 September 2017 | Paul
As autumn takes hold and winter looms on the horizon, many of you will be thinking about the best ways to keep yourself warm during the inevitable cold months that are to follow. Whether at work, home or play, low temperatures always bring their own set of problems that have to be dealt with, and coldness can also worsen already existent issues.
For example, cold weather can cause tighter muscles and joints, increasing the incidence of aches and pains. Most will feel that they tend to experience more of those annoying muscle tweaks and niggles in the winter months, but what can be done about this?
Warming Up
The foremost advice that can be offered for avoiding any muscle pain is to keep your muscles warm! That's why it's always a good idea to warm up prior to exercise: this increases the length and suppleness of your muscles, which reduces chances of injury and pain. However, while a vital component of any approach to reducing muscle pain, warming up can only do so much.
Where a strain has already occurred, there's little point in trying to warm up your muscles through physical exertion. This will cause more rather than less pain and may worsen your injury. The best solution in this case is to apply a heat pad or warmer to the affected area.
Hotteeze: A Simple Solution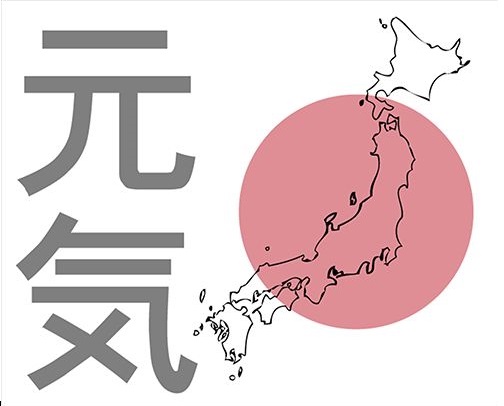 Fast-acting, long-lasting and easy to apply, Hotteeze is one of the most advanced and effective oxygen-activated heat pads on the market today. Engineered in Japan, Hotteeze utilises the wisdom of hundreds of years of traditional Japanese heat therapy and harnesses it in a scientifically advanced yet compact and affordable package.
The Japanese have long believed that heat can be used to boost the immune system and prevent colds and illness, and 21st century science confirms this belief. Heat therapy is commonly recommended for its therapeutic effects, such as decreasing joint stiffness, reducing pain, relieving muscle spasms, reducing inflammation and increasing blood flow.
Using this knowledge, Hotteeze have developed a range of oxygen-activated stick-on heat pads that are highly effective yet incredibly simple to use. Read our guide to the products below to discover how Hotteeze can help you!
Hotteeze Self-Adhesive Heat Pad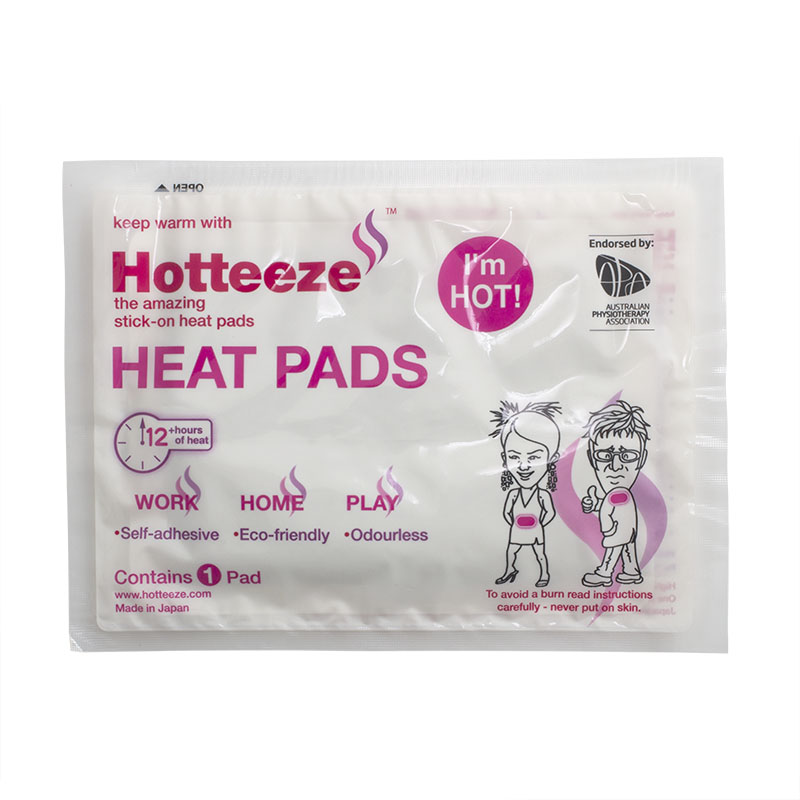 The Hotteeze Self-Adhesive Heat Pad is the standard stick-on heat pad from Hotteeze. It is relatively large in size and is designed to be applied to muscles, limbs and the body rather than the extremities. This is the pad to choose if you want to combat muscle soreness, back pain and even menstrual cramps. It should be applied to clothing, from where it will provide therapeutic heat to the body for up to 12 hours.
Key Features: Highly effective relief of muscle pain, provides heat for up to 12 hours
Hotteeze for Feet Self-Adhesive Heat Pads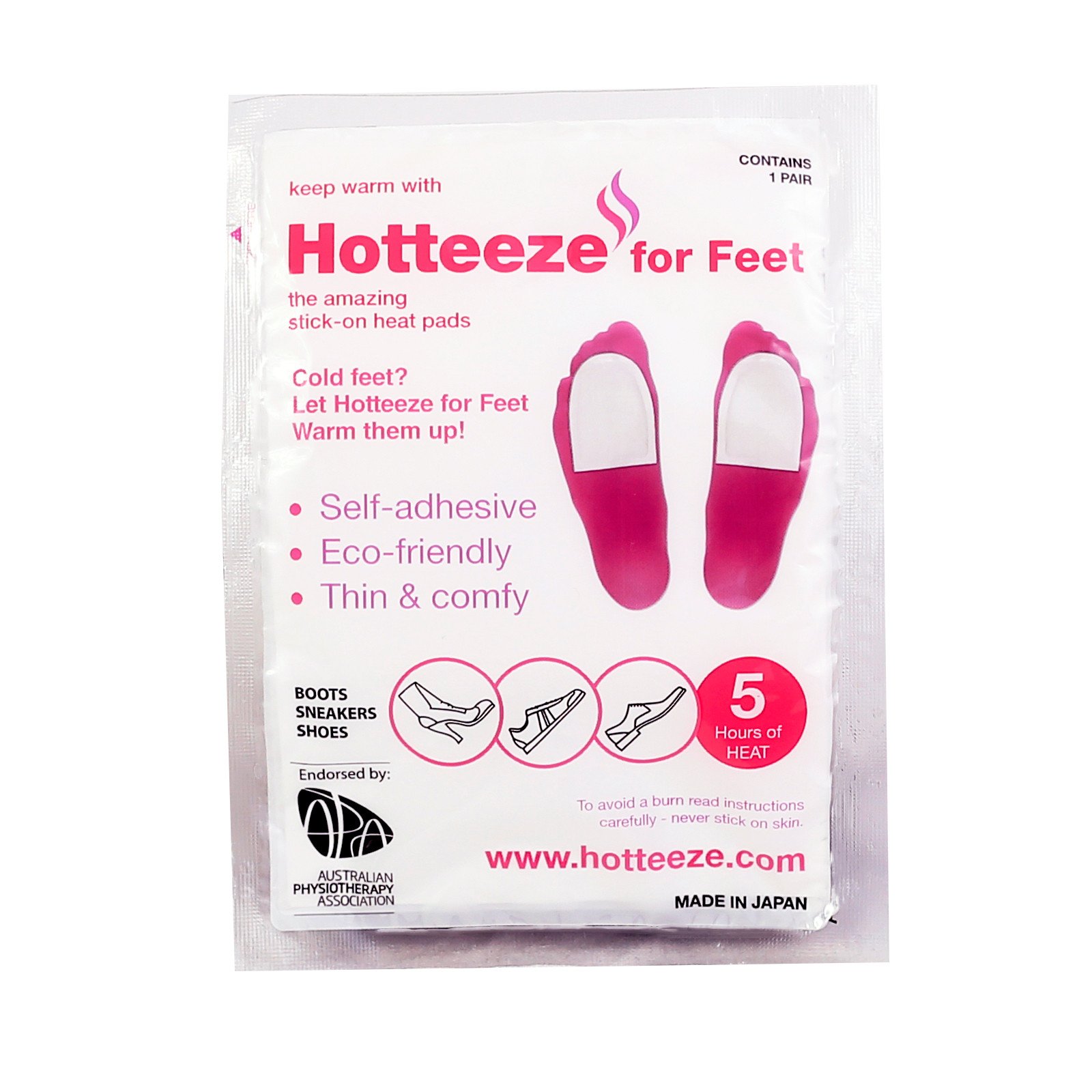 The Hotteeze for Feet Self-Adhesive Heat Pads are developed specifically for the feet. Designed to keep your toes toasty warm, the Hotteeze Foot Heat Pads attach to your socks and emit heat for five hours. This is a great way to alleviate the effects of conditions such as Raynaud's disease, or simply cold feet caused by low temperatures. Activities such as skiing, fishing or watching football in cold weather can all be made far more pleasant with the use of this product.
Key Features: Keep the feet toasty warm, ideal for alleviating the symptoms of Raynaud's disease
Hotteeze Hand Warmer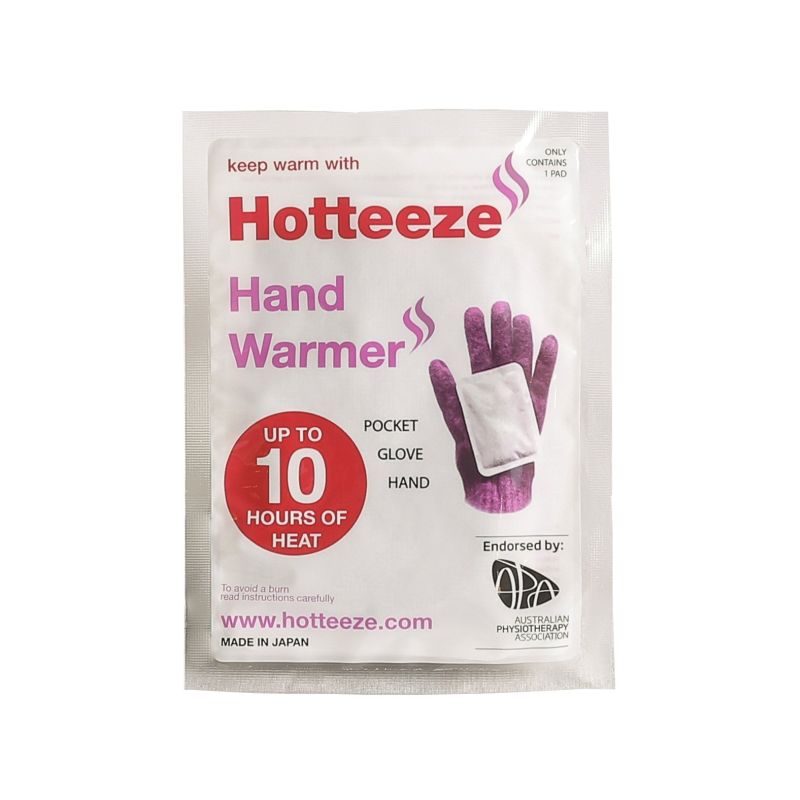 The Hotteeze Hand Warmer is the ideal solution to cold hands wherever you are. Highly compact and versatile, this hand warmer can be held in the hand, kept in a pocket or tucked into gloves to keep your hands and fingers lovely and warm. Great for active individuals, they are perfect when applied before a winter run, or they can be stored in a pack or pocket and used as and when they are needed.
Key Features: Can be used in a variety of ways, ideal for active individuals
Great for Sportspeople
Because the Hotteeze products can be applied rapidly, generate heat quickly and last for a long time, they are ideal for use during and following sports and exercise. Ultra-thin and odourless, they are unobtrusive and warm the user discreetly, keeping skiers' feet warm or alleviating pain in the strained muscles of a winter runner. They are even endorsed by the Australian Physiotherapy Association (APA) as a therapeutic product!
Eco-Friendly
Hotteeze products work via a chemical reaction that utilises biodegradable natural ingredients. This means that once a pad has been used, it can be simply thrown away in your garden, guilt-free! The contents can be reused as a soil conditioner, contributing to the reduction of wastes, while the outer packet is combustible and does not generate toxic gases.
Check Out Our Bundles
If you're looking for the ultimate tools to keep your hands and feet warm this winter, you'll find them in these special bundles that we've assembled:
The Winter Bundles are a great way to get the best hand and foot-warming products available in one convenient package, while making some fantastic savings.
Shop Now
The advantages of using the Hotteeze range are manifold but the only way to truly assess the benefits of warming your aching muscles, feet or hands to a toasty temperature is to experience them yourself! Click here to view the full Hotteeze range now.
Have you got any advice on keeping warm in the cold weather? Let us know in the comments or find us on Twitter and Facebook!