HEINE Optotechnik: Quality Diagnostic Equipment
Thursday, 6 June 2019
HEINE Optotechnik was founded by Helmut A. Heine in 1946. Helmut Heine was a principled man, and he made sure that the company was founded with four key principles at its core. From graduate scientist to a medical diagnostic equipment creator, Helmut Heine's wish was that those four principles would guide the company in his absence.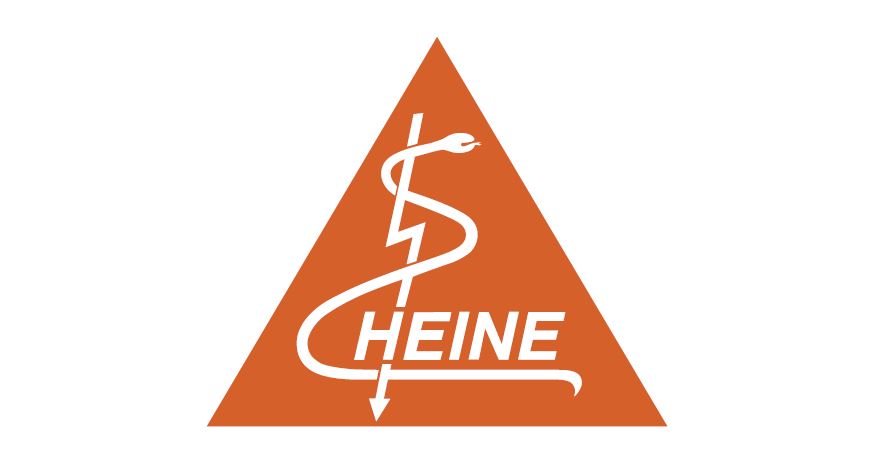 HEINE Are world leaders in medical diagnostic equipment
The principles were to make a contribution to humanity, to build the best, to make it yourself and to stay independent. It's hard to argue that HEINE haven't strayed far from these four points, with world class otoscopes, laryngoscopes, loupes, ophthalmoscopes, spygmomanometers, dermatoscopes and more, successfully diagnosing patients across the world. This article will go on to explain a little bit more about HEINE, showcasing their products and demonstrating why they are the best.
One Goal for Over 70 Years
HEINE was founded in 1946 with one goal, to create the finest diagnostic instruments anywhere in the world. By achieving accurate diagnosis, HEINE could meet their principle of making a contribution to humanity. As time moved on HEINE's portfolio started to expand, with otoscopes and ophthalmoscopes becoming a big focal point of their efforts in the 1950s.
By the 1980s, HEINE had a brand new factory, had purchased the world's leading manufacturer of medical lamps, and had expanded into selling retinoscopes, gonioscopes and had moved into proctology. This was supported by a move into international markets, with Australia in their sights. In the 1990s and 2000s, HEINE widened their horizons even further, and announced GAMMA, a new range of stethoscopes and sphygmomanometers.
An International Success
By the turn of the century HEINE had moved into the United States. They still abide by the old principles of Helmut Heine, with his influence embedded in the culture, strategy and development of the family owned company. With 500 employees worldwide and a number of factories at their disposal, HEINE are well and truly here to stay.
All of their instruments are still made in Germany, with products undergoing tests that are more rigorous than any other test in the world. For example, the BETA 200S Direct Opthalmoscope undergoes 74 quality assurance checks before it reaches the customer. This attention to detail means that with HEINE, you are always buying quality.
A Showcase of HEINE
If you want to see what HEINE have got or are interested in buying HEINE, then you're in the right place. Whether you're after otoscopes, dermatoscopes or opthalmoscopes, we sell a wide range of what HEINE have to offer. Below are a small number of their products that we believe show why HEINE are among the best.
HEINE BETA 400 LED F.O. Otoscope Set with USB Cord and Plug-In Power Supply
Firstly, the HEINE BETA 400 LED F.O. Otoscope Set is one of the most advanced otoscopes on the market, with LED HQ technology offering crystal clear imagery that leads to a fast and accurate diagnosis. The user-friendly flip-up design is perfect for any GP, while the supplied specula help to increase hygiene. Ideal for most GPs, experts and health professionals, the HEINE BETA 400 ensures an easy examination.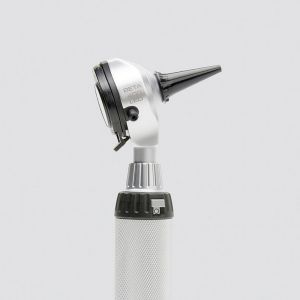 HEINE BETA 400 LED F.O. Otoscope Set with USB Cord and Plug-In Power Supply
HEINE Delta 20 T Dermatoscope with Rechargeable Handle
Designed to offer x16 magnification of the skin, the HEINE Delta 20 T Dermatoscope Set promises early diagnosis with unrivalled precision optics. With excellent image clarity, accurate colouring and high usability, the set features an easy to grab handle that enables versatility during examination. This versatility is perfect for comforting your patient and making your job easier.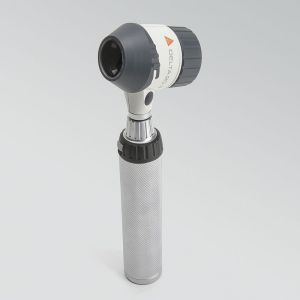 HEINE Delta 20 T Dermatoscope with Rechargeable Handle
HEINE EL3 LED Examination Light
HEINE produce world-class examination lights too, with the HEINE EL3 LED Examination Light a highly popular choice. With optimal light intensity and thermal management, this versatile light can reduce the annoyance of shadows during examination. Including a choice between a wall-mount, table-top clamp and wheeled stand, this durable light will continue to work for 30,000 hours.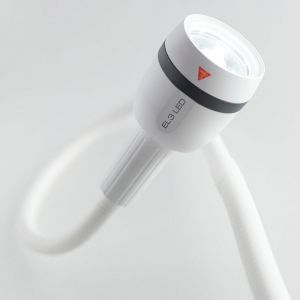 HEINE EL3 LED Examination Light
World Class Diagnostic Equipment
HEINE will continue to produce high quality diagnostic equipment, with new technology driving the otoscope, ophthalmoscope and dermatoscope industries forward. You can view more of our HIENE products at our HEINE Range Hub, or explore our HEINE Dermatoscopes, HEINE Examination Lights or HEINE Otoscopes and Ophthalmoscopes categories.
If you have any questions or suggestions about HEINE, please let us know in the comments below. Alternatively, you can find us on Facebook and Twitter.
Tags: Diagnostics, HIENE, Health and Care Expert Series, Ophthalmoscopes and Otoscopes.