HEINE BETA 400 Otoscope vs HEINE Mini3000 Otoscope: Which Should I Choose?
Thursday, 28 February 2019 | Paul
HEINE have been producing high quality otoscopes for a years and their brand new LED HQ technology has again pushed their medical equipment ahead of the rest. LED HQ technology is something that ensures exceptional sharpness, clarity and longevity and can help make diagnosis far more accurate. This works by making sure that colour temperature and colour rendering is as high as possible, meaning that the image is clear and that tissue colour is correct.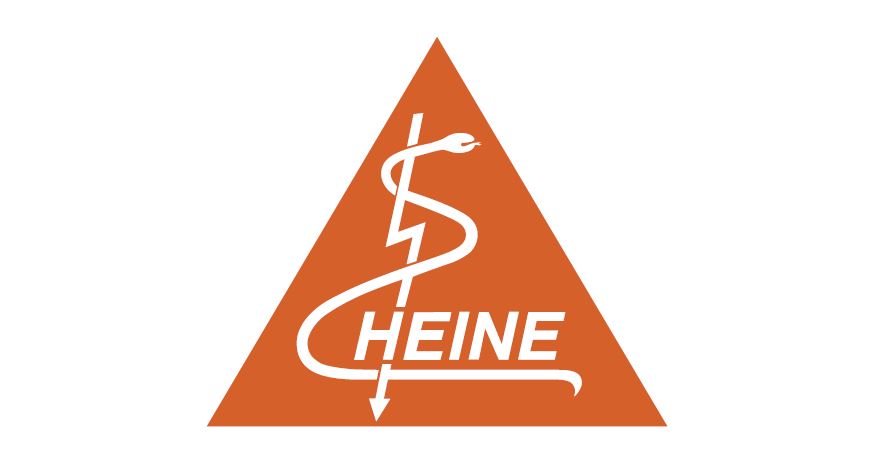 HEINE are industry leaders in medical equipment
Two of HEINE's top selling LED HQ otoscopes have just arrived at Health and Care. That's the BETA 400 LED F.O. Otoscope, and the Mini 3000 LED F.O. Otoscope, which both optimise something called LED HQ technology to offer image clarity that is unparalleled in the otoscopy profession. To help you choose between the two, we've compiled this simple comparative article, highlighting their pros, cons, and suitability for your needs.
Who are HEINE?
HEINE have been industry leaders for over 70 years, producing reliable, functional and innovative medical equipment that has changed how we treat patients. Their commitment to producing high quality products using brand new technology has meant that they are always ahead of the pack, transforming hospitals, surgeries and clinics across the globe. There won't be many universities or health facilities in the UK without HEINE equipment in their inventory, so it's only fitting that we provide you with the very best in HEINE apparatus at an affordable price.
At a Glance: Beta 400 vs. Mini 3000
Otoscopes can be used by a range of different people within the medical profession, including students, doctors and specialists. Deciding which otoscope you want is important, some offer more versatility, some offer a clearer picture with more focus, and others are small and compact, making them ideal for training or use in an environment which can be busy and hectic. To help you make your choice, we've decided to face them off against each other in a range of head to head scenarios.
| Feature | BETA 400 Otoscope | Mini 3000 F.O Otoscope |
| --- | --- | --- |
| LED HQ Illumination | ✔ | ✔ |
| Adjustable Brightness | ✔ | ✘ |
| Reusable Tips | ✔ | ✔ |
| Reusable Specula | ✔ | ✔ |
| Battery Powered | ✘ | ✔ |
| Rechargeable Handle | ✔ | ✘ |
| Professional (Size) | ✔ | ✘ |
| Compact (Size) | ✘ | ✔ |
| Insufflation Port | ✔ | ✘ |
Specification Comparison
| Feature | BETA 400 Otoscope | Mini 3000 F.O Otoscope |
| --- | --- | --- |
| Colour Temperature | 3,500K | 4,000K |
| Colour Rendering Index | CRI. 92 | CRI. 95 |
| Magnification | x4.2 | x3 |
| Working Life (hours) | up to 100,000 | up to 50,000 |
| Adjustable Brightness | 3% - 100% | N/A |
| Illuminance | 380,000lx | N/A |
| Warranty | 5 Years | 5 Years |
Comparing the Key Points
If you're still a little unsure about which otoscope is for you then don't worry, as this next section will demonstrate which is better suited for certain specifications. These include things such as brightness, usability and design. The purpose isn't to decide which device is better (they are both outstanding products in their own right), but to help you fit the otoscope to your environment at work.
Field of View
The HEINE BETA 400 Otoscope offers slightly higher magnification than the HEINE Mini 3000, which means that the HEINE BETA 400 is slightly better suited to looking at small anatomical structures within the ear canal and tympanum. The field of view for both, however, are no different, and it wouldn't do the HEINE Mini 3000 justice if we were to suggest that the HEINE BETA 400 is better.
Our Expert Verdict: Tie
Image Quality
While both use LED HQ Technology to offer exceptional quality, its the HEINE BETA 400 that offers adjustable brightness and a higher magnification of 4.2, meaning that you get a sharper and closer image. That isn't to take away from the HEINE Mini 3000, as it also offers exceptional quality, but for those who are at the top of their profession and want no margin for error, the HEINE BETA 400 edges it.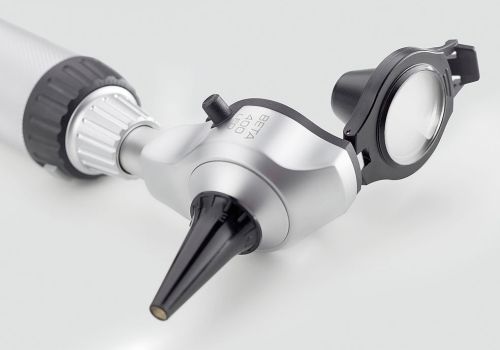 The HEINE BETA 400 has 4.2x magnification, ensuring a clear and sharp image
Our Expert Verdict: HEINE BETA 400 LED F.O. Otoscope Set
Usability
Both products are designed for ease of use, and it's hard to pick between them. On one hand the HEINE Mini 3000 is small, compact and incredibly easy to use, while on the other the HEINE BETA 400 is supplied with a reusable handle that means you can charge the device whenever you see fit. The battery powered design of the Mini 3000 could be seen as a negative, however because you are alerted through a warning light when battery is running low, it's not too much of a concern.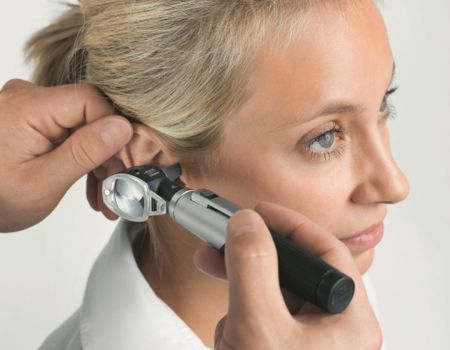 Both devices (Mini 3000 pictured) can be operated with just the one hand
Both items can be used with just the one hand, with both again featuring adjustment settings that can be toggled with your index finger. This exceptional level of usability from both devices means that splitting these on usability is like splitting hairs, so again the verdict is a tie.
Our Expert Verdict: Tie
Longevity
As both use an LED light, both products should probably last for almost a lifetime of use. However the HEINE Mini 3000 uses more plastic in its construction whereas the BETA 400 uses mostly metal, meaning that the Mini 3000 is slightly less durable than the BETA.
Furthermore the Mini 3000 has an estimated LED lifespan of 50,000, which is half of the estimated 100,000 that comes with the HEINE BETA Otoscope. Lastly, the Mini 3000 requires batteries for operation (though each set of batteries should provide 10 hours of use), meaning that you need to be careful of running out of charge if you don't have any batteries to hand.
Our Expert Verdict: HEINE BETA 400 LED F.O. Otoscope Set
Portability
Both otoscopes are lightweight, and can be operated with just one hand, and both use an ergonomic design to fit in the palm of your hands easily. The Mini 3000, however, has been designed specifically for practicality and versatility, with a small compact size that makes it perfect for students and those who are training in the profession. While the BETA 400 is portable, the small and lightweight design of the Mini 3000 puts that device ahead.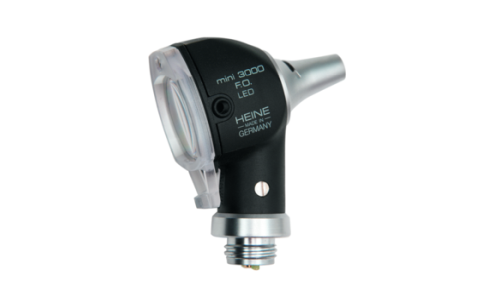 The Mini 3000 is designed to be lightweight and compact
Our Expert Verdict: HEINE Mini 3000 LED F.O. Otoscope Set with Batteries
The Verdict
Both of these products offer exceptional clarity and an exceptional field of view, with their simple, easy-to-use design perfect for putting your patient at ease and increasing the accuracy of your diagnosis. If you're a student or training in otoscopy, then the HEINE Mini 3000 LED F.O. Otoscope is perfect for your needs, as its affordable, compact and user-friendly design is perfect for anyone getting to grips with the profession.
On the other hand if you are a specialist, or are at the top of your game, you will probably want to choose the HEINE BETA 400 LED F.O. Otoscope as the extra magnification and adjustable brightness leaves no room for error. Its rechargeable battery is ideal for working all day through the week too, as should it start to run low all you have to do is put it on charge before you see your next patient.
We recommend the HEINE BETA 400 for: GPs; Specialists; Professionals.
We recommend the HEINE Mini 3000 for: Teachers; Students.
Where Can You Buy HEINE Otoscopes?
You can buy your HEINE Otoscopes by clicking on the "shop now" button below the images below. Please note that the two products that we sell are part of a set that enables you to start practicing immediately after purchase. The sets include a rechargeable handle (BETA 400), batteries (Mini 3000), reusable specula, disposable specula and a carry case.
Still Need Help?
If you're still wondering which to buy, you can always check out our HEINE and HEINE Otoscopes categories where we have a wider range of HEINE products available. If not, you could try call us on 020 7720 2266, or email our customer care team at helpdesk@healthandcare.co.uk where an expert will be delighted to help.
Tags: Health and Care Expert Series, Medical Supplies, Ophthalmoscopes and Otoscopes