HEINE BETA 200 S LED Ophthalmoscope vs HEINE Mini 3000 Ophthalmoscope: Which Should I Choose?
Thursday, 28 February 2019 | Paul
When examining the eyes, cornea and the fundus, pinpoint clarity and accuracy is important. That's why HEINE are at the top of the ophthalmoscopy market, with their top of the range ophthalmoscopes that are so accurate there is little room for error. The reason why they are at the top is because of brand new technology called LED HQ illumination, something that ensures colour temperature and colour rendering is as high as possible which helps to produce a super sharp image that promises accurate diagnosis.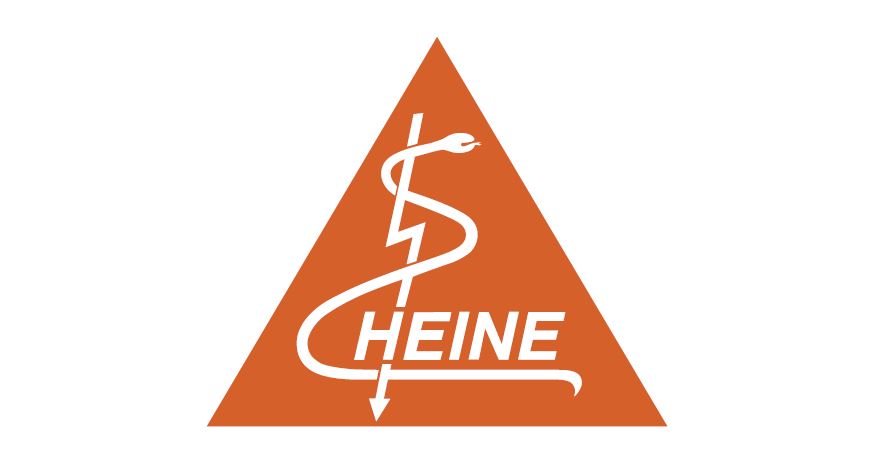 HEINE are industry leaders in medical equipment
We've just brought in two new HEINE ophthalmoscopes that we believe are the best in the business: the HEINE BETA 200 S Ophthalmoscope and the HEINE Mini 3000 Ophthalmoscope. Both have their differences and similarities, and pros and cons, but both promise to deliver an image that offers unparalleled clarity in the ophthalmoscopy market. To ensure that you know which of HEINE's ophthalmoscopes to buy, we've created this short guide.
Who Are HEINE?
HEINE have been industry leaders for over 70 years, producing reliable, functional and innovative medical equipment that has changed how we treat patients. Their commitment to producing high quality products using brand new technology has meant that they are always ahead of the pack, transforming hospitals, surgeries and clinics across the glove. There won't be many universities or health facilities in the UK without HEINE equipment in their inventory, so it's only fitting that we provide you with the very best in HEINE apparatus at an affordable price.
HEINE BETA 200 S vs HEINE Mini 3000: Which is Best?
Both the HEINE BETA 200 S Ophthalmoscope and the HEINE MINI 3000 Ophthalmoscope are at the top of the market, promising exceptional clarity that can't be beaten. However they do have their differences, and which one you want to buy depends entirely on where you work and what you want to use it for. To help you make your decision easier, we've put them against each other in a series of comparisons to let you know which is best suited to you.
| Feature | BETA 200 S | Mini 3000 |
| --- | --- | --- |
| LED HQ Illumination | ✔ | ✔ |
| Adjustable Brightness | ✔ | ✘ |
| Battery Powered | ✘ | ✔ |
| Rechargeable Handle | ✔ | ✘ |
| Professional (Size) | ✔ | ✘ |
| Compact (Size) | ✘ | ✔ |
| Dust Proof | ✔ | ✘ |
Key Statistics
| Feature | BETA 200 S | Mini 3000 |
| --- | --- | --- |
| Colour Temperature | 3,500K | 4,000K |
| Colour Rendering Index | CRI. 90 | CRI. 95 |
| Dioptre | -36D to +38D | -20D to +20D |
| Working Life (hours) | up to 42,000 | up to 50,000 |
| Adjustable Brightness | 3% - 100% | N/A |
| Number of lenses | 28 | 18 |
| Warranty | 5 Years | 5 Years |
The Key Points
If you're still a little unsure about which ophthalmoscope is for you then don't worry, as this next section will demonstrate which is better suited for certain specifications. These include things such as brightness, usability and design. The purpose isn't to decide which device is better (they are both outstanding products in their own right), but to help you fit the ophthalmoscope to your environment at work.
Field of View
As both products use LED HQ technology, it means that they can both offer an unparalleled field of view. The consistent light that is produced from the LED, ensuring crystal clear imagery from both, with the accurate colour rendering ensuring that colouring within the eye is accurate. This is ideal for reaching an accurate diagnosis, and as a result, we think this one is a tie.
Our Expert Verdict: Tie
Image Quality
Both products use LED HQ technology to offer exceptional image quality, with colour rendering and colour temperature set as high as possible to ensure accurate diagnosis. However the greater magnification, adjustable brightness and far greater scope in what you can do, means that the BETA 200 S is on top. This makes is well suited to professional use in situations where there is no room for mistake.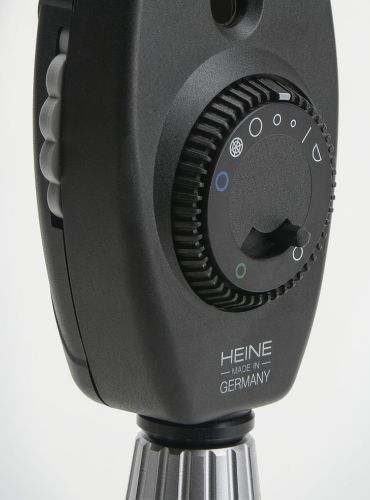 The greater magnification, adjustable brightness and higher scope ensure outstanding image quality
Our Expert Verdict: BETA 200 S
Versatility
Both of the ophthalmoscopes are versatile, with their small flexible design well suited to all of the challenges that might be thrown your way at work. The greater range, number of lenses and range in apertures, however, make the BETA 200 S stand out. This wide versatility ensures that you won't find pupils that the device can't inspect, perfect for any professional health expert.
The wider range in apertures makes the BETA 200 better suited to professionals, whereas the smaller range on the Mini 3000 is ideal for students who are learning the profession. A full view of apertures can be viewed below:
| Aperture | BETA 200 S | Mini 3000 |
| --- | --- | --- |
| Small | ✔ | ✔ |
| Large | ✔ | ✔ |
| Fixation Star | ✔ | ✔ |
| Cobalt Blue | ✔ | ✘ |
| Pinhole | ✔ | ✘ |
| Hemispot | ✔ | ✔ |
| Slit | ✔ | ✘ |
| Red-Free Filter | ✘ | ✔ |
Our Expert Verdict: BETA 200 S
Durability
As both use an LED light, both products should probably last for almost a lifetime of use. However the HEINE Mini 3000 uses more plastic in its construction whereas the BETA 200 S uses mostly metal, meaning that the Mini 3000 is slightly less durable than the former. As the Mini 3000 requires you to recharge the battery every 10 hours of continuous light, and as the plastic is less strong than the metal, this one goes to the BETA 200 S.
Our Expert Verdict: BETA 200 S
Usability
Both products are ergonomically designed for ease of use, and both have points that could put them ahead of the other depending on what you want. On one hand the Mini 3000 is small, compact and designed to be portable, with a handy pocket tag that enables you to put the device in your pocket. On the other hand the device also requires batteries, meaning that it has the chance of running out of power while seeing a patient.
Alternatively the HEINE BETA 200 S is larger than the Mini 3000, but like the Mini 3000 can be operated with just the one hand. Unlike the Mini 3000 it doesn't require batteries, meaning that there is little chance that it will run out of charge as when not in use you can simply put it on charge. As a result, we can't choose between the two for usability.
Our Expert Verdict: Tie
Portability
The Mini 3000 is called such because it is small and portable, meaning that it is ideal for students and those who treat people out of office. Its small and compact design is perfect for fitting in your pocket, meaning that you can get from A to B without damage to the device. Alternatively the nature of the BETA 200 means that it is better suited to use in a specialised care facility, with its more advanced design well suited to more specific use.

The small compact nature of the Mini 3000 is ideal for putting patients at ease
Verdict: HEINE Mini 3000
The Overall Verdict
Both products offer outstanding clarity which is unmatched in the ophthalmoscope market. Their clarity, sharpness and easy-to-use design promise to reduce the chances of misdiagnosing patients at work. However, if you are a student, a teacher or expect to be out of the office a lot, then the HEINE Mini 3000 LED Ophthalmoscope might be better suited to you because of its highly portable and affordable nature.
On the other hand the impressive range, durability and adjustable nature of the HEINE BETA 200S LED Ophthalmoscope makes it well suited for users who are at the top of the profession. Its rechargeable design is ideal for doctors who see lots of patients a day, while its highly accurate nature ensures the level of accuracy that is required by GP's and specialists.
We recommend the HEINE BETA 400 for: GPs; Specialists; Professionals.
We recommend the HEINE Mini 3000 for: Teachers; Students.
Where Can You Buy HEINE Ophthalmoscopes?
You can buy your HEINE ophthalmoscopes by clicking on the "shop now" button below the following images. Please note that the two products that we sell are part of a set that enables you to start practicing immediately after purchase. The sets include a rechargeable handle (BETA 200 S), batteries (Mini 3000) and a carry case.
Do You Still Need Help Deciding?
If you're still wondering which to buy, you can always check out our HEINE and HEINE Ophthalmoscopes categories where we have a wider range of HEINE products available. If not, you could try call us on 020 7720 2266, or email our customer care team at helpdesk@healthandcare.co.uk where an expert will be delighted to help.
Tags: Health and Care Expert Series, Medical Supplies, Ophthalmoscopes and Otoscopes