Great Gifts for Christmas 2018: New Age Kurling Indoor Curling Set
Wednesday, 11 October 2017 | Paul
It's almost that time of year again; pretty soon we'll be seeing Christmas decorations and cards being sold in our local supermarkets. With the holiday fast approaching, you might be fretting about what to get your friends or family for the occasion. The New Age Kurling Indoor Curling Set turns the popular game of curling into a fun indoor activity, making it the perfect way to spend your time on those cold winter evenings. Read our blog to find out who can benefit from the game.
Suitable for Able Bodied and Disabled People Alike
Widely used in hospitals' rehabilitation programmes, the sport can actually be highly beneficial to disabled people and is recognised by most disabled unions in the United Kingdom. The creator, John Bennett, was asked in the year 2000 by his son to think up a sport that disabled people could also enjoy. While he was watching the Curling World Championships on TV, he came up with the indoor version of curling: New Age Kurling.
As the sport doesn't require any physical fitness, it places able-bodied and disabled people on a level playing field. The game also helps train the players' muscles, making it highly beneficial to play. New Age Kurling is one of a very select number of games that can be enjoyed by everyone regardless of ability. If you know of a family who struggle to find activities that can be enjoyed by the whole family, this game could be perfect for them.
Novelty Gift for Curling Players
They've probably heard of New Age Kurling, but have curling players ever played it? Test how they perform in the game when the playing surface is smaller and they're competing against family members! Who knows, the game could even help them get better at curling,
Excellent Social Activity
Played widely in schools, this competitive sport is thoroughly enjoyable to play in groups of two to four people. The Kurling Indoor Stone Set makes a fantastic gift for your children, who might have already played the sport in school (in which case, you probably haven't heard the end of it!). New Age Kurling provides a fun indoor activity for beginners but also challenges those who want to master the sport.
And don't worry; each Kurling stone has a rubber surround to prevent damage to the skirting boards. The stones also have three steel bearings underneath so they can run over any smooth flooring.
Fun for all Ages
A fantastic Christmas activity, the New Age Kurling Indoor Stone Set can be played as a family over the holidays. Whether it's raining outside or you fancy an afternoon indoors, the set will help you and your family exercise off all those mince pies and Yorkshire puddings! This sport's popularity is testament to how enjoyable it is; New Age Kurling is now played in 52 countries around the world and is taking the world by storm.
Got something to add? Leave us a comment below or contact us on Facebook or Twitter.
Please note that the New Age Kurling Indoor Curling Stone Set isn't sold with the New Age Kurling/Bowls House Target, New Age Kurling Ramp or New Age Kurling Pushers; these accessories are sold separately.
Shop Related Products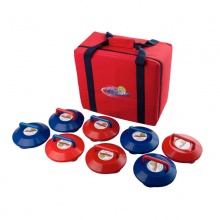 ---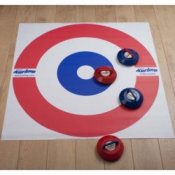 Designed for Kurling and Bowls

Can be placed on any flat surface

Traditional Curling Design

Measures 120 x 120cm square
---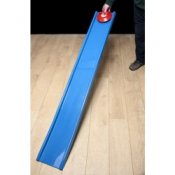 Designed for Kurling

Aid for pushing Kurling Stone

Manufactured from Fibre Glass

Assorted colours
---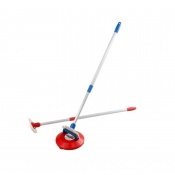 Telescopic pushers for the New Age Kurling Set
Ideal for wheelchair players who can't easily bend
Designed with telescopic handles for ease of use
Supplied in a pair of pushers for double the fun