Great Gifts for Christmas 2018: iHealth Edge Activity and Sleep Tracker
Thursday, 5 October 2017 | John
Stumped on what to get the fitness fanatic in your life? The iHealth Edge activity tracker enables you to measure your activity levels throughout the day, during exercise and even while you sleep – making it a great gift for the health and fitness-conscious people close to you.
Help Shift That Turkey Weight
Everyone loves a big Christmas meal, but no-one loves the feeling you get a few days afterwards when you realise exactly how much you ate. Since the iHealth Edge tracks movement and exercise, it can be an invaluable assistant in helping your partner or loved one achieve their New Years resolution of being more active and losing some weight.
More Motivation to Move
An ideal present for the people in your life who want to exercise, but find themselves unmotivated to do so, the iHealth Edge does the motivating for them! Throughout the day, it provides alerts and reminders to help meet the recommended target of 10,000 steps a day.
Data-Driven Exercise
If you know someone who loves their exercise, the iHealth Edge helps them to take their fitness game to the next level. It provides accurate and pertinent information like calories burned and distances travelled in an easy to understand way through the MyVitals app (available for Android and iOS). This helps the fitness-obsessed to understand how they exercise and develop a routine or system to maximise workouts.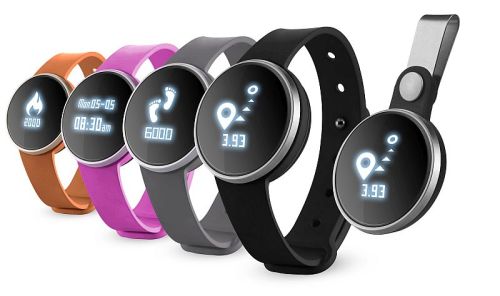 The iHealth Edge tracks activity and helps you achieve your fitness goals
What's more, through the app you can also set goals and targets to further maximise your exercise and fitness regimen. This is ideal for fitness fanatics who are looking to improve their fitness level and better their overall well-being.
A Timeless Timepiece
The simple and sleek design of the iHealth Edge makes it great for both the fashion-conscious and the health-conscious. While tracking your steps during your day-to-day activities, it also doubles as a stylish timepiece with a beautiful mirrored surface. With a selection of coloured bands included, it looks great on anyone's wrist for any occasion.
Rain and Sweat-Resistant
There's nothing worse than buying someone a nice gift only to find out that they've broken it several days later. It's a good thing, then, that the iHealth Edge has been developed to resist both rain and sweat. This ensures that a run in the winter rain or a tough workout won't put the health tracker out of commission when you'd want to use it most.
Track Sleep Habits
Helping the fitness-lover in your life make gains in every aspect of their health, so the iHealth Edge is also able to track sleeping habits. Since sleep is such an important and yet oft-overlooked aspect of our well-being, being able to track sleep and make changes for the better could be a key step in an aspiring athlete's training regimen.
Buy the iHealth Edge Activity and Sleep Tracker from Health and Care
If you think the iHealth Edge would make a perfect gift for your loved one this Christmas, why not pick one up from Health and Care. There's even FREE UK delivery included, so the price you see is the price you get.
More questions? Want to share how the iHealth Edge has benefited you? Comment below or find us on Twitter and Facebook.