Great Gifts for Christmas 2018: Amplicomms PowerTel M6700 Black Big Button Mobile Phone
Tuesday, 3 October 2017
Finding the perfect gift for a loved one can feel like a struggle. No matter how many gadgets, appliances, and novelty items line the shelves, it can seem impossible to find a gift that is simultaneously heartfelt and useful.
However, as part of our Great Gifts for Christmas 2018 range, we've selected a range of products that we are confident will put a smile on your loved ones' faces. One such product is the Amplicomms PowerTel M6700 Black Big Button Mobile Phone.
Mobile Phones for Christmas
It's no secret that mobile phones are a popular choice for gift giving at Christmas. Children and adults alike tug at bows and unwrap paper to reveal their shiny new handsets delivered by reindeer earlier that morning.
As many as half a million people in the UK* spend Christmas Day plugged into their phones, personalising content and trying out swish new features. As far as appreciated presents are concerned, mobile phones are at the top of their game.
The Gift that Keeps on Giving
Unlike many, more novelty presents that pass through hands at Christmas, gifting the Amplicomms PowerTel M6700 is not just great for Christmas Day. It is the gift that keeps on giving, providing enjoyment not just through the element of surprise as the shiny paper is removed to reveal the stylish gadget, but also for months and years afterwards as the recipient bonds with their new handset.
As the PowerTel M6700 features a rechargeable battery and a reliable clamshell design, it is a present that can provide enjoyment from that Christmas past and all the way into Christmases of future.
A Great Gift for the Elderly
The great thing about the Amplicomms M6700 is that it makes a great gift for virtually anyone. For many elderly people who have yet to venture away from their traditional landline, the M6700 Big Button Mobile Phone is a great introduction to the technology.
It features larger buttons that are ideal for anybody with reduced dexterity or difficulty seeing smaller, fiddlier keys. It even includes emergency and speed dialling functions to help keep your elderly loved ones safe whether they're at home or out and about.
A Great Gift for Hearing-Impaired Loved Ones
With adjustable volume, the phone is great for anybody with hearing difficulties. The ringtone volume can be adjusted to up to 85dB, making it much easier to hear when it rings. Not only is this ideal for hearing-impaired loved ones, but it is also useful for anybody who simply finds that they don't hear the phone ringing if it's in another room!
In addition, the M6700 Mobile Phone has an amplification volume boost of up to 24dB, making calls much clearer and easier to understand. The phone is also premium hearing aid compatible, ensuring it can be enjoyed by as many individuals as possible.
A Great Gift as a Child's First Phone
Children like to receive gadgets for Christmas; it can't be denied. For many children, Christmas is also a time when they receive their very first mobile phone. As the PowerTel M6700 is user friendly, it will make a perfect phone for a child who has spent all year pleading for their own mobile phone.
The larger buttons will make it easier to use for smaller, less nimble fingers, while the additional functions such as the headphone socket and the Bluetooth compatibility will ensure they can still have fun without taking the focus away from the phone's ability to phone home - an essential method of improving safety for many children and parents alike, particularly useful with the built-in LED torch for when those winter nights have darkened.
What Now?
With time ticking and Christmas creeping up on us, it'll be the 25th December before we know it. With a wide range of functions, a simple yet attractive design, and built-in safety features to keep your loved ones feeling safer no matter what their age, the Amplicomms PowerTel M6700 Black Big Button Mobile Phone is a perfect Christmas gift idea for virtually the whole family.
Visit here to learn more about the Amplicomms PowerTel M6700 Black Big Button Mobile Phone and purchase the ideal gift for your loved ones this Christmas.
Have you ever received a mobile phone as a Christmas gift? Let us know in the comments, or find us on Twitter and Facebook!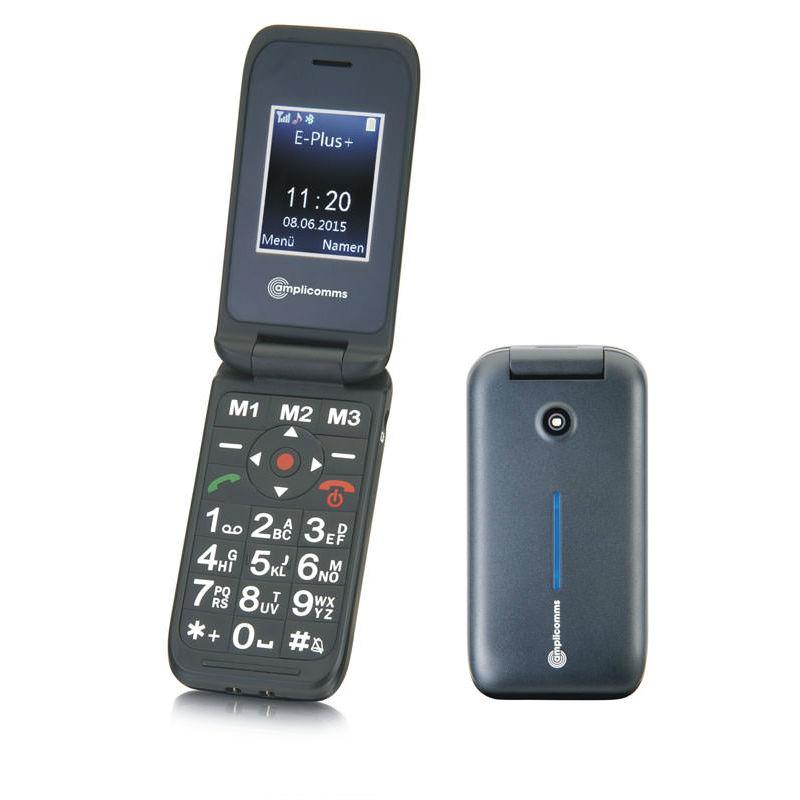 *According to Kantar Worldpanel, more than half a million people in the UK received a mobile phone as a gift for Christmas in 2014.