Find Your Perfect Plaster with Leukoplast
Friday, 18 May 2018 | Paul
Leukoplast's vast range of plasters, bandages, dressings, fixation tapes and wound care products offer a broad variety of specific uses in treating and caring for cuts, wounds, abrasions and other mild to moderate injuries. The extensive list of specialist products, however, can be overwhelming when searching for the plasters and products that you need. As such here's a quick guide on what the Leukoplast Range has to offer.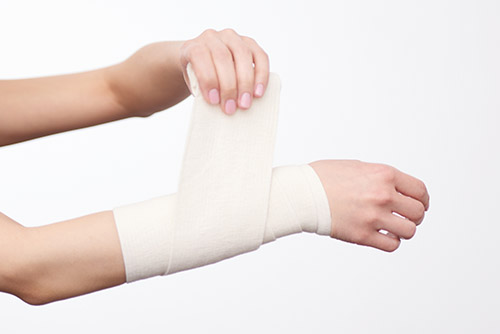 Leukoplast Plasters
Leukoplast Strong: Robust and Durable Protection
Leukoplast offers a massive variety of plasters to suit each and every individual. In the majority of cases the Leukoplast Strong offers robust and long lasting protection. The highly durable, water repellent plasters are perfect for the active individual. With the Leukoplast Strong, endurance and adaptability are the priorities. If you're looking for the classic, durable plaster, look no further. However each of Leukoplast's offerings provide unique forms of protection. For those suffering from allergies the latex free Barrier, AquaPro, Kids and Elastic plasters may be a better choice.
Leukoplast Barrier and Leukoplast Aquapro: Waterproof Protection for Wounds
The Leukoplast Barrier is an ideal choice for long lasting comfort and breathability, paired with anti-bacterial protection. The waterproof Barrier provides two way protection against bacterial contamination, significantly reducing the risk of secondary wound infection. Similarly the waterproof AquaPro seals off cuts and wounds preventing infection and contamination. Specifically useful in protecting wounds while washing, bathing and swimming, the AquaPro plasters offer long lasting protection.
Leukoplast Soft and Leukoplast Kids Plasters: Protection for Sensitive Skin
For especially sensitive skin the Leukoplast Kids and Soft plasters provide skin friendly wound care. The cheerfully designed, water resistant, dirt repellent Leukoplast Kids plasters provide comfort in protecting cuts grazes and lacerations. Ideal for children the Leukoplast Kids highly absorbent, low adherent wound pads allow for easy application and quick and painless removal. Similarly the Leukoplast Soft plasters use skin friendly adhesive to allow for easy removal when necessary.
Leukoplast Elastic: Ideal for the Active Individual
Designed for movement, the Leukoplast Elastic is ideal for protecting fingers, joints and other flexile areas of the body. Ideal for the active individual, the Leukoplast Elastic allows you to carry on with any of the activities you would normally do throughout the day. Breathable and skin friendly the Leukoplast Elastic is perfect for protecting cuts and wounds in difficult places.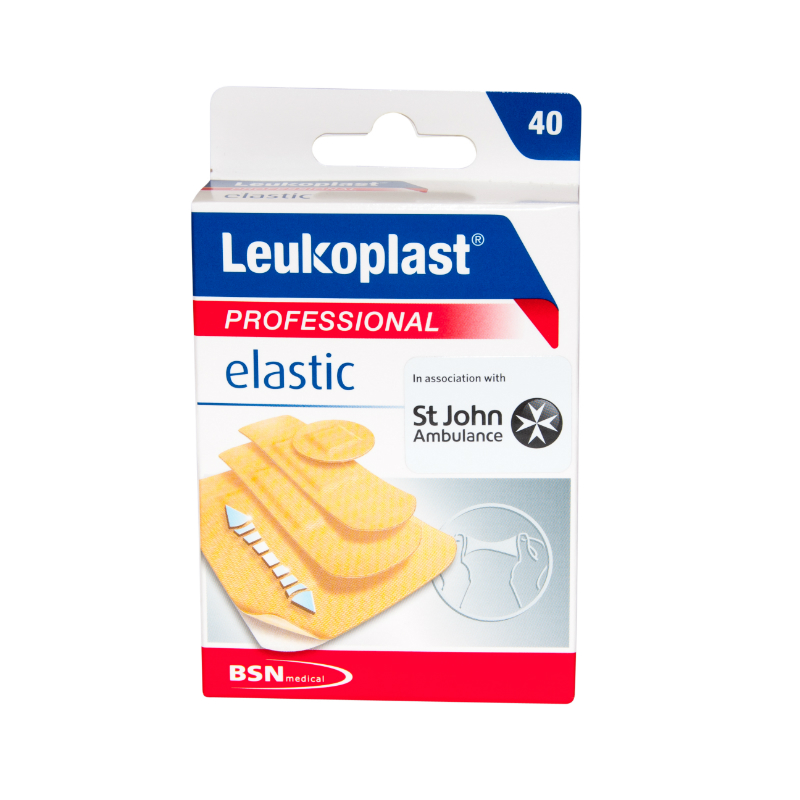 The Leukoplast range includes plasters for all people
Leukomed Dressings
When choosing a dressing it's important to consider priorities. In protecting wounds, grazes, cuts and abrasions, Leukomed's various wound dressings each have unique qualities that are important to consider.
Leukoplast Leukomed
The Leukoplast Leukomed offers secure yet gentle protection for up to seven days. Suitable for both normal and sensitive skin the Leukoplast Leukomed dressing is a good all-rounder.
Leukomed T Plus
The Leukomed T Plus is an absorbent, waterproof film dressing which protects cuts, wounds and abrasions from water and bacteria acting to prevent contamination. Easily applied using the unique red-strip mechanism the Leukomed T Plus provides comfortable protection from infection.
Leukomed Sorbact
Acting to remove bacteria from infected wounds while preventing contamination the Leukomed Sorbact offers breathable shower-proof protection. Although somewhat similar to the T Plus the Leukomed Sorbact utilises anti-microbial technology to protect infected wounds and prevent further infections
Leukomed Cutisoft
If comfort is the priority, the Leukoplast Cutisoft offers gentle protection for pain-sensitive wounds and minor burns. The sterile and skin-friendly dressing can also be used to cleanse or dress painful and sensitive wounds.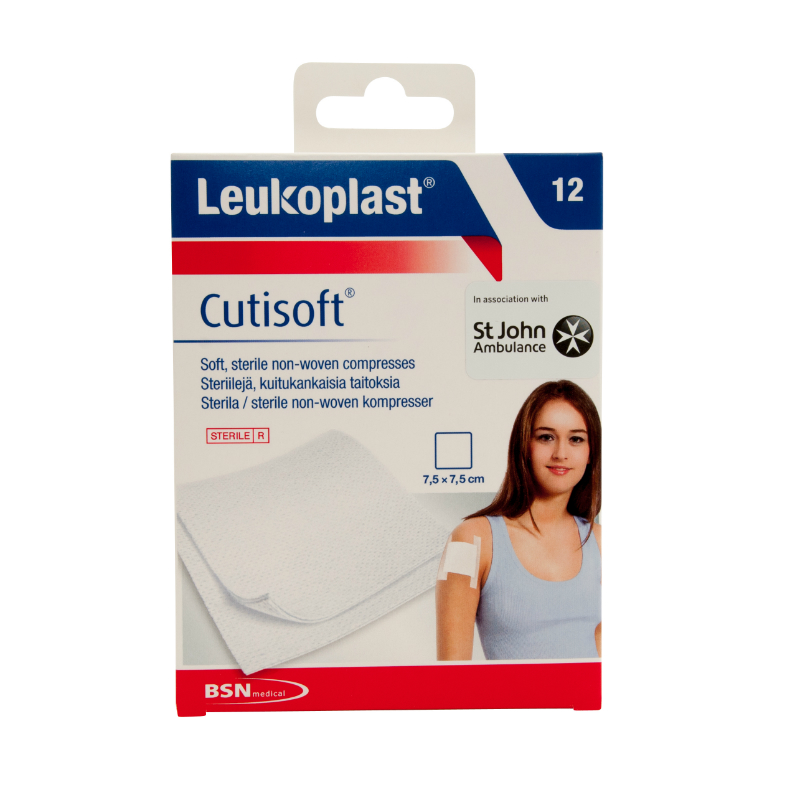 Leukoplast Fixation Tapes
Leukoplast: Durable Protection for Normal Skin
Leukoplast fixation tape provides durable and long lasting fixation of bandages and dressings on normal, non-sensitive skin. The classic Leukoplast tape offers adaptability and versatility due to it's simple and durable design. The classic Leukoplast fixation tape is suitable in most cases.
Leukopor: Ideal for Sensitive Skin
Like the Leukoplast, the Leukopor offers long lasting adhesion. However the water repellent Leukopor fixation tape caters for those with extremely sensitive skin offering comfort and conformability.
Leukoplast Hypafix Self Adhesive Tape
The Leukoplast Hypafix is a wide area fixation tape suitable for both normal and sensitive skin types. Self-adhesive with quick and easy application, the Leukoplast Hypafix is easly cut and shaped, making it perfect for fingers, joints and other difficult areas.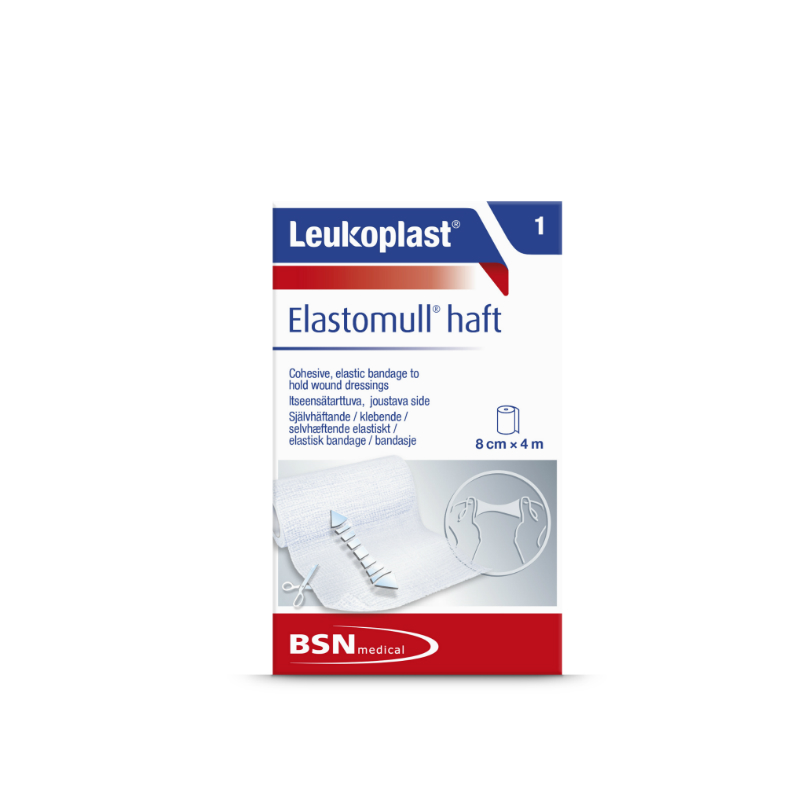 Leukoplast Bandages
Leukoplast Elastomull
The highly elastic, Leukoplast Elastomull bandage offers quick and easy application for comfortable protection. Perfect when used in conjunction with an absorbent pad or dressings the Elastomull elastic bandage is comfortable and soft on the skin, Leukoplast Elastomull provides gentle protection, making it ideal for supple and flexible parts of the body.
Leukoplast Elastomull Haft
Although the Elastomull haft is very similar to the classic Elastomull bandage the Elastomull haft is uniquely self-cohesive. The self-cohesive haft is self sticking meaning it sticks to itself rather than to the skin. As such, no fixation tape's required. This significantly increases comfort and ease of application. Latex-free and skin friendly the Elastomull haft is ideal for those with allergies or sensitive skin.
Tags: Brand Focus, Health and Care Expert Series
Shop Related Products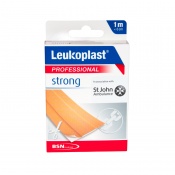 Robust and highly durable plasters for wound dressing
Water repellent for high adaptability
Suitable for cuts, grazes, lacerations and abrasions
Supplied in a 6cm x 1m roll for long-lasting use
---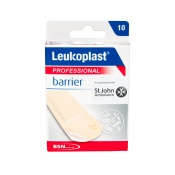 Dirt repellent, waterproof dressing for added protection
Reliable adhesion for long lasting comfort
Latex free; perfect for those with allergies
Provides two way protection against bacterial contamination
---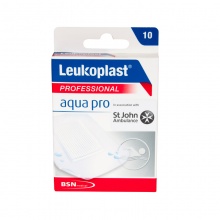 Waterproof plasters seal off wound during washing, bathing and swimming
Reliable adhesion for long lasting comfort
Latex-free for those with allergies
Extra thin, transparent film keeps wound clean and dry
---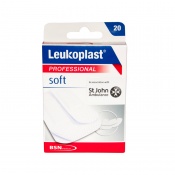 Soft, breathable plasters; ideal for sensitive skin
Easy and gentle to remove
Ideal for children and sensitive skin
Pack of 20 plasters in assorted sizes
---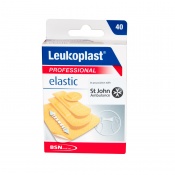 Highly flexible plasters for the active individual
Ideal for fingers, joints and other highly flexible areas
Latex-free, skin-friendly design ideal for sensitive users
Supplied in a pack of 40 plasters in assorted sizes
---
Soft and easily applied wound dressing for comfort and protection
Skin-friendly and latex-free for those who suffer from allerigies
Wear time of up to seven days per dressing
Provides secure protection through cushioned sterile pad
---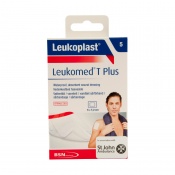 Latex-free; ideal for those suffering from allergies
Waterproof film provides protection against contamination and infection
Unique red strip mechanism offers one handed application
Reliable adhesion offers secure and comfortable protection
---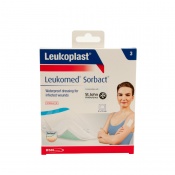 Removes bacteria from infected wounds
Waterproof dressing protects against external contamination
Showerproof and breathable design for long lasting comfort
Sterile and latex-free for safe protection
---
Low allergy adhesive; ideal for sensitive skin
Water repellent for added protection
Highly adaptable for use with a variety of bandages and dressings
Long term fixation with added comfort
---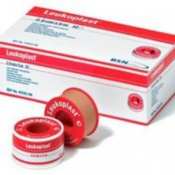 Robust and durable, fixation tape for wound dressings and bandages
Strong adhesive for secure and long lasting fit
High initial and permanent adhesion
Ideal in conjunction with wound dressings or bandages for adaptable wound care and protection
---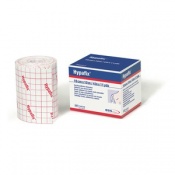 Self-adhesive wide area fixation tape; perfect for bandages and dressings
Suitable for normal and sensitive skin
Quickly and easily applied; ideal for all users
Conformable and easily cut; perfect for joints and difficult areas
---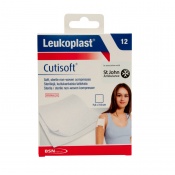 Soft and skin friendly for comfort and protection
Ideal for pain sensitive wounds, abrasions and minor burns
Sterile and individually wrapped for maximum protection
Highly breathable and highly absorbent for added comfort
---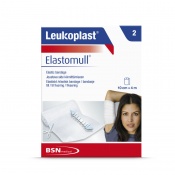 Quick and easy to apply, ideal for a range of dressings
Soft and gentle on the skin to reduce irritation
Highly elastic providing freedom and flexibility
Supplied in a pack of 2 rolls measuring 8cm x 4m
---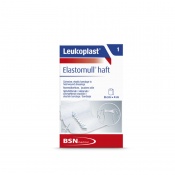 Quick and easy to apply, ideal for every user
Sticks to itself and not the skin for extra comfort
Highly elastic providing freedom and flexibility
Skin-friendly and latex-free for supreme comfort