Feeling Pain When Using the TPN-200?
Thursday, 19 October 2017 | Paul
Are you experiencing pain while using the TPN 200 Plus Dual Channel TENS Machine? At Health and Care, a few of our customers have complained that they've experienced a feeling like an electric shock when they've used the appliance. Find out why you're experiencing pain by reading the blog post below, as well as what you can do to prevent it.
Why am I Feeling Pain When I Use the TPN 200?
The last thing you want when you're using the TPN 200 Plus Dual Channel TENS Machine is to feel pain, particularly because you're likely using the machine to reduce your pain! Although you might think these have been caused by a heat burn, the tool has been designed so it won't cause this.
Thankfully, there is an easy explanation to the pain you're experiencing; if you have sensitive skin, this can cause an allergic reaction from the adhesive on the electrodes that are placed directly on your skin. But don't worry; this doesn't mean you have to stop using the popular TPN 200 TENS Machine altogether. We've got a simple solution so you can keep using the tool.
How Can I Prevent this Pain?
Having sensitive skin can be an issue when you use certain adhesives and gels. However, provided you use electrodes with the machine that are kind to sensitive skin, you can almost eliminate the risk of an allergic reaction or skin irritation.
The PALS Blue Square Electrodes for Sensitive Skin (Pack of 4) and the PALS Blue Rectangular Electrodes for Sensitive Skin (Pack of 4) have been designed to help keep you safe while you're using the TPN 200 Machine. These provide optimal electrotherapy treatments to you without causing an allergic reaction or skin redness, particularly when they're used in conjunction with stimulators that have an unbalanced waveform.
Which Electrodes Do I Need?
Are you wondering whether to get the square or rectangular electrodes? This will depend on where on the body you need to use the machine. While the square electrodes are 5cm by 5cm, the rectangular electrodes are 9cm by 5cm. This means the rectangular version is more suited to you if you need to cover a larger surface area, such as your back.
Optimally Designed
These Blue Square and Rectangular Electrodes have special "legs" on the construction to optimise the level of air that flows around the hair and into the pores of the skin. This provides you with better skin contact to ensure the machine works at its best.
In addition to this, traditional blue gels have to be stored in foil packaging as the gel dries quickly after opening. PALS Blue Electrodes, on the other hand, are more robust and durable, allowing you to conveniently store them in zip lock bag packaging without them drying out.
How Can the TPN 200 Plus TENS Machine Help Me?
What's incredible about the 200 Plus Dual Channel Machine is that it uses your body's natural healing process to relieve pain. The machine uses electrodes placed on the skin to deliver electrical impulses to the nerve fibres underneath the skin's surface. This helps block pain signals to the brain and spinal cord to reduce your pain and relax your muscles.
The impulses may also stimulate the production of endorphins, which help to reduce your perception of pain. These are effectively your body's own natural painkillers. The machine can be used to help treat pain from a wide range of conditions, including:
Arthritis
Back pain
Headaches
Migraines
Muscle stress
Osteoarthritis
Period pains
Pregnancy
Labour pains
Sleeplessness
Sports injuries
Have you experienced pain while using the TPN 200 Machine? Have your say by leaving a comment below or alternatively contacting us on Facebook or Twitter.
Shop Related Products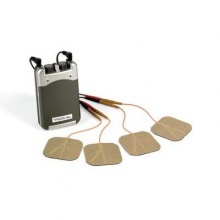 Dual channel TENS machine for back, shoulder, neck pain and more
TENS unit offers TENS therapy through easy to use analogue buttons
Supplied with leads and electrodes for self-administration
Promises pain relief for a wide range of conditions and injuries