Essential Items to Take Backpacking This Summer
Wednesday, 31 May 2017 | Paul
Packing for a holiday can be difficult enough; packing for a gap year or extended trip away can often fuel nightmares. When you're packing for a long trip, you need to make sure that you have everything you may possibly need whilst you're away, which can sometimes be difficult to gauge. But don't you worry, here at Health and Care, we have compiled a handy guide of the essential items you will need for your adventures across the globe.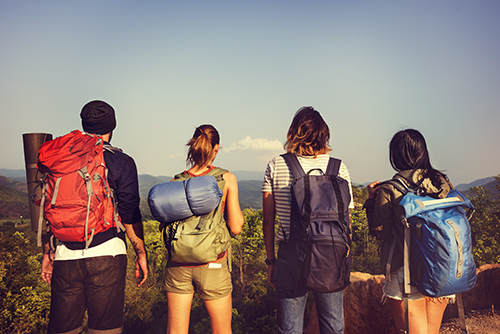 Your Snail Shell
The most important thing you will need on your grand adventure is a good sized backpack that you are comfortable with. Your backpack will become your holy grail, your home, your snail shell; so it is vital that you find one that suits you and is comfortable to wear.
Another thing to consider is that a good weight for your backpack is 10 to 12kg, so don't overdo it. Take some trial runs before your trip to carry your backpack with all your items inside to ensure that you can handle the weight; you will be walking around with it a lot, after all. And remember, whatever you don't pack, you buy, so consider only taking the bare essentials at first, and buy anything else along the way.
The Very Basics
Before we delve into the practical items you need to make your home away from home more comfortable, we have complied a list of the very basic items that you absolutely must make sure you have before boarding that plane.
Passport (it seems like an obvious one, but is super important)
Travel tickets (for planes, buses, trains etc)
Health and travel insurance documents (in case you get ill or any flight or trains get cancelled)
A debit or credit card (for getting cash throughout your trip)
Cash in the currency of your first destination (you never know how long it'll take you to find that first cash point)
Prescription medications (if applicable to you, and take some painkillers for good measure, too)
A spare pair of glasses and contact lenses (if you wear them)
An international driver's licence (if you plan on renting any cars or scooters on your trip)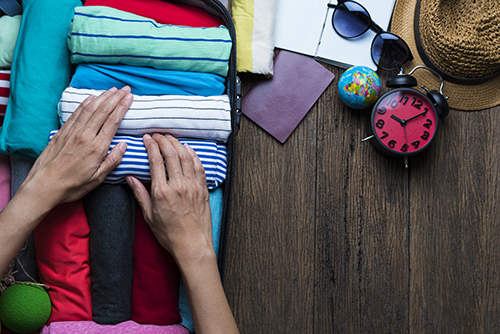 Doubling Up
When you're working with little room, it's good to consider taking multipurpose items so you can really make the most of economising on backpack space. It is also good to think outside of the box on other ways items can be used.
For example, a travel neck pillow is not only great for sleeping upright, but also makes for a comfortable cushion to sit on when travelling on those crowded buses or sleeper trains. Bin bags are also a great household tool used for backpacking, as you can use them as emergency rain cover and to keep dirty clothes in between washes.
Keeping your Safety In Mind
While you are out exploring different parts of the world and engaging in different activities, you often don't consider the potential risk of injury. However, bruises, burns, cuts and scrapes are just as likely to be experienced out backpacking than they are at home, if not moreso.
Here at Health and Care, we have a whole range of Travel First Aid Kits to suit your needs while you are exploring the continents, and you are surely bound to find something to suit your needs. To point you in the right direction, why not consider the Bum Bag First Aid Kit, which contains everything you might need from plasters, to dressings, to safety pins (believe us, these are a godsend). There is even enough room to pack some extra items you may need, so you can make it completely customisable.
Other Things To Consider
Other useful items to consider to take with you could be:
Earplugs (to improve your quality of sleep wherever you are)
Toiletries (though you can buy these wherever you are, it's good to keep the essentials on you)
Sun cream (at least SPF 30) and after sun (because we've all experienced a little bit of sunburn)
Plug adapters (check what types you may need beforehand)
A reusable water bottle (BPA free so that it is safe to drink from all day)
Insect repellent and bite creams (to keep those pesky bugs at bay)
A few lightweight clothing options (you don't want to end up with the same outfit throughout your trip)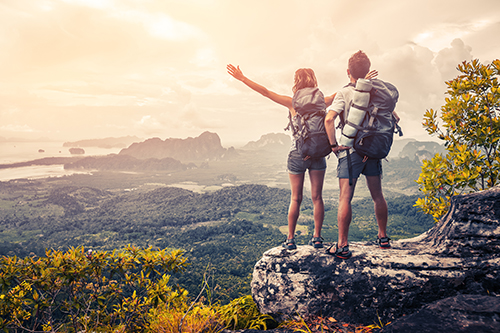 Remember that this isn't an extensive list, and it's ultimately up to you what you may consider important to take on your travels. Packing for a trip around the world is trial and error, so it may take some time before you whittle down your backpacking essentials. We hope we helped you along the way!
What would some of your backpacking essentials be? Anything we missed out? Let us know in the comments below, or reach out to us on Twitter or Facebook!