England Manager Gareth Southgate Pictured Wearing Donjoy UltraSling III
Thursday, 21 June 2018 | Paul
One thing we can guarantee here at Health and Care is that the products that we sell are of the highest quality, and what better seal of approval than that of England manager Gareth Southgate? Southgate dislocated his shoulder on Wednesday afternoon while out running on England's day off. Don't worry, it wasn't serious and he'll still be on the sidelines on Sunday afternoon against Panama, but after a short trip to hospital he was photographed wearing a protective sling.
The sling was the Donjoy UltraSling III Shoulder Immobiliser Sling. The UltraSling III prevents internal rotation through a special de-rotation strap, which is maybe what Southgate needs after his air-punching celebration at the end of Monday night's game against Tunisia.
The Donjoy UltraSling III uses moisture-wicking mesh fabric to enhance comfort, and it promotes air exchange to keep the arm and shoulder cool and prevent infection. Furthermore, it encourages gradual exercising with its easy-open front panel and adjustable strap. With any luck, this comfortable and cooling sling will help Southgate keep his cool ahead of this weekend's game against Panama. Good luck, Gareth!
Tags: Arm Slings, Brand Focus, Shoulder Pain, Sports Supports and Braces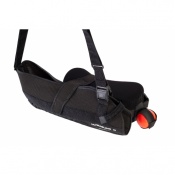 Thumb straps are included for functional hand positioning
Easy-open panel allows you to perform arm exercises
Moisture-wicking technology provides greater comfort
Immobilises your shoulder in a neutral position