Endometriosis: Symptoms and Treatment
Tuesday, 2 October 2018 | Paul
A certain degree of discomfort during your period is normal, but if you've been experiencing unusually painful periods, pain following sexual intercourse, bleeding between periods or long-term lower-back and pelvic pain, you may be suffering from endometriosis. Endometriosis is the second most common gynaecological condition in the UK, yet still too often left undiagnosed. This article is here to shed some light on this common problem, and hopefully help you find the right course of treatment for your symptoms.
What Is Endometriosis?
Endometriosis is a common yet frequently under-recognised chronic disease. Endometrial tissue consists of gland, blood cells, and connective tissue.
This tissue normally grows in the uterus, to prepare the lining of the womb for ovulation. Endometriosis occurs when cells similar to these grow in other parts of her body, usually around the pelvis, and less commonly in tissues and organs outside the pelvic cavity.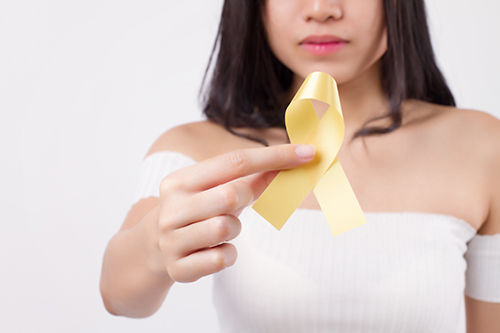 Yellow is the symbol of endometriosis awareness
Endometriosis is a highly individualised disease, with the symptoms and impact ranging significantly from person to person. Some women have very little pain or other common symptoms, while others have recurring symptoms that impact them on a daily basis. Let's take a closer look at some of the most common symptoms of endometriosis.
Symptoms of Endometriosis
While a certain degree of pain and discomfort during your period is normal, severe pain (dysmenorrhea) with menstruation is not normal and is often a sign of endometriosis or other related conditions. Other common symptoms of endometriosis include:
Severe menstrual cramps
Pain during or immediately after intercourse
Periods lasting longer than seven days
Heavy menstrual bleeding where the pad or tampon needs changing every one to two hours
Spotting or bleeding between periods
Pain with bowel movements or urination, most often during your period
Long-term lower-back and pelvic pain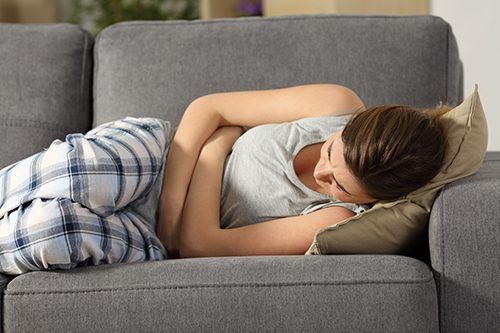 Painful periods are one of the most common symptoms of endometriosis
Other less common symptoms include fatigue, nausea, vomiting, diarrhoea, constipation and bloating, especially during your period. It's important to point out that endometriosis can be accompanied with all or none of these symptoms, so if you think you may be suffering from endometriosis, visit your GP as soon as possible to be sure.
What Causes Endometriosis?
The exact cause of endometriosis is still unknown, but certain conditions are often associated with its occurrence:
Retrograde menstruation – menstrual blood containing cells flowing back through the fallopian tubes and into the pelvic cavity instead of out of the body.
Embryonic cell transformation – hormones such as estrogen may transform embryonic cells into endometrial cell implants during puberty.
Surgical scar implantation – after a surgery, such as a hysterectomy or a C-section, endometrial cells may attach to a surgical incision.
Endometrial cells transport – the blood vessels or tissue fluid (lymphatic) system may transport endometrial cells to other parts of the body.
There are also certain factors that may increase the risk of developing endometriosis. Some of the most common ones include:
Never giving birth
Starting your period at an early age
Going through menopause at an older age
Short menstrual cycles (usually less than 27 days)
Low body mass index
Relatives (mother, aunt or sister) with endometriosis
Uterine abnormalities
Possible Treatment Options
Unfortunately, endometriosis has no cure, but its symptoms can be managed. There are certain medical and surgical options available to help reduce your symptoms, and most often recommended by your doctor only if your condition doesn't improve after attempted conservative treatments. Possible courses of treatment include:
Over-the-counter pain medication
Hormonal therapy
Hormonal contraceptives, such as birth control pills, patches and vaginal rings
Gonadotropin-releasing hormone (GRNH) agonists and antagonists
Conservative surgery, most often to remove the endometrial tissue
Last-resort surgery (hysterectomy)
Managing Symptoms at Home with Hotteeze
Although there is no known cure for endometriosis, most women are still able to successfully relieve pain and will be able to have children. Along with the prescribed course of treatment, a lot can be done at home to further improve the quality of your life.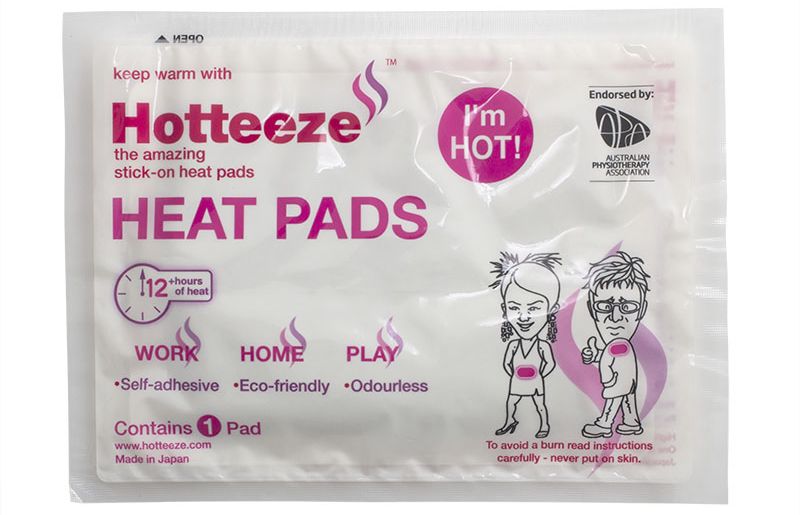 Heat therapy is proven to be efficient for helping to reduce pain. A simple hot water bottle or a hot bath will do the trick, but you can only take advantage of those when you're in the comfort of your own home. Hotteeze Heat Pads can be used to provide soothing warmth wherever you are.
A Hotteeze Heat Pad measures 13.2 x 10cm, is self-adhesive, and can be adhered to any part of the body over clothing. Its ultra-light and odourless design makes it highly discreet, which means you can use it anywhere, anytime. The pad begins to release heat in under 10 minutes, providing instant relief, and stays active for up to 12 hours.
7 Facts on Endometriosis
Endometriosis is the second most common gynaecological condition in the UK
One in ten women of reproductive age in the UK suffer from endometriosis
Up to one in three women with endometriosis have fertility problems
Endometriosis symptoms may improve during pregnancy, but the effects are often only temporary
In takes on average seven and a half years from onset of symptoms to get a diagnosis
Endometriosis costs the UK economy £8.2 billion a year in treatment, loss of work and healthcare costs
Light daily exercise can be beneficial for relieving pain associated with endometriosis
Have you been experiencing any of these symptoms? Let us know in the comments, or find us on Facebook and Twitter!
Tags: Heat Therapy, Keeping Warm, Learn about Conditions, Pain Management
Shop Related Products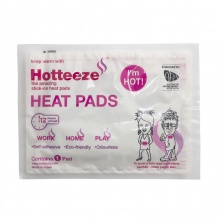 Easy-to-apply self-adhesive heat pad
Ideal for easing muscle soreness, menstrual cramps and back pain
Ultra-light and odourless for discreet warming
Eco-friendly and easily disposed after use