Do I Need an Evacuation Sledge?
Tuesday, 26 September 2017 | Eugene
If you're a business owner, employer, landlord, or practise any other form of control over a building or a group of people, it can be difficult to decipher exactly what your responsibilities are. In the event of an emergency, you know that many people may rely on your for guidance, support or assistance, so it's critical you know where you stand in relation to the law, and to the safety of those who depend on you.
Our Guide to Safe Emergency Evacuation
At Health and Care, we're committed to facilitating a better understanding of these types of rules, both to help those with responsibility and those who require these responsibilities to be upheld. As a leading supplier of evacuation safety equipment such as evacuation chairs, sledges and sheets, we've compiled a short guide to help clear up a few of these reguirements, helping to enhance the safety and peace of mind of those on both sides of every emergency situation.
What Are My Responsibilities?
Those who are recognised as a "responsible person" (an employer, service provider or other person in control of a premises), are responsible for ensuring the well-being of employees, clients, tenants and others within their premises. With regards to fire safety, this refers to:
Taking general fire precautions that will ensure the safety of any employees
Ensure the premises are safe in the form of general fire precautions for those who are not their employees
General fire precautions are defined as:

Measures to reduce the risk and spread of fire on the premises
Measures in relation to the means of escape from the premises
Measures to ensure that means of escape can be safely and effectively used at all relevant times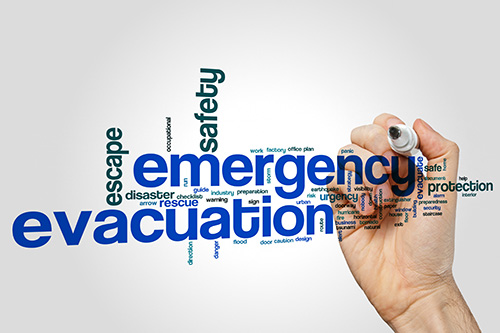 What About Those with Special Needs?
While these responsibilities may seem fairly straightforward, complications may arise when considering the evacuation of those with special needs. This is because the installation of evacuation devices cannot be enforced by any one regulation, but is instead seen as necessary to the safeguarding of employees or service user under more general legislation. The Regulatory Reform Fire Safety Order of 2005, for instance, doesn't mention evacuation sledges by name, but does state that the responsible person in question does risk running afoul of discrimination laws if they do not make every effort to protect their disabled employees, clients or other service users.
What this means, is that since evacuation devices are a necessary precaution for the safety of disabled employees, clients and tenants, the responsible person must equip them as necessary to avoid potentially breaking the law. In short, the responsible person must offer a satisfactory means of evacuation for those with disabilities including mobility issues and sensory impairments.
Make a PEEP
Another important aspect of the law for every employer and owner of a premises to understand is the responsibility to devise a PEEP, or Personal Emergency Evacuation Plan. These plans must be created for every individual who may need assistance when evacuating the building, be it due to disability, injury, pregnancy or general loss of mobility. These plans must encompass all areas of an evacuation procedure, including meeting points, installed equipment, and the steps to be taken during evacuation. If necessary, staff must be trained to carry out these plans, and must be familiar with how to use evacuation equipment.
At Health and Care, we offer access to a number of training options regarding the proper use of evacuation chairs and sledges. To learn more, take a look at our Evacuation Chair and Sledge Training Courses.
What is a Suitable Evacuation Device?
In most evacuation scenarios, the most difficult obstacle to overcome is the stairs. In the event of a fire, lifts are not permitted for use, so there must be a safe option to move people in need safely to the ground floor. For these scenarios, evacuation sledges and chairs are essential.
Evacuation Sledge and Chair Deals for Businesses
We offer a range of Evacuation Sledge packages at highly competitive prices, divided into bulk packages designed for different sizes of business, and ranging evacuation needs. These include our:
Each of these packages is available with free, fast delivery to get your business up to code and ready for emergencies almost immediately.
If your situation is suited to an evacuation chair rather than a sledge, we also offer a wide range of evacuation chairs, all with the same free, fast delivery service.
Do you have any additional questions or concerns about our evacuation chairs or sledges? Or, do you have something to add that we left out? Get in touch with us on Facebook and Twitter, or leave us some feedback in the comments section below!