Top 10 Dementia Wandering Products 2022
3 Comments
Wednesday, 30 June 2021 |
Eugene
Caring for a loved one with dementia can be a challenge, especially if that person is prone to wandering. Someone with dementia can begin to wander for any number of reasons, putting themselves at a significant risk of injury, so it's important to have the proper measure in place to prevent it from happening. At Health and Care, we stock a number of intuitive products to minimise the risk of wandering, but before you turn to technology to solve your problems, there are a few simple steps you can take to improve your loved one's safety.
Dementia and Wandering
Before tackling the issue head-on, it's crucial to know the root causes of wandering. Anyone with memory issues can wander, whether to fulfil a need such as thirst or hunger, or just purely out of boredom. Once someone with dementia is out in the world, they can forget their address, phone number, or even their name, making the experience a frightening ordeal that can end in disaster. To help prevent the worst case scenario, here are some simple steps you can take:
Create a Routine - Having a concrete daily plan can help to prevent the restlessness that often leads to wandering. If your loved one is occupied with getting through their day, the risk of distraction can be greatly reduced.
Ensure Needs are Met - Wandering is often triggered by a need to find water, food or go to the bathroom. If you make it safe and easy for your loved one to achieve these simple goals, it can go a long way to keeping them happy and relaxed.
Have an Action Plan - If wandering does occur, make sure you're prepared. Ensure your loved one has an ID on them at all times, keep a recent photo and updated medical information on hand, and contact the authorities as soon as possible.
Best Anti-Wandering Products
Even once you've done everything possible to prevent wandering from happening, the risk is still present. Your loved one's home should always be a safe place, and anti-wandering products can help to make it as safe as possible. Our Top 10 Dementia Wandering Products can help you combat wandering in a number of ways, including:
1) Know When Your Loved One Leaves Their Bed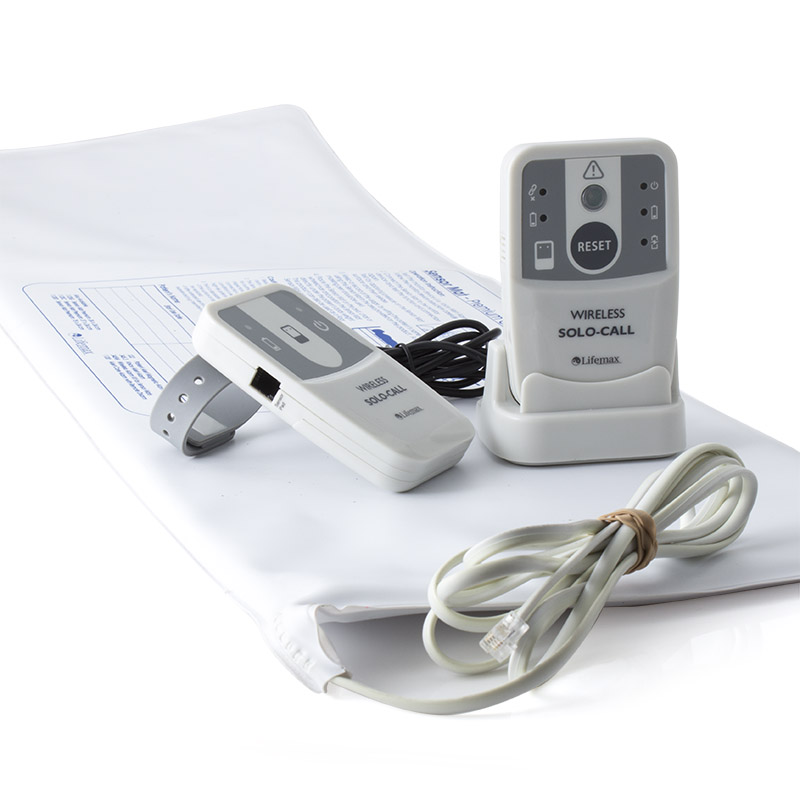 Once you have a concrete routine for your loved one, you'll know something is out of the ordinary if they leave their bed at the wrong time. The Wireless Care Alarm Kit With Large Bed Leaving Sensor Mat is an ideal solution to this problem, alerting you whenever your loved one leaves their bed. This can be especially useful at night, as a carer may be asleep and the low visibility of the night can make it an even more dangerous period for wandering.
Ideal for use in a domestic setting, the Wireless Care Alarm Kit is supplied complete and ready to use. It can be placed either beneath the vulnerable person in bed, or on the floor at their bedside, with a different setting option for each use. This makes it a highly versatile solution, providing you and your loved one with peace of mind that they are protected throughout the night.
2) Know When Someone Passes Through a Doorway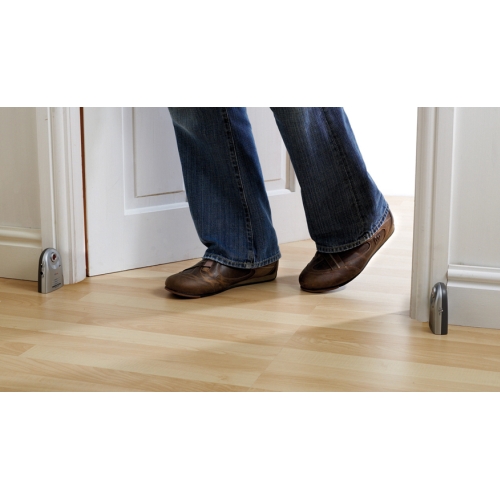 Whether it's a door to the outside, the kitchen, or another area of the house, wandering through the wrong door at the wrong time can be dangerous for those with dementia. The Doorway Anti-Wander Safety Beam Alarm is a threshold beam alarm that can be placed at the foot of a doorway. An invisible beam runs from the left to the right hand side of the doorway, and when someone walks through the beam, an audible alarm is heard to alert you to ascertain your loved one's safety.
The anti-wander beam alarm can be placed at a bedroom doorway to alert you that a person has wandered from their bed, or at the threshold of the kitchen or bathroom to alert you that the dementia sufferer is entering a room that may pose a significant danger when that person is left unattended.
3) Know When Someone Leaves Their Chair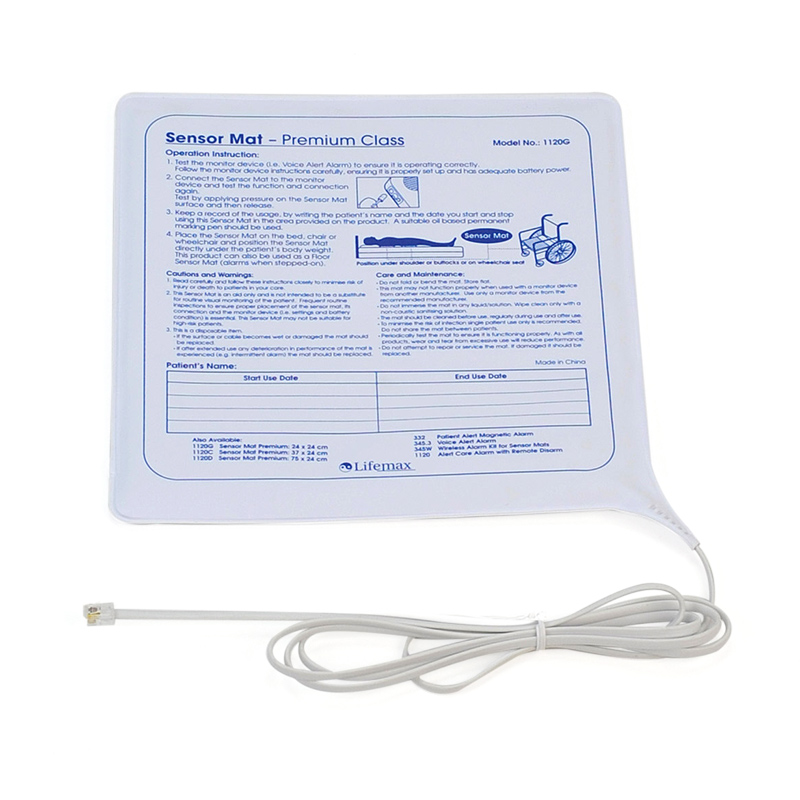 A favourite chair in a living room can be a powerful source of security for a dementia sufferer, so when it is left at the wrong time, there may be something wrong. The Wireless Care Alarm Kit with Chair Leaving Sensor Mat is similar to the bed leaving alarm above, but will alert you when your loved one leaves their chair.
Supplied complete with a small sensor pad to fit comfortably on most chairs, this system alerts the carer with a vibration and/or sound alarm from their pager when the chair is left. When used in conjunction with the bed-leaving sensor, this Sensor Mat can be a part of a comprehensive wandering and fall prevention system. This makes it especially ideal in situations where a dementia sufferer is often moved between their bed and chair for pressure relief reasons.
4) Make Sure You Can Find Your Loved One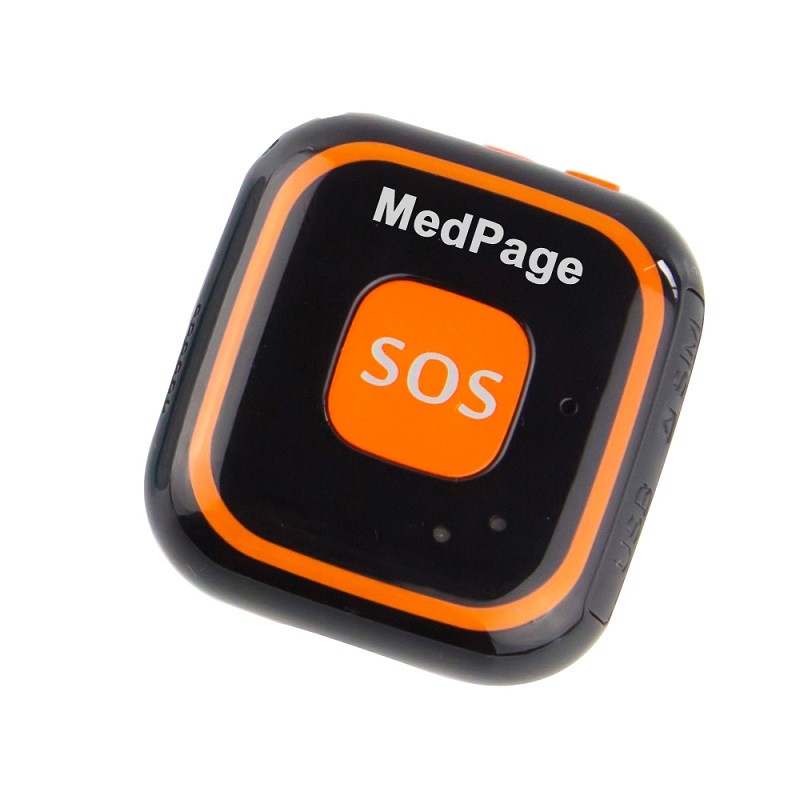 When the worst has happened and your loved one has wandered away from their home, the sooner you can find them the better. The Medpage Micro GPS Location Tracker and Fall Sensor is the ultimate companion for sufferers of dementia, ensuring them and their loved ones that they can always be located and are never lost.
It can be attached to keys or worn on a lanyard, allowing the user to be tracked via GPS with precision. A setting can be activated to let you know when they've left the house, and also notify you if the sensor detects a fall. It includes a button that allows the user to send a distress call to carers, making this unit function as an emergency alarm system as well as an GPS tracker, and providing a comprehensive aid for ensuring the safety of your loved one.
5) Reassure Your Loved One with a Voice Message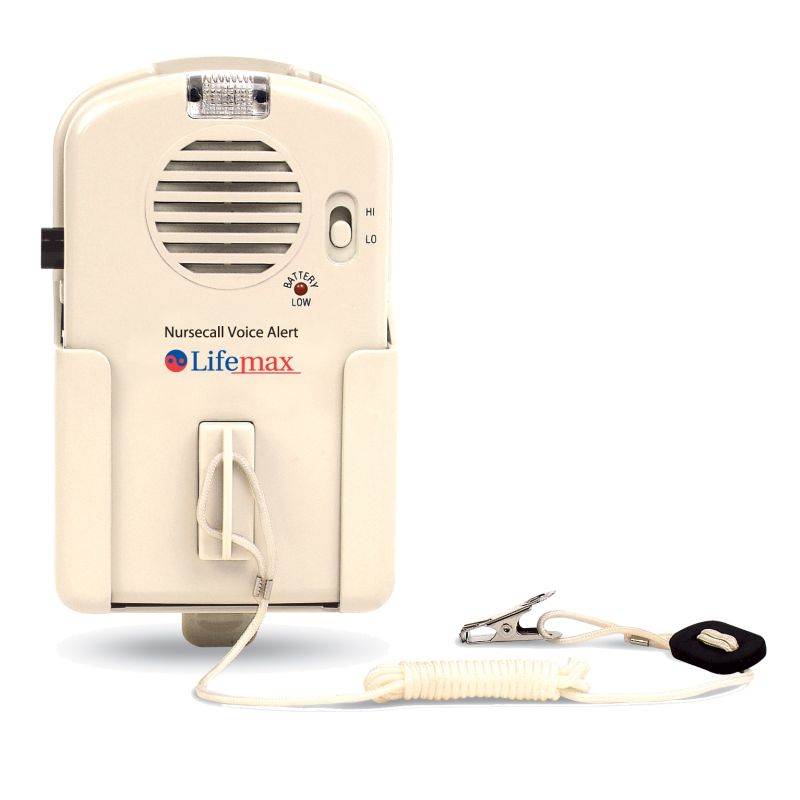 Confused wandering can be a terrifying experience for a sufferer of dementia, so anything that can provide a sense of calm and security is always helpful. The Fall Alarm With Voice Alert does just that, as you can record a voice message that will sound as soon as your loved one leaves their chair or bed to guide them back to safety. This approach is ideal, as it allows an immediate response to wandering that can remedy the situation without the need to wait for carer intervention.
As soon as the person gets up and starts to wander, they will pull the cable away from the unit automatically without their knowledge. This will detach a magnetic connection, which then triggers a voice message that will speak to the wandering person. For instance, you could record the message "Hello mum, please get back into bed so that you don't fall and hurt yourself." This message will then be spoken to the person as soon as they get up and break the cable contact.
You can also add a bed sensor to the unit if you would like to to trigger the voice message the moment the person stands up from their bed, once again speaking a familiar voice instruction to the wanderer to guide them back to safety. This bed sensor mat can be purchased separately and added to the system. If you require a chair or wheelchair system, simply add the chair sensor mat instead.

6) Prevent Injury from Bed Falls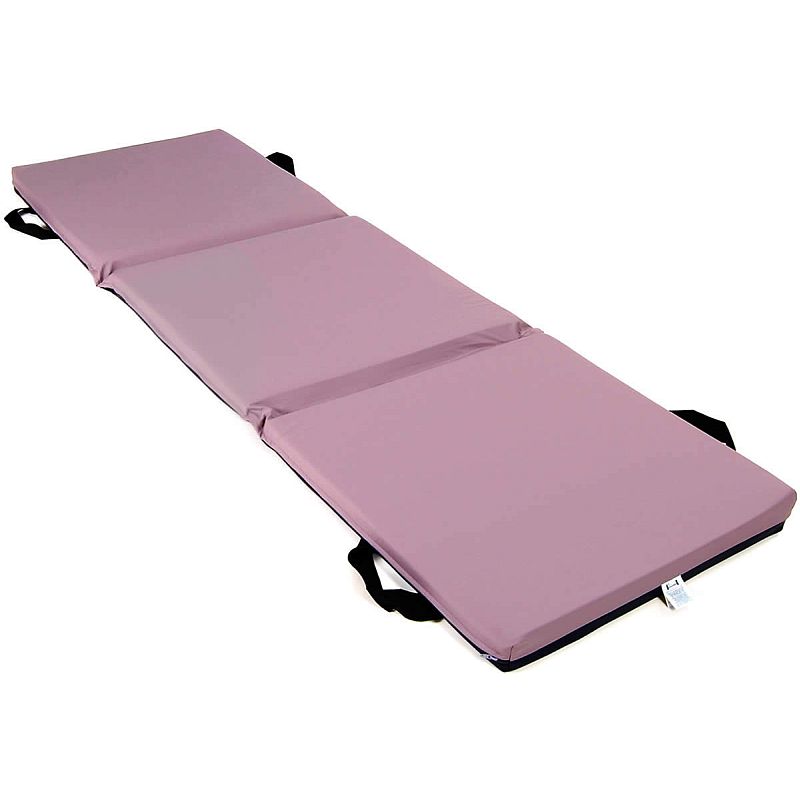 Dementia sufferers that are prone to wandering are at a much higher risk of falls, especially if they suffer with balance issues or their legs are not as strong as they used to be. For older people, this can be especially dangerous, as the risk of injury from falls is often heightened.
The Harvest Folding Crash Mat with Non-Slip Backing is a perfect solution, and is designed to be placed beside a bed to cushion the landing after a fall from bed. Made with a high-density foam, crash mats like this one are crucial for any dementia-care environment, turning a would-be disaster into a mere inconvenience. As this mat can be folded and stored away, it is ideal for areas where space is at a premium, and will not pose a tripping hazard during the day.
7) Protect Your Loved One Around the Home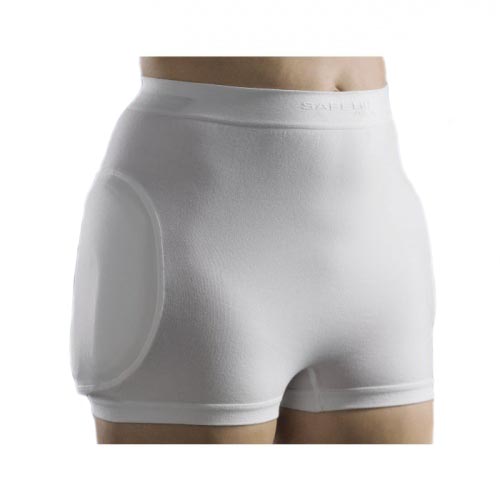 As mentioned above, falls are an important consideration for dementia wanderers, and hip injuries are one of the most common and debilitating ailments. The Safehip AirX Hip Pad Hip Protector Underwear is a simple way to provide excellent protection, allowing the wandering person to carry their protection with them at all times.
Comfortable and slim against the body, this underwear features built-in hip shield pads that protect the hips from fractures in the event of a fall. These hip impact guards disperse the force of impact away from the hips towards soft tissue areas, reducing the risk of a fracture. Available in multiple styles and sizes for men and women, the Safehip AirX Hip Pad Underwear provide a great way to bolster peace of mind for both you and your loved one.
8) Detect Falls and Wandering Anywhere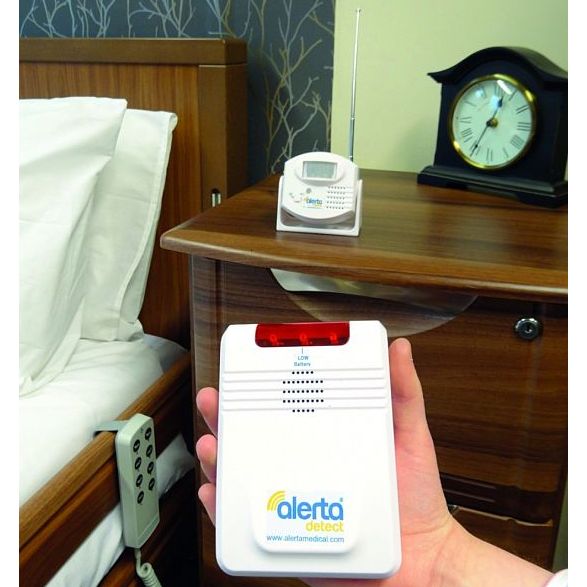 We've proposed a number of different wandering solutions, but they all rely on a certain mat being stepped on, or a certain doorway being walked through. For areas with multiple access points or routes of entry, the Alerta Detect Motion Sensor with Wireless Receiver is a much better solution, as it uses passive infrared technology to monitor a larger space for movement. This is also an ideal solution if you'd like to eliminate sensor mats, as they can pose a tripping hazard in certain environments.
You can even use this motion sensor by placing it under a bed facing out towards the direction that a dementia sufferer may wander. As soon as the duvet cover is flipped off the bed or the legs are positioned to exit the bed, the motion sensor will alert so that you can react immediately. If you're looking for a truly comprehensive solution, this system can be used in conjunction with Alerta's range of wireless bed, chair and floor sensor mats to provide an advanced approach to wandering prevention.
9) Be Alerted When a Door or Window is Opened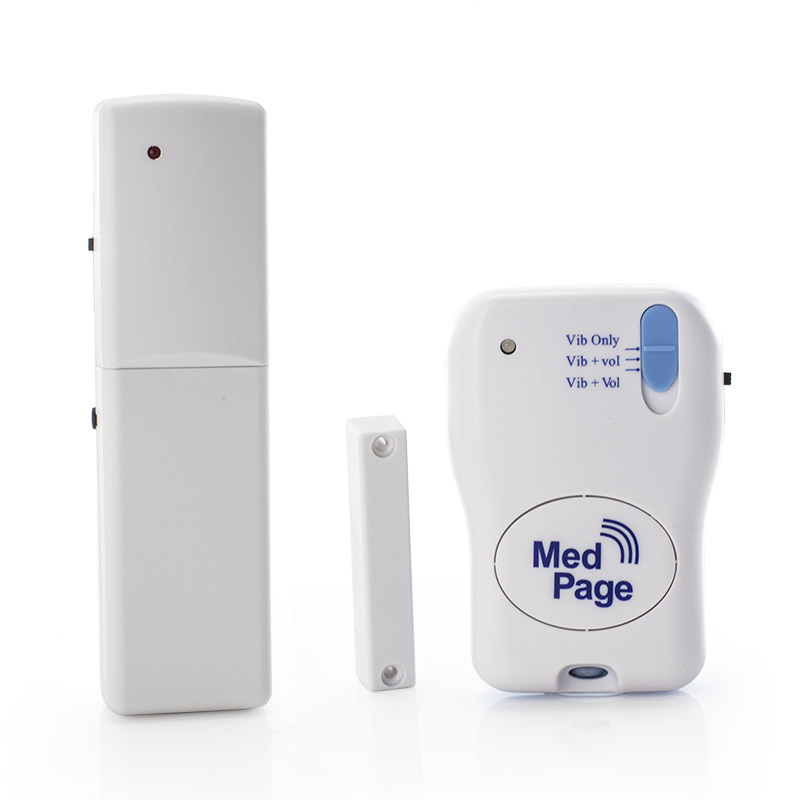 Anti-wandering solutions and home security systems can often overlap, and this next item can serve both purposes equally well. The Wireless Door and Window Security Alarm with Wireless Radio Pager works with a very simple magnetic contact with built-in transmitter, alerting you as soon as contact is broken between the door and frame. Half of the magnetic contact transmitter is placed on the door or window, and the other half on the frame, forming a foolproof barrier that will let you know any time the home is breached.
This alarm kit is the perfect solution if the person suffering with dementia frequently opens windows or exits through doors, in turn compromising their safety. You will be alerted to a door or window opening with a vibrating or alarming pager that can be carried by the carer, allowing you to call your loved one or carer to check on the situation.
Another great feature of this system is that it is fully expandable. If you need to monitor more than one door or window, simply add more contact sensors (up to a maximum of eight), allowing you to keep tabs on your entire home at once.
10) Be Alerted, and Make Sure You Notice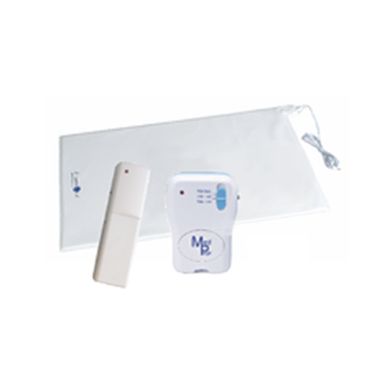 Most floor mat sensor systems will trigger an alarm when a dementia sufferer who is wandering steps on the mat (or the rug that the mat is placed under). As soon as the wandering patients steps off the mat, the alarm will stop triggering. This means that if the patient steps on and off of the mat quickly, there is a chance the carer will miss the alert and not be able to react to the patient wandering from their bed or chair.
To eliminate this problem, the Floor Pressure Mat Wander Alarm With Pager and Transmitter features a setting that allows the alarm to continue to sound, ensuring the carer will always be made aware to remedy the situation. The alarm will trigger as soon as the mat is stepped on, and will continue to alert for a further two minutes or until the pager is silenced by the carer. This means that even the most brief step on the sensor mat will not be missed by the carer, providing peace of mind and enabling you to react to a wander situation.
Need More Help Selecting A Dementia Wandering Product?
Choosing the right products for your particular circumstances can be really tricky. You are aware that you need something in place to help you care for someone suffering with dementia, but you might not know the best product to select, which is exactly where we can help. If you would like any help selecting an appropriate product for your needs, please contact our Customer Care Team and we'll be happy to help you find the best solution for you.
All items specified in this post have been selected as they can assist in a care situation, however they do not remove the need for or replace a carer, and should be used in conjunction with appropriate nursing care.
Do you have any questions about our products to prevent dementia wandering, or something to add? Share your thoughts below or contact us on Facebook and Twitter.
Tags: Alarms and Alerts, Care Support, Dementia, Wandering
Shop Related Products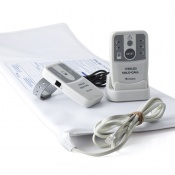 Alerts you when a person gets out of bed with a vibration and sound pager

Full sensor mat, transmitter and pager system

Ideal for monitoring elderly patients or family members prone to wandering

Designed to be placed under the bed to detect when the user gets up
---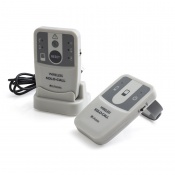 Full sensor mat, transmitter and pager system

Sends wireless alarm signal to receiver pager

Alerts with sound, vibration and/or light

Chair sensor mat detects someone standing
---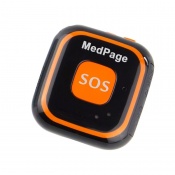 GPS tracking to give precise location up to 15m
Stores up to 5 contacts to call or text in emergencies
Features an SOS help button and fall detection alarm
Wander detection alarm if a user leaves the premises
---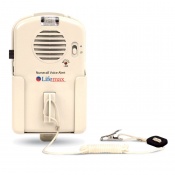 Versatile system for use as a fall alarm or leaving alarm
Record your own voice message
Alarm cord clips to an item of clothing
Effective and easy to use
---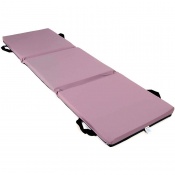 Provides safety to patients likely to fall out of bed
Foldable design for easy storage while maintaining safety
Non-slip backing to ensure mat stays in place
Perfect for use with Harvest Low Profiling Beds
---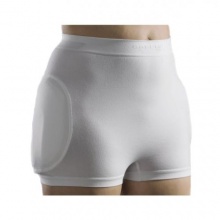 Underwear with built-in hip protection to prevent fractures
Ideal for those who are at risk of falls around the home
Comfortable and breathable with a discreet design
Available in four versions for men and women
---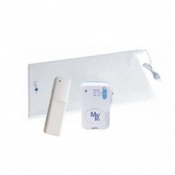 Ideal for domestic and care home environments
Full kit including sensor mat, transmitter and pager
Alarm continues to alert even if the user steps off the mat
Install and use within minutes
---
Suitable for bed or floor use

For use with the Wireless Alarm Kits (Bed or Chair version)

Ideal as a spare sensor mat

Easy to set-up for simple and quick use
---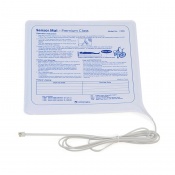 Suitable for chair or floor use

For use with the Wireless Alarm Kits (Bed or Chair version)

Ideal as a spare sensor mat

Easy to set-up for simple and quick use