Choosing the Right Pressure Relief Cushion 2020
3 Comments
Thursday, 19 March 2020 |
Eugene
Pressure relief cushions or pressure sore cushions are one of the essential care items to help prevent pressure sores from developing. Using the right type of pressure care cushion combined with specialist care is vital when caring for someone with limited mobility. Pressure relief cushions range in price and materials, making it quite difficult to decide which pressure sore cushion is most suited to the situation. To help in your decision, we'll look at a few of our best pressure care options, categorising each by its best use.
But first, we'll answer a few common questions:
What Is My Level of Risk?
Pressure relief cushions are normally categorised into four risk bands depending on the risk of pressure sores, the severity of existing sores, and the user's level of mobility. These are: Low Risk, Medium Risk, High Risk and Very High Risk. Different cushions are suitable for each level of risk, and your level of risk should be determined by a medical professional based on their skin viability assessment.
What Does a Pressure Relief Cushion Do?
Primarily, pressure relief cushions are designed to reduce peak pressure zones on skin, usually by spreading the patient's weight out over a larger surface area. They are often also designed to minimise 'shear' and friction' forces, which pull or rub against the skin and can exarcerbate pressure sore risk. These cushions must also be breathable so as to reduce any sweat or moisture build-up on the skin, which can further worsen pressure sore risk.
What's the Difference Between a Low and High Risk Cushion?
Cushions for Low and Medium risk patients are normally made of foam or gel, while higher specification cushions are often made of a combination of materials. High and Very High Risk cushions may use alternating air cells powered by pumps to shift the patient's weight, so as to not leave a high amount of pressure on a certain part of the skin for an extended period. Cushions powered by pumps are often referred to as "Dynamic" or "Active", while standard cushions are known as "Static".
Which Cushion is Right for Me?
While your decision should ultimtely come down to your consultation with a medical professional, we will provide a range of different options, and help direct you to the sort of cushion that may be right for you. We will organise our choices based on risk levels, but also based on the type of seat you will be spending your time in, and the area most at risk.
Best Portable Pressure Relief Wheelchair Cushion – High Risk
Apex Sedens 500 Portable Pressure Relief Wheelchair Cushion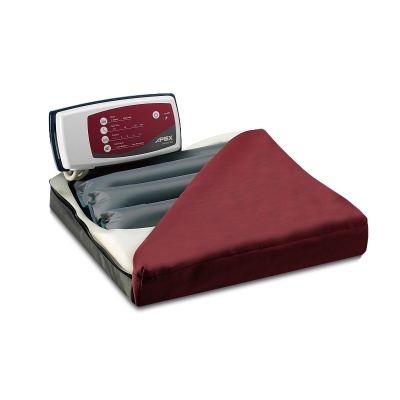 Wheelchair users are often at the mosr risk of pressure sores, as they will usualy spend long stretches of time seated in their chair. The Apex Sedens 500 Portable Pressure Relief Wheelchair Cushion is our top pick here, as it provides fully portable High Risk relief with it's battery-powered pump. Offering alternating air therapy for up to 12 hours at a time and a foam surround for excellent support, this cushion has brought top-of-the-range portable pressure relief to patients at an affordable price.
Key Features: Offers up to 12 hours of alternating air therapy; provides excellent relief and support to sacral and thigh areas
Best Alternating Air Cushion for Home Use – High to Very High Risk
Stratus Alternating Air Pressure Relief Cushion System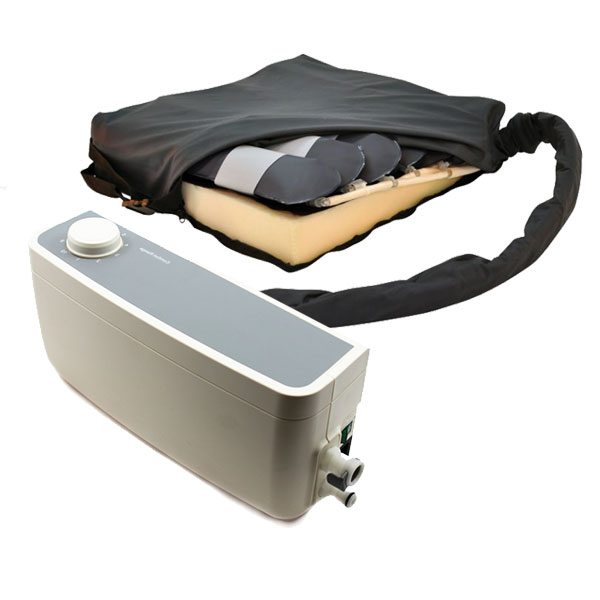 We know that advanced pressure relief systems can be very expensive, which is why we wanted to include our most affordable alternating air cushion: the Stratus Alternating Air Pressure Relief Cushion System. Providing remarkable funtionality for its price, this High Risk cushion combines alternating air cells with a foam base to provide excellent comfort and relief. It's supplied with a water-resistant, vapour-permeable cover to reduce shear forces, and is mains powered for long-term home use.
Key Features: Our most affordable alternating air pressure relief cushion; High specification relief at a lower cost
Best Foam and Gel Pressure Relief Cushion – High Risk
Matrx Flo-tech Plus Foam and Gel Pressure Relief Wheelchair Cushion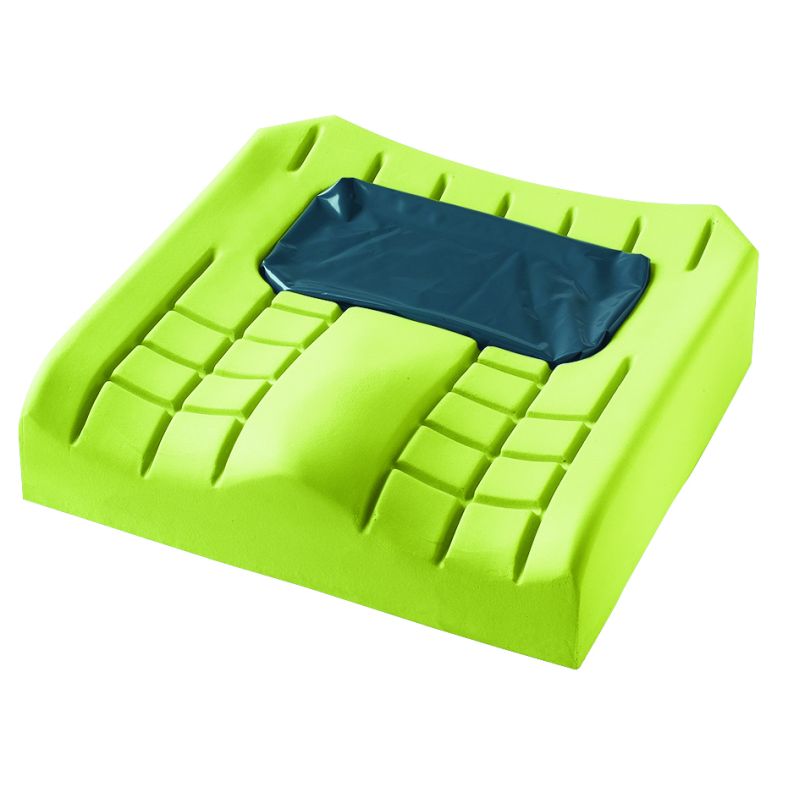 If you aren't in need of an alternating air cushion, there are a multitude of High Risk cushions made of foams and gels that can provide excellent comfort, support and relief. At the top of this list for us is the Matrx Flo-Tech Plus Foam and Gel Pressure Relief Wheelchair Cushion, made with contoured foam to properly align the body, and a gel sac at the rear to protect the sacral area and ischial tuberosities. This cushion is part of the Matrx Flo-Tech Range, which includes some of the very best cushions for support, comfort and relief.
Key Features: Combines foam and gel for contoured postural assistance, support and pressure care
Best Foam Pressure Relief Cushion – Medium Risk
Apex Sensaflex 200 Foam Pressure Relief Cushion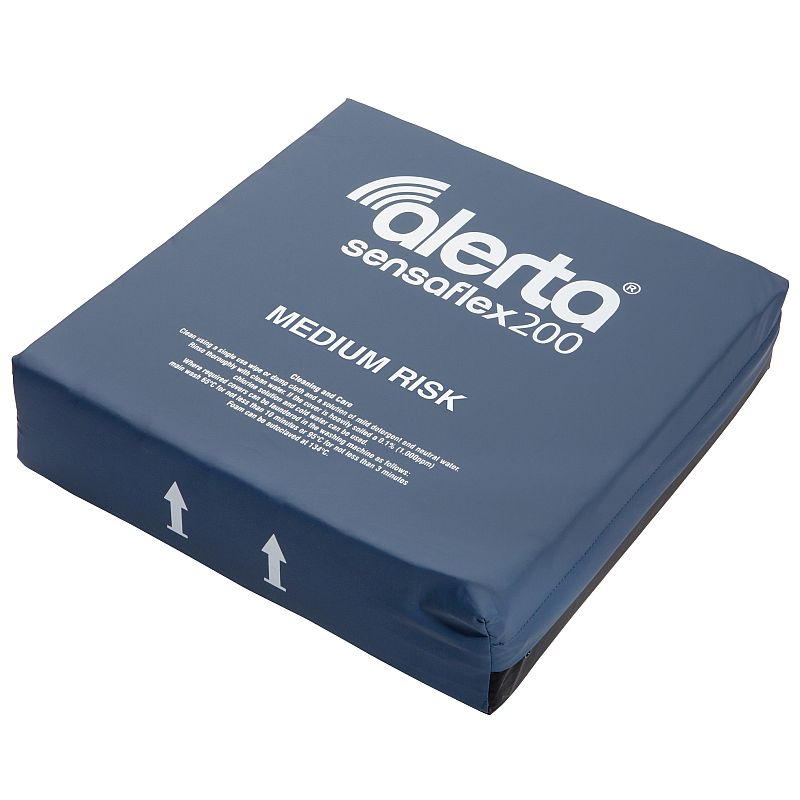 As we move down the list to Medium and Low Risk cushions, our options will start to become more versatile, and are designed for users who may have some mobility. The Alerta Sensaflex 200 Foam Pressure Relief Cushion is an ideal affordable option for hospitals and care homes, and is made with castellated foam that will reduce shear forces on the patient's skin. Designed for wheelchair use, but also suitable for a range of chairs, this is an excellent versatile pressure care option.
Key Features: Versatile and affordable; castellated foam evenly distributes weight while reducing friction and shear forces
Best Pressure Relief Coccyx Cushion – Medium Risk
Onyx Two Coccyx Pressure Relief Cushion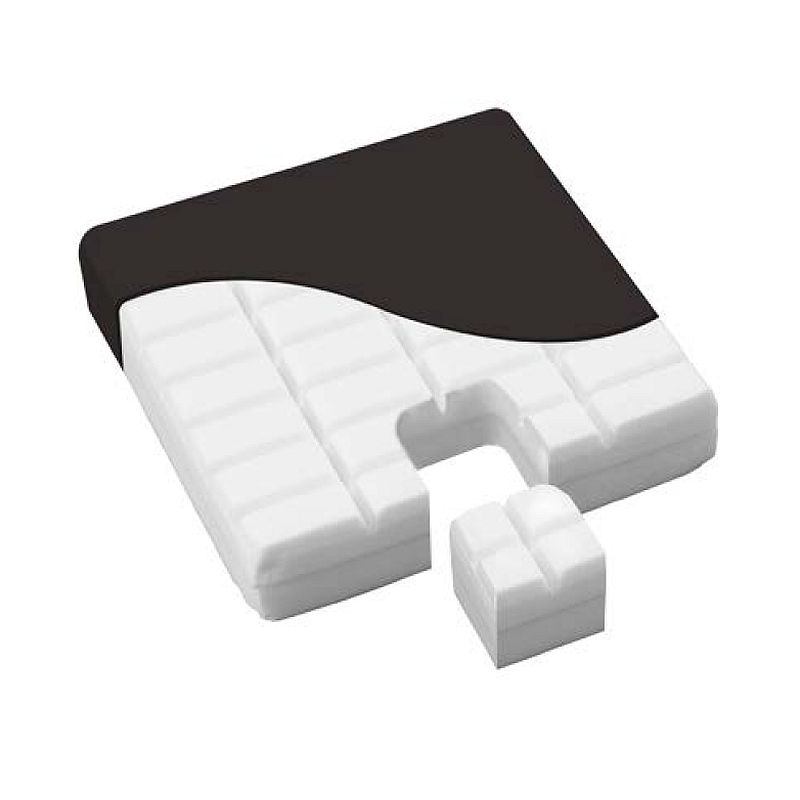 We've included this cushion to demonstrate how diverse pressure care cushions can be, and the important of choosing a cushion to cater to your specific problem areas. The Onyx Two Coccyx Pressure Relief Cushion is made with similar castellated foam to the above cushion, and includes a removabe insert at the coccyx for those who need extra relief for this vulnerable area. Suitable for wheelchairs and day care chairs, this type of cushion is ideal when sore risk is highest in the sacral region.
Key Features: Removable coccyx insert for complete relief when needed; castellated foam reduces friction and shear
Best Foam Pressure Relief Cushion – Low Risk
Putnams Standard Sero Pressure Relief Cushion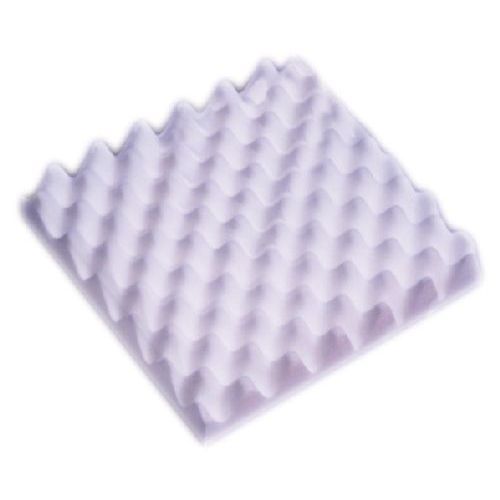 For low risk users, the main focus of a pressure relief cushion is usually to provide comfort where the high specification options above are deemed unecessary. The Putnams Standard Sero Pressure Relief Cushion is an excellent example, and is suitable for use in wheelchairs, or any chair in the house that could use a boost in comfort. Available with a range of cut-out options, this cushion is ideal for users who still retain a high level of mobility.
Key Features: Allows air to circulate while reducing pressure on key points; a low-cost and versatile cushion
Best Pressure Relief Cushion for Reclienrs – High Risk
Harvest Ultra-Thin Pressure Relief Cushion, Leg and Lumbar System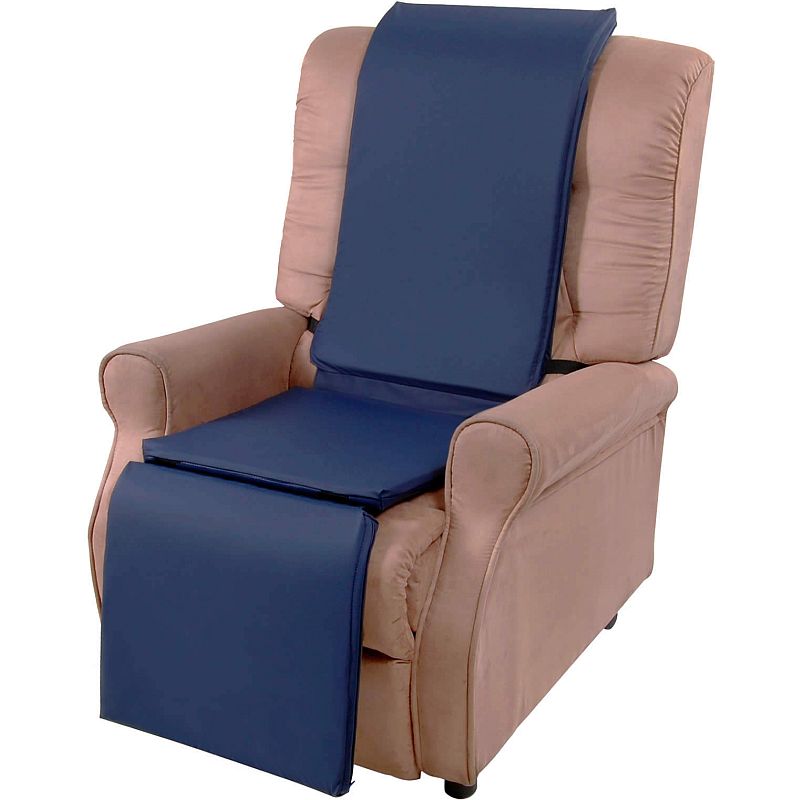 The above cushions are suitable for a range of chairs and wheelchairs, but for people's favourite chair, a special cushion is needed for proper stability and relief. The Harvest Ultra-Thin Pressure Relief Cushion, Leg and Lumbar System is made with the same high-grade foam of other High Risk cushions, and is designed with straps and shapes to be suitable for rise recliner chairs. Intuitively designed and purpose-focused, this cushion is one of our customers' favourites.
Key Features: Designed to provide stability and pressure relief on rise recliner chairs; secure, lightweight and breathable
Best Pressure Relief Ring Cushion
Harley Designer Memory Foam Ring Cushion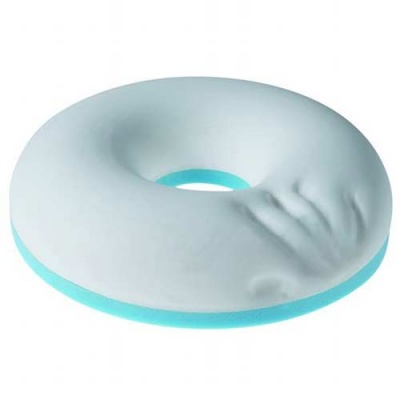 While not in a formal risk category as the above cushions are, ring cushions can be effective reducing pain after childbirth or helping to heal hemorrhoids, sciatica and a range of other sitting-related pain. The Harley Designer Memory Foam Ring Cushion is made with memory foam, helping it to mould to your body contours for maximum contact surface area. Ideal for use virtually everywhere, this is a versatile option for just about anyone.
Key Features: Made with memory foam to mould to the body; suitable for a range of sitting-related pain
A Full Spectrum of Pressure Relief
We've now gone through an entire spectrum of pressure relief cushions, and we hope we've made your selection a little bit less daunting. Once you know your pressure sore risk and the kind of cushion you might be looking for, there are a multitude of products to choose from, and the above are simply some of our favourites. If you'd like to browse our entire range to see what's available, please visit out Pressure Relief category page, providing you with plenty of options to provide pressure relief of all intensities to all areas of the body.
Do you have a favourite pressure relief cushion? Let us know in the comments below, or find us on Twitter and Facebook!
Tags: Health and Care Expert Series, Pressure Relief
Shop Pressure Relief Cushions
Battery-powered wheelchair pressure relief cushion for high risk users
Features dynamic air cells that alternate to provide pressure relief
One in two cell cycle provides excellent relief to the sacral area
Up to 12 hours of battery life to provide mobility and freedom
---
Includes the cushion and pump for the full pressure-relief system
Made with a water-resistant cover to protect against spills
Alternating air cushion system relieves pressure
Ideal for patients at high risk of pressure sores
---
Suitable for those at high risk of pressure ulcer development
Combines contoured foam with a gel sac at the rear
Gel sac helps to reduce pressure on the ischial tuberosities
Castellated contoured surface provides stability and support
---
Budget foam pressure relief cushion for medium risk patients
Ideal for use in hospital and care home environments
Castellated foam reduced friction to prevent pressure sores
Supplied with an antimicrobial two-way stretch cover
---
Pressure relief rating: Medium risk
Made with castellated foam for pressure reduction
Removable coccyx insert for extra coccyx pressure relief
Ideal for wheelchairs and/or day care chairs
---
Comfortable foam cushion.

Pockets allow air to circulate.

Eliminates numbness and relieves pressure.

For users at low risk of developing pressure sores.
---
Suitable for users at high risk of pressure sore development
Designed to go on top of an existing reclining chair
Redeveloped with an additional 35mm foam base
Provides enhanced pressure distribution
---
Ring cushion for comfort and pressure relief
Ideal for relief of problems from back pain to hemorrhoids
Made with memory foam to mould to the body
Provides comfort while sitting for long periods