Can You Accomodate For Disabled Evacuation?
Tuesday, 8 April 2014 | Paul
Fire evacuation is a serious business that affects everybody. From workplaces to care homes and public buildings, a proper evacuation plan is not just crucial but invariably necessary by law.
While many places do have an appropriate fire evacuation plans not all actually have the necessary equipment to assist in evacuations – indeed many do not realise the requirement.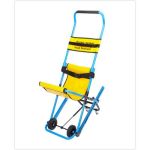 Evacuation Chair Evac Chair 300H MK4
There are many options to choose from when it comes to evacuation equipment ranging from basic evacuation sledges to advanced evacuation chairs that are suitable depending on the environment and need.
If you are looking for a great value but still effective device for evacuating down stairs, the Evacuation Sledge is a popular choice. With a durable, padded material construction this enables two people to easily transport a third down the stairs.
We also do lightweight chairs that enable quick evacuation on wheels, such as the Transit Chair Mk II which is also a great value item. However if you require something for evacuation both downstairs and onwards, possibly the most suitable item is the Evac Chair 300H MK4 Evacuation Chair.
The Evac Chair 300H MK4 Evacuation Chair is a premier evacuation device and is the gold standard evacuation chair in the UK and worldwide. The evacuation chair is supplied with wall mounting brackets, dust cover, sign, straps and CD-ROM user guide. The Evac Chair 300H MK4 Evacuation Chair is trusted by hospitals, care homes and universities across the UK.
With lives to save, why not check if you're covered?