Can I Get Fit Using a Mini-Trampoline?
1 Comment
Wednesday, 21 October 2020 |
Sam
Mini-trampolines, commonly known as rebounders, are an excellent way to promote cardiovascular health and muscle cognition. It may sound crazy that jumping on a trampoline can be good for you - but it is. There's plenty of scientific evidence to suggest that rebounding is one of the most effective exercises you can do from the comfort of your own home.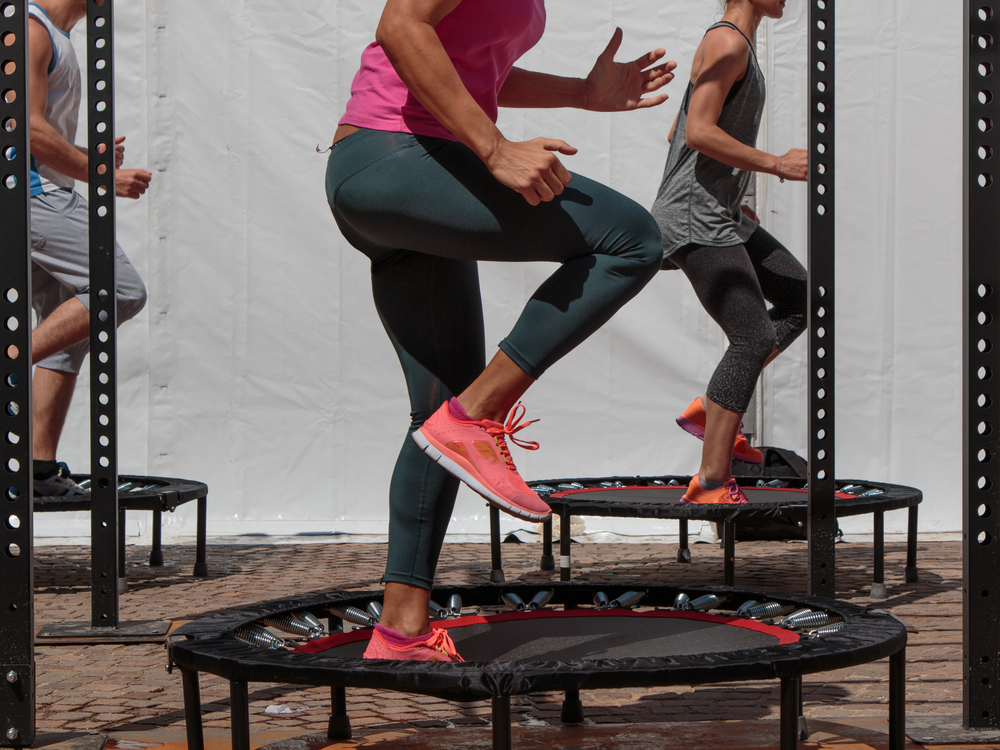 Using a rebounder has excellent benefits for your health
The Benefits Of Using A Rebounder
This blog is a guide to rebounders and why they are essential products for exercise. If you're looking for something in particular, here's what we are going to cover:
Our 5 Reasons You Should Rebound
1. Rebounding is Safer Than Running
In a study conducted by NASA, scientists found subjects were more likely to suffer shin splints and knee problems from running than they were with rebounding. That's because when jumping on a trampoline, the G-force is the same at all major points, which means each part of the body is receiving the necessary environmental stresses it needs to become stronger cell by cell.
2. Rebounding is Great For Cardio
Several studies have found that rebounding can help your burn as many calories as running, though in itself a much less intense exercise. Subjects were found to be on the cusp of moderate to vigorous exercise intensity, though reported they did not feel like they were. This essentially means you can lose weight in a way that is both fun and engaging.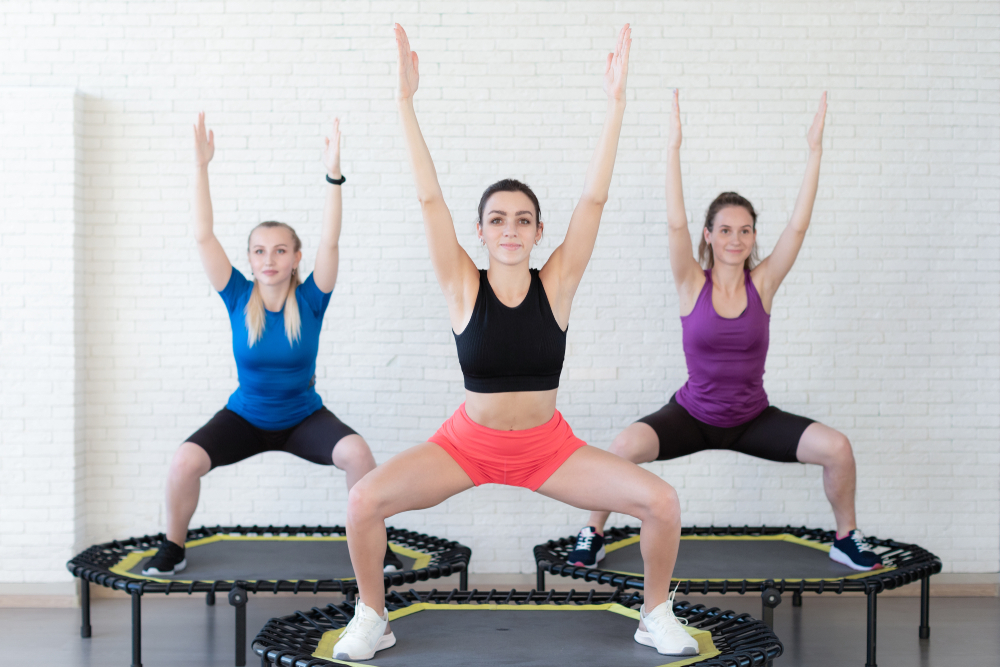 Rebounders are perfect for group fitness classes
3. Rebounding Helps You Tone Up
Bouncing on a rebounder is an excellent way to tone your entire body. That's because the impact and G-force created as you jump up and down affect your entire body. If you want to challenge your body, you can try different workouts and jumping variations, like bouncing one-legged.
4. Rebounding Helps Rehabilitate Injuries and Parkinson's Disease
In a study published by the U.S NCBI (National Centre for Biotechnology Information), scientists found that rebounding had a positive, lasting effect on patients with Parkinson's Disease by improving their motor skills, range of motion and balance. If you're suffering from post-operative fatigue, or care for a loved one with Parkinson's, a rebounder might be a useful tool for care.
5. You Can Rebound At Home
Rebounders are designed to fit comfortably in your living room or garden and can often be folded for storage. They are constructed to rest a few inches from floor level, which means the chance of breakage are low. If you're currently in an area under lockdown and are struggling to find means for exercise, a rebounder is a great way to work out without leaving the house.
Our Top Rebounder Recommendations
Below we look into the most popular rebounders on the market. We cover:
The Best Rebounder for High Intensity Workouts
The Best Rebounder for Small Spaces
The Best Rebounder for Therapy
The Best Rebounder for Weight Capacity
The Best Rebounder for High Intensity Workouts
Fitness-Mad Studio Pro Rebounder Trampette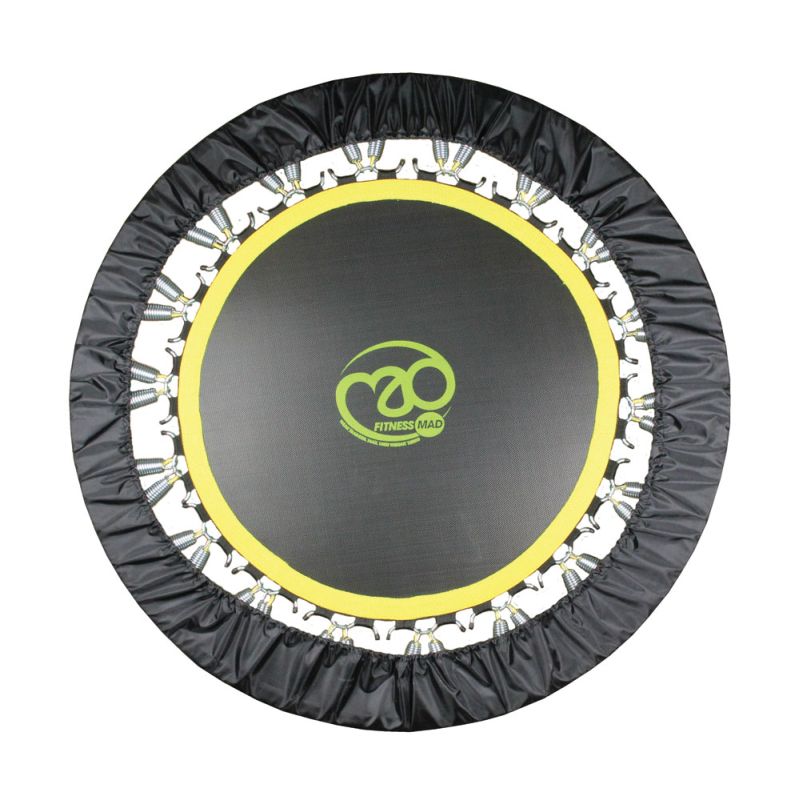 The Fitness-Mad Studio Pro Rebounder Trampette is our top rebounder for keeping fit and making explosive bounce movements.
Commercial-grade rebounder
Ideal tool for zero-impact aerobics exercise
Allows for smooth, almost silent bouncing
Maximum user weight of 125kg
The Best Rebounder for Small Spaces
Aerobics Bouncer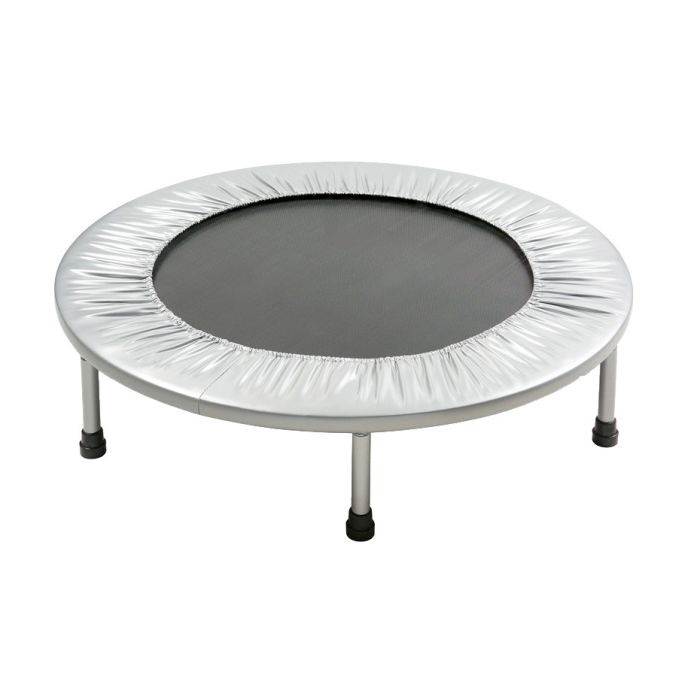 The Aerobics Bouncer is a great option for people who don't have a lot of space to work out. Smaller than our other mini-trampolines, the Bouncer is perfect for home workouts.
Small sturdy rebounder
36" diameter surface
Solid steel frame with heavy-duty springs for durability
Maximum user weight of 100kg
The Best Rebounder for Therapy
Med Plus Therapy Bouncer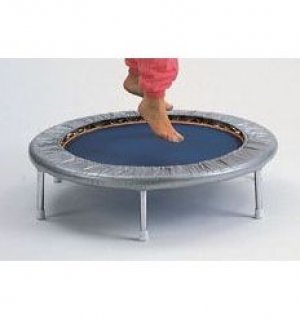 Set at an obtuse angle, the Med Plus Therapy Bouncer creates a softer bounce for therapeutic purposes. With 36 tensile medical springs, the bouncer ensures the joints are of no risk of injury.
Therapeutic medical bouncer
40" diameter surface
Softer, sturdier bounce for patients
Maximum user weight of 150kg
The Best Rebounder for Weight Capacity
Pro Plus Therapy Bouncer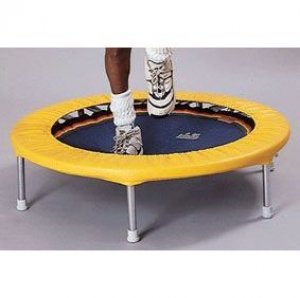 The strongest of our rebounders, the Pro Plus Therapy Bouncer is designed for intensive use and exercise. Its maximum user weight of 200kg is appropriate for users who are obese.
Superior strength rebounder
48 heavy duty springs
Folding legs for storage
Maximum user weight of 200kg
Get A Jump On Your Fitness with Our Rebounders
Rebounding is quickly gaining traction as one of the most effective and fun ways to exercise. Its benefits for health, fitness, endurance and strength are corroborated among scientists and physiotherapists alike. We hope our blog "Can I Get Fit Using a Mini-Trampoline?" has been informative and helpful. For more rebounders, check out our Trampoline category here at Health and Care.
Do you have any questions about the different types of rebounders? Please don't hesitate to let us know in the comments below, or find us on Facebook and Twitter.
Tags: Fitness, Rehabilitation, Exercise, Physiotherapy