Breast Awareness with the Breastlight
Thursday, 21 December 2017 | Paul
Most of us are aware of the importance of regular and thorough breast self-examination, but how often do you actually do it, and how sure are you that you are doing it correctly? If you are checking for something as serious as breast cancer, it is important to be certain you know what you are looking for so you can spot any changes as soon as they occur.
The Importance of Breast Self-Examination
Breast awareness is a simple term describing the state of being familiar with your breasts and being able to spot even the slightest deviance from what you are used to. The size, shape and colour of your breasts can vary greatly depending on the time of your cycle, so make sure you are always examining yourself at the same time of the month.
By doing it regularly and correctly, you increase your chances of discovering breast cancer early on, when it is most likely to be treated successfully. A self-exam only takes a few minutes of your time once a month, but it can end up saving your life some day.
How Do You Do a Self Breast Exam?
A thorough self breast exam includes five easy steps:
Start by looking at your breasts in the mirror with your arms on your hips.
Raise your arms and check if your breasts still look the same.
Look for any signs of fluid coming out of one or both nipples.
Lying down, feel your breast using your right hand for your left breast and vice versa. Use a firm, smooth touch with the first few finger pads of your hand, keeping the fingers flat, performing a circular motion about the size of a quarter.
Stand up and feel your breasts in the same manner again. You can easily do this in the shower, as most women find it best to feel their breasts when the skin is wet and slippery.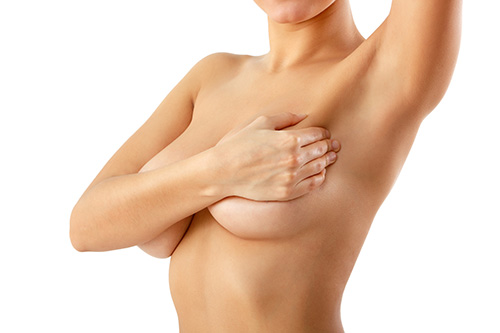 Now that you know how to perform a self-exam, it is important to find out exactly what you should be looking for. Most lumps and other abnormalities turn out to be perfectly harmless, but we suggest you visit your GP if you notice any of the following:
Change in the size, outline or shape
Change in the look or feel of the skin (puckering, bulging, dimpling), especially when raising your arms
Lumps, thickening or bumpy areas in one breast that is different from the same area of the other
Bleeding or any other discharge from the nipple
Rash on or around your nipple
Any discomfort or pain in one breast
How Can the Breastlight Help?
Unfortunately, not every type of cancer can be found this way, which is why we highly recommend enhancing your self-exams with the Breastlight. What feeling the breasts with your hands can't do is show you an internal view of any issues even before them become visible to natural sight or touch.
By using the Breastlight you can easily see any abnormalities in the form of a black mass or cluster. Using harmless yet extremely powerful LED lights to penetrate through the breast tissue, the Breastlight delivers a translucent effect and gives you a clearer picture of what is going on below the surface.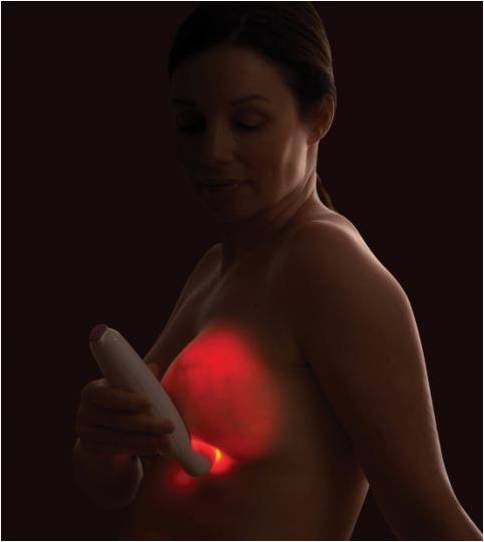 The Science Behind the Breastlight
The Breastlight is designed to maximise light transmission through the tissue, yet only a small fraction of the light will pass through completely. When the red light hits a blood vessel, it is absorbed by the haemoglobin in the red blood cells, which makes the veins appear as dark lines.
In the early stages of some types of malignancies, there is an increase in the blood flow to the area. The increase in the number of small vessels may manifest itself as a dark, shadowy area, which is what you should be looking for when using the Breastlight.
Using the Breastlight Is Easy
Using the Breastlight couldn't be easier and can be done in three simple steps:
Turn off the lights and make sure the room you are using is as dark as possible.
Make yourself comfortable and position yourself in front of a mirror.
Switch the Breastlight on and apply it firmly to your breast. Upon contacting the skin, the light level will intensify, revealing an internal view of your breast. Guide the light around your breast tissue in a similar manner than you would during a manual self-check, and pay attention to any dark clusters or shadows.
Watch the video below to learn more about using the Breastlight.
The Breastlight comes with a rechargeable battery, which means you can use it anywhere, without having to worry about finding a power plug, and there are no additional battery replacement costs. The easy-to-read battery charge symbol shown on the digital display will always advise you how much battery you have left.

You can purchase your very own Breastlight right here on Health and Care with no additional delivery costs.
What is your level of breast awareness? Share your thoughts below or find us on Facebook and Twitter.
Shop Related Products