Blu E-Cigarette Review: MyBlu vs Blu Pro vs Blu Ace
Tuesday, 18 December 2018 | Eugene
The vaping world is filled with choices. Which flavour is right for you – are you a plain tobacco vaper or up for something a bit more adventurous? What kind of device should you use – do you favour customisability or simplicity?
Blu vaporisers are here to make these decisions as easy as possible, ensuring you get exactly what you want, without all the hassle. Their new ranges of e-cigarettes are designed to offer you a world of possibility with a range of flavours and minimal confusion, proving once and for all that the best option really can be the simplest too.
Which Blu is for You?
Today, we're breaking down three of the main vaping systems from Blu, each offering its own unique benefits to the user:
The Perfect Beginner's Vape - MyBlu

If you're looking to find the perfect vape to help you transition from vaping, you won't find a product offering more simplicity than the MyBlu E-Cigarette. Supplied with everything you need to get started, MyBlu works with a click-and-go design, meaning all you need to do is click in your cartridge and enjoy your vape. Easy and mess-free with a rechargeable battery that lasts all day, you won't find convenience like this anywhere else.
MyBlu Breakdown
Simplest and most convenient vaping system around
Click-and-go design lets you start vaping with zero hassle and zero mess
Simply draw on the device and enjoy your vapour
The ideal vaping system for new vapers transitioning from smoking
Charges in 20 minutes for use all day long
For the Budding Vape Connoisseur - Blu Pro

The next step in the Blu range is for those looking to begin their journey as a true vaping connoisseur. The Blu Pro E-Cigarette maintains much of the simplicity of the MyBlu and adds an element of high-quality, premium vapour to take the experience to the next level. With an ergonomic mouthpiece, LED indicators and a clear window to stay up to date with your e-liquid level, the Blu Pro will satisfy the vape enthusiast in all of us.
Blu Pro Breakdown
Provides high-quality, exceptionally smooth vapour
Easy to use with one-button operation and a mess-free clearomiser
Ergonomic mouthpiece provides comfortable and smooth use
LED indicators for quick battery checks and confirmation of charge
Clear window makes it easy to check the level of your e-liquid
For the Serious Vaper - Blu Ace

Blu wouldn't have their place on top of the vaping pyramid if they didn't offer a vape that impressed even the most experienced vapers. The Blu Ace Vaporiser has been meticulously designed to provide the best vaping experience possible, and has somehow managed to retain much of the simplicity of other models. Delivering the highest quality vapour in the Blu range, the Blu Ace features a minimalist design, intuitive controls and a spiral mouthpiece for cool, smooth vapour with every puff.
Blu Ace Breakdown
Designed to provide the highest quality vapour possible
Spiral mouthpiece cools the vapour for the smoothest Blu experience
Compatible with the entire range of Blu e-liquids for maximum variety
Lets you continue vaping as the device charges for uninterrupted vaping
Combines minimalist design with intuitive controls for a truly premium feel
A Blu for Every Vaper
Blu is all about providing the best experience possible for every vaper, and with these three choices, they've made it as easy as possible. Whether you're a beginning, intermediate or advanced vape enthusiast, these three choices will provide you with everything you need, and make a perfect vaping ladder to climb on your way to true vaping supremacy.
Do you have any questions about the Blu vaping range or vaping in general? Share your thoughts below or find us on Facebook and Twitter!
Tags: Brand Focus, Electronic Cigarettes, Product Focus, Smoking Alternatives
Shop Related Products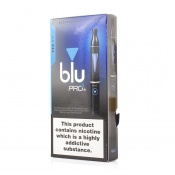 Consistent vapour for a premium experience
Long-lasting battery – less time between recharges
Range of bespoke-made e-liquids available to suit you
Top-filling clearomiser makes refills quick and easy