Best Travel Neck Pillow for Long Flights 2021
Monday, 26 April 2021 | Paul
The world is beginning to unlock again as the coronavirus pandemic slowly fades into history. Naturally, this means flights are booking up fast. People are ready for a vacation after sitting for a year in a half in their own homes. While it's easy to remember the good times from holidays past, you should be thinking about the journey there and back – or rather, just how uncomfortable plane journeys were.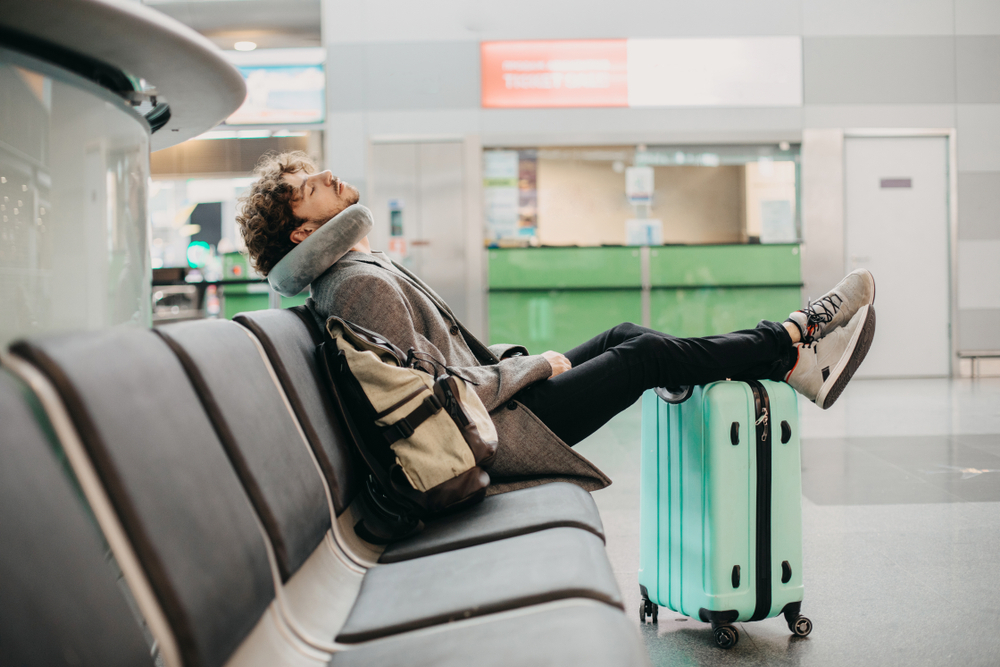 Whether you're nodding your head in agreement, or shaking it in trepidation, there's one thing we're all agreed on. Plane journeys are for the most part, a grim experience all round, especially when you aren't properly supported. One way you can make your flight a more pleasant experience is by getting yourself a good travel neck pillow.
Are Travel Neck Pillows Worth It?
They keep your body aligned in a comfortable way
They relieve neck pressure and allow you to fall asleep upright
They allow you to fall asleep and fast forward through your fight
You can use them anywhere and any time.
Our Top 5 Travel Neck Pillows For Long Haul Flights 2021
If you know what you're looking for, pick one of the options below, or simply scroll down the page for our Top 5!
Our Best Inflatable Travel Neck Pillow
Neck-Eze Travel Pillow
Designed for those short on travel storage, the Neck-Eze Travel Pillow is a handy, inflatable neck pillow perfect for long flights. Fitting easily around the neck, this pillow cradles your head with ease thanks to its flexible nature.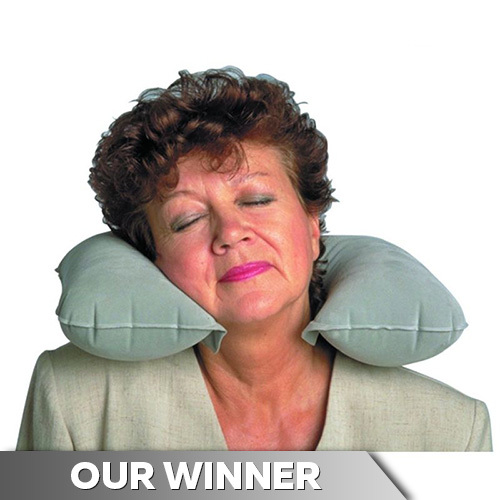 What We Love...
Inflatable design allows for quick and easy storage
Extremely soft, velvet-like surface
Surprisingly flexible, despite being filled with air
Affordable price for those with low funds for travel
Not the Best For...
Our Best Memory Foam Travel Neck Pillow
BetterRest BR1750 Orthopaedic Neck Travel Pillow
Made from high density memory foam, the BetterRest BR1750 Orthopaedic Neck Travel Pillow dynamically responds to your body heat to provide a perfectly moulded support for your neck during flights. Not only is this pillow especially comfortable, but its hypoallergenic ecru cover ensures further relief to those with sensitive, easily irritated skin.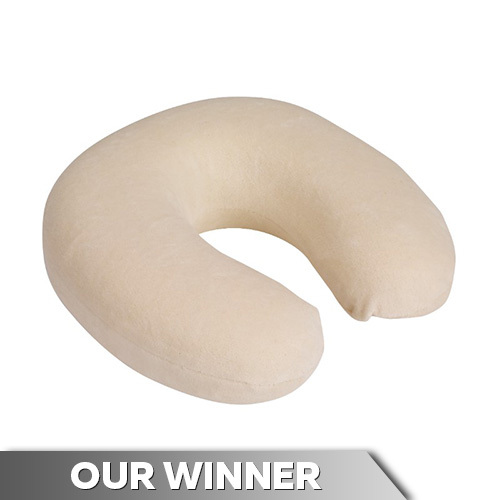 What We Love...
Memory foam dynamically responds to body heat
Hypoallergenic ecru is great for sensitive skin
Provides firm sold support when relaxed against
Anatomically designed for maximum comfort
Not the Best For...
Our Best Lumbar Roll Travel Pillow
The Original McKenzie Airback Lumbar Roll
The Original McKenzie Airback Lumbar Roll is a roll-shaped inflatable lower back support that can be used interchangeably for both the neck and back! This compact roll inflates within just seconds, and stays firm even in its most deflated form.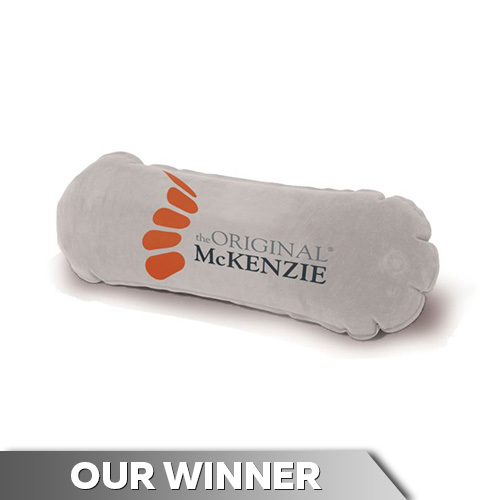 What We Love...
Cushioning roll for both the neck and back
Unique design provides the perfect level of support
Inflates in just a few seconds before use
Supplied with a carry sleeve for optimal storage
What Don't We Love...
Our Best Ergonomic Travel Neck Pillow
Harley Wayfarer Travel Pillow
Featuring a specially contoured shape that accommodates the natural inclinations of both the shoulders and neck, the Harley Wayfarer Travel Pillow is a great choice for those with particularly sore shoulders and backs. Specially moulded to cradle the neck, this rounded support relaxes the vertebrae and guarantees a comfortable rest.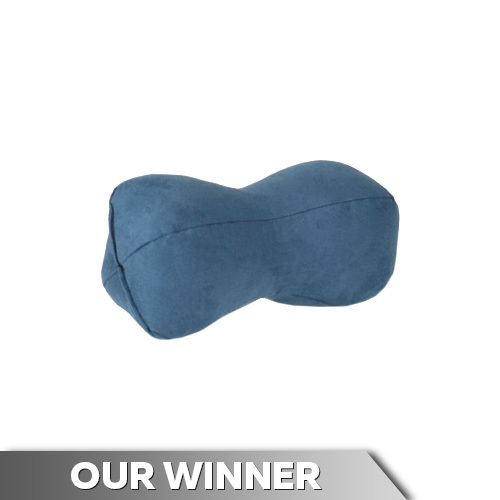 What We Love...
Completely contoured design for neck and shoulders
Doubles as a lumbar support if your back is sore
Stress-relief recess further boosts your comfort
Helps keep your spine in a natural alignment
Not the Best For...
Our Best Dense Travel Neck Pillow
Drive Medical U-Shaped Travel Pillow
The reason the Drive Medical U-Shaped Travel Pillow is our densest pillow is self-evident - just look how snug it looks! Made from luscious viscoelastic memory foam, this full u-shaped pillow greatly accommodates sore necks and shoulders and makes a useful tool for those in need of a long and pain-free sleep on long haul flights.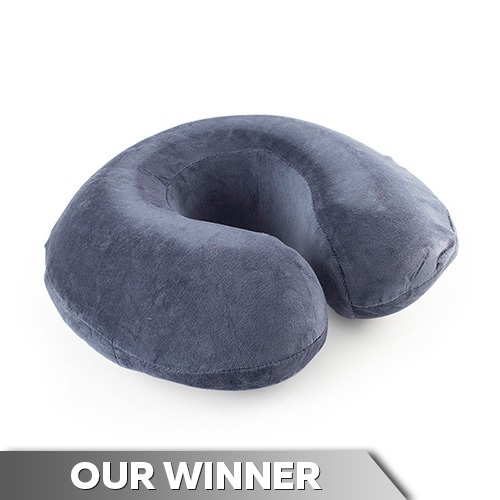 What We Love...
Very dense and comfortable neck pillow
Made from heat-sensitive viscoelastic memory foam
Thick design allows for superior unilateral comfort
Returns to original shape after use every time
Not the Best For...
Give Your Neck a Break, Choose a Travel Neck Pillow!
Preparing for your holiday can lead you down some holes, but we guarantee that choosing a decent travel neck pillow will be the best prep you can make! For more quality pillows and supports, check out our Travel Pillows and Back Pain Solutions categories.
If you have any questions about our products, or have a recommendation, please let us know in the comments below! Alternatively, you can find us on Facebook and Twitter.