Best Running Ankle Support
Tuesday, 3 October 2017
If you're someone who likes to exercise, or would like to exercise more, the last thing you want to allow yourself is too many excuses. Excuses can include that you may feel too tired to exercise, that you may not be used to exercise, or that you've suffered an injury and can't exercise until it fully heals. Chances are if you recognise these as excuses, they're more mental than anything else, and with a little effort they can be overcome.
Now, we're not saying that ankle injuries should be ignored. Far from it: if your ankle hurts, or if you're recovering from an injury that has plagued you in the past, you need to ensure you have the best support and protection out there. Therein though lies a problem. Anyone who has dealt with an ankle injury has probably also dealt with an ankle brace or support, which can be less than stellar.
The vast majority of ankle braces are either too bulky, too restrictive, or too hot. Unless of course they're not supportive, but we won't give those braces the time of day.
Our Solution: The Aircast A60 Ankle Brace for Running
You may have seen the Aircast A60 worn by the likes of Andy Murray for tennis, or Rory McILroy for golf, and while these are substantial endorsements in their own right, neither of them are known for their running. Murray is no slouch with his twisting, turning and jumping throughout matches, and McILroy boasts his fair share of athleticism as well, with a calculated twisting motion to put the best to shame. But still, they aren't runners.
Here, we'll lay out some key reasons why the Aircast A60 Ankle Brace puts all others to shame in the discipline of running as well, whether it be short distance, long distance, road, track, or anything else.
Prevent Rollover on the Run
When you run, you never quite know what will happen to your ankles. This is obvious if you like to run on a trail, on grass or in an unpredictable environment, but it's true of even track running as well. The thousands of steps you take on each run, combined with the different goals you set yourself, other runners on the track, or the fatigue you experience after all that time on your feet, can all contribute to a range of forces on different areas of your body, and (more importantly) your ankles.
There are no runners who are immune to a rolled ankle, especially if they've injured their ankles before. Even after you're fully healed, previously injured ankles are more prone to re-injury and have weak spots you may, or may not be, aware of. This brings us to why we like the Aircast A60 so much for running. It features a unique 60° stabiliser and a supportive underfoot strap, keeping your foot in place and stopping any side-to-side movement that can cause strains and sprains. That means no more ankle rollover, no more injury aggravation, and, most importantly, peace of mind while you run.
Keep Loving Your Running Shoes
If you're a runner, you probably didn't come upon your running shoes by chance. Whether you've taken the scientific route and matched your shoes specifically to your gait, or you have chosen your shoes because they just ... feel right, you don't want to compromise the fit and feel of the shoes that have worked so well in the past. Ankle supports usually don't fair very well in this area, and most of us with ankle problems have just given up and taken whatever we can get. With the Aircast A60, there's no need to compromise.
It's been designed in consultation with top athletes, for top athletes. This means that, in the design of this ankle brace, Aircast have taken into account the slim and streamlined fit and feel of all sorts of sporting shoes, be they football boots or, for our purposes, running shoes. Perhaps our favourite aspect of this brace is the low-profile design of it, contouring to the shape of the ankle without any unneeded bulk. This design, coupled with the Breath-O-Prene fabric of this support, provides cool comfort that blows every other brace out of the water. That means your comfort is paramount, and you can continue to love your shoes as much as you always have.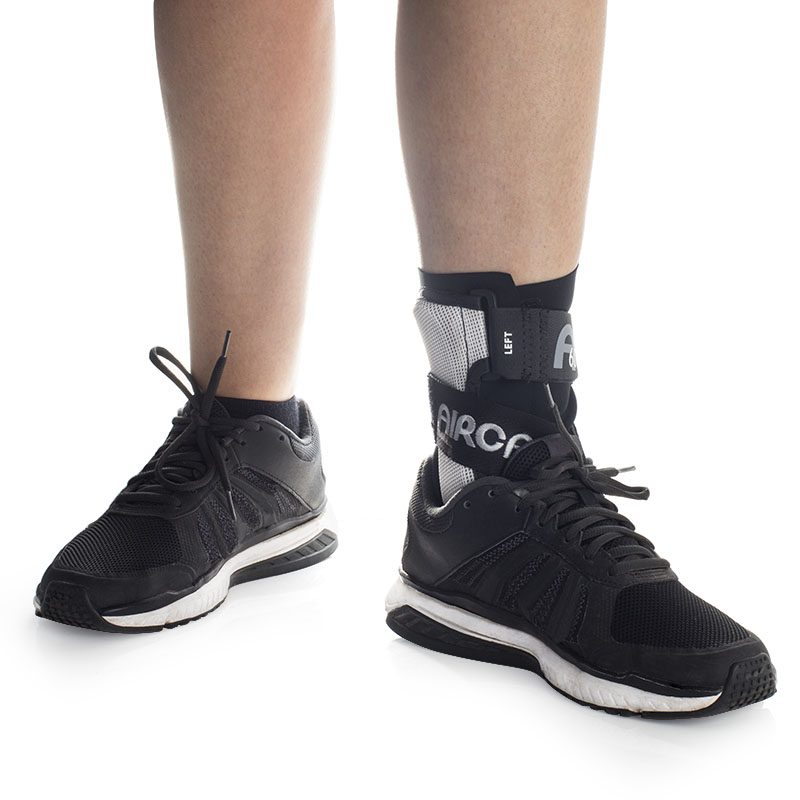 Example of how the Aircast A60 fits seamlessly into running shoes.
Easy Application with No Hassle
If you've already settled on going for a run, the last thing you want is to have a long preparation that makes the entire process lengthier, and less rewarding. Likewise, if you've chosen other ankle braces in the past, you're probably familiar with the mess of straps and laces that inter-loop to provide your support, many of which have indecipherable effects. That's where the final piece of the Aircast A60 puzzle comes in: easy one-strap application.
For other ankle braces to claim the amount of support of the A60, application would be an absolute nightmare. With this support, one strap is all that's needed to tighten the underfoot strap, 60° stabiliser and contoured fit all in one go, meaning you'll be out of the house and on your run in seconds. For us, any ankle brace that can provide you with less time fiddling with straps and more time out on the road is one that doesn't need any more introduction. The Aircast A60 really is the ultimate ankle support for running, and for just about everything else as well.
Get One For Yourself
Still Not Convinced? Take a look at our Aircast A60 product page, and read some of our customers' reviews for yourself.
Have any questions? You can call our Customer Care Team at 020 7720 2266, or get in touch with us on Facebook and Twitter.
Or, if you have something to add, simply leave us some feedback in the comments section below.