Best Pulse Oximeters for Coronavirus
Wednesday, 18 March 2020 | Frances
In the chaos of the current coronavirus outbreak, access to testing is limited. With symptoms of the infection ranging from mild to severe, it can be difficult to know whether or not you should be worried if you start to feel ill. But there is a way to monitor yourself and your loved ones at home.

In the US, patients with milder symptoms of coronavirus are being sent home with devices known as pulse oximeters. These clever machines measure the amount of oxygen in your blood, which can give you clues about your lung health and how well oxygen is being pumped around your body.
Timesco produce some of the most accurate pulse oximeters on the market and our experts have compiled this guide so you find the right one for you, whether you're a doctor or stay-at-home parent. Read on to discover how a pulse oximeter can help you.
The Dangers of Coronavirus
There is no doubt that coronavirus poses a significant risk to our population's health. While the majority of those infected only experience mild illness, others have developed far more serious respiratory conditions, or even respiratory failure. To protect ourselves from such complications, it's vital that we keep a close eye on our respiratory function if we start to come down with symptoms, including:
High fever
A new, persistant cough
How Can a Pulse Oximeter Help?
In more serious cases of infection, coronavirus can cause damage to your lungs, making it difficult for your body to get enough oxygen. A pulse oximeter uses a quick, painless, non-invasive method to measure the make sure your oxygen levels, or 'oxygen saturation levels', are within a healthy range (typically around 95% to 100%).
Taking a reading is simple: a clamp-like device is placed on your finger, earlobe or toe and small beams of light pass through your blood. The pulse oximeter than measures the amount of light absorbed by oxygenated and deoxygenated blood. If your oxygen saturation is too low, you'll be able to seek medical attention straight away.
Our Best Pulse Oximeter for Coronavirus
Timesco C29 Fingertip Pulse Oximeter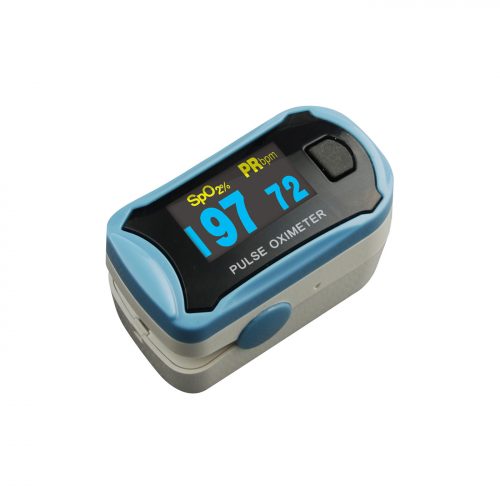 The Timesco C29 Fingertip Pulse Oximeter is our pick for the all-round best pulse oximeter for coronavirus. Not only does it measure your oxygen saturation within an extended range of 70% - 100%: ±2% accuracy, it also allows you to check if your pulse is in a healthy range (60 to 100 beats per minute). Your readings can be accessed in a visual waveform, so you can spot fluctuations early on.
Key Features: Measures wide range of oxygen saturation levels as well as pulse.
The Best Pulse Oximeter for Home Use
Timesco CN130 Fingertip Pulse Oximeter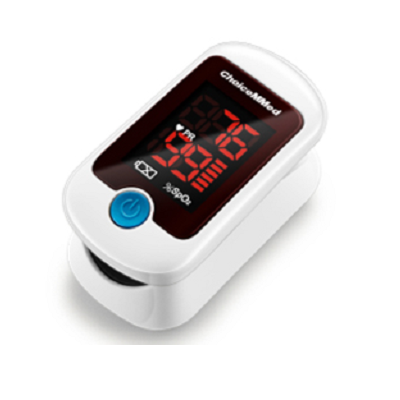 You can operate the Timesco CN130 Fingertip Pulse Oximeter with just a touch of a button, making it a great choice for patient's monitoring their symptoms as home. The red, single-colour LED screen is easy to see and readings are presented in a comprehensive fashion. It also features a pulse bar for a visual representation of the heartbeat.
Key Features: Easy to use and operated with a simply touch of a button.
The Best Pulse Oximeter for Frequent Monitoring
Timesco CF3 Fingertip Pulse Oximeter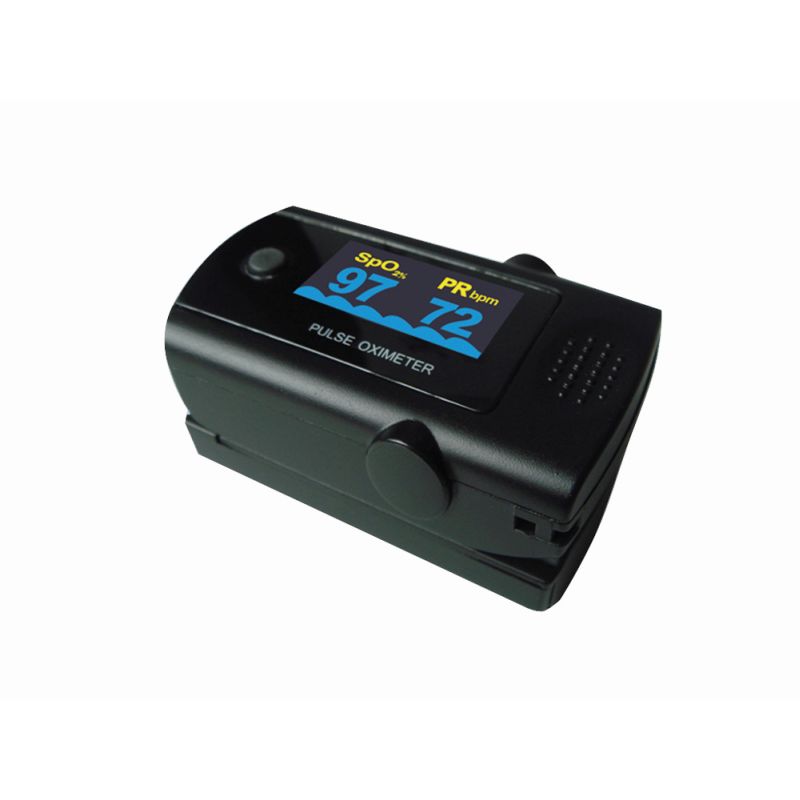 For those who need to monitor their symptoms more frequently, the Timesco CF3 Fingertip Pulse Oximeter is a must. Capable of 30 hours of continuous use with the 2 x AAA batteries provided, the oximeter is designed for lower power consumption, so it won't run out even if you take several readings a day. The display brightness can also be dimmed, so you won't disturb a partner if used during the night.
Key Features: 30 hours of continuous use, low power consumption and low power indicator.
The Best Pulse Oximeter for Doctors
Timesco C19 Durable Fingertip Pulse Oximeter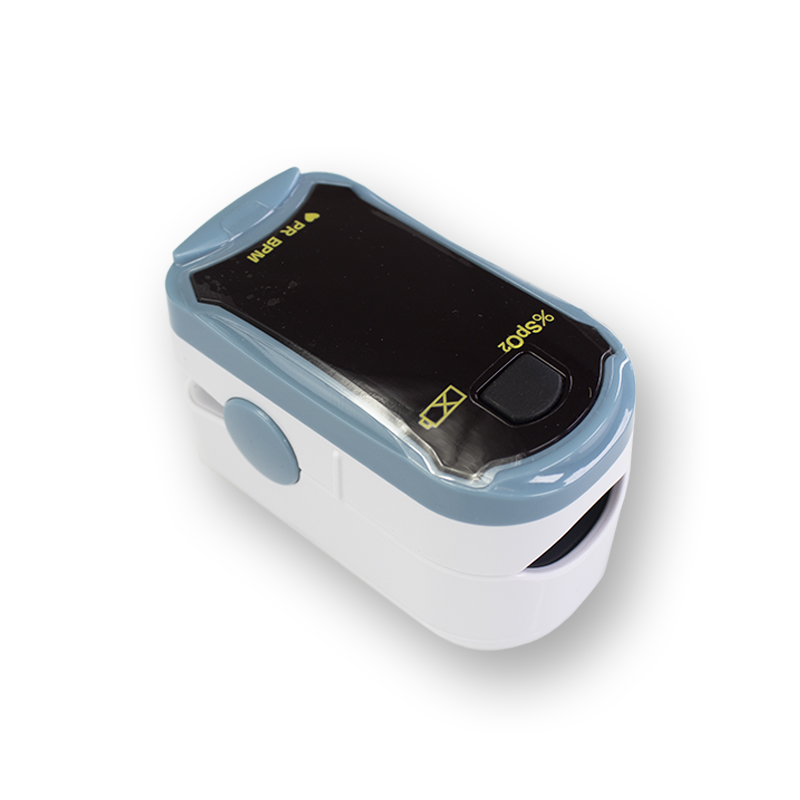 The Timesco C19 Durable Fingertip Pulse Oximeter is ideal if you are a doctor or if you spend a lot of your day on the go. The compact size makes it easy to carry between patients or clinics, ensuring individuals can receive accurate readings without the need of any bulky equipment. It measures your oxygen saturation within a range of 70 - 99%: ±2% accuracy, and comes with a protective carry case to prevent damage.
Key Features: Accurate yet lightweight and easy to transport.
Breathe Easy
With these Timesco pulse oximeters, you can relax knowing you've got you and your loved one's health under control. Whichever you choose, you'll be able to access quick, accurate information about your lng health whenever you need it. If you'd like more respiratory support, take a look at our range of Breathing Apparatus.
Which pulse oximeter worked best for you? Let us know in the comments below, or find us on Twitter and Facebook.
Tags: Breathing, Brand Focus, Product Focus
Shop Pulse Oximeters
Fingertip pulse oximeter with OLED display
Suitable for adults and paediatrics 2 years+
Displays SpO2, pulse rate, and pulse bar
Adjustable brightness with six display modes
---
Fingertip pulse oximeter with LED display
Suitable for adults and paediatrics 2 years+
Displays SpO2, pulse rate, and pulse bar
Auto power down to save battery usage
---
Fingertip pulse oximeter with OLED display
Suitable for adults and paediatrics 2 years+
Displays SpO2, pulse rate, and pulse bar
Adjustable brightness with six display modes
---
Fingertip pulse oximeter with LED display
Suitable for adults and paediatrics 2 years+
Displays SpO2, pulse rate, and pulse bar
Auto power down to save battery usage