Best Post-Op Shoes of 2021
Monday, 28 December 2020 | Eugene
The feet can be one of the most challenging areas to protect after surgery, so most standard footwear should be left on the shelf as you recover. We understand that there's little room for error when choosing the right post-op shoe to protect your foot as it heals, so we've put together a list of our Best Post-Op Shoes, pointing out how each can be ideal for different needs. We'll get to our list below, after a few short things to keep in mind.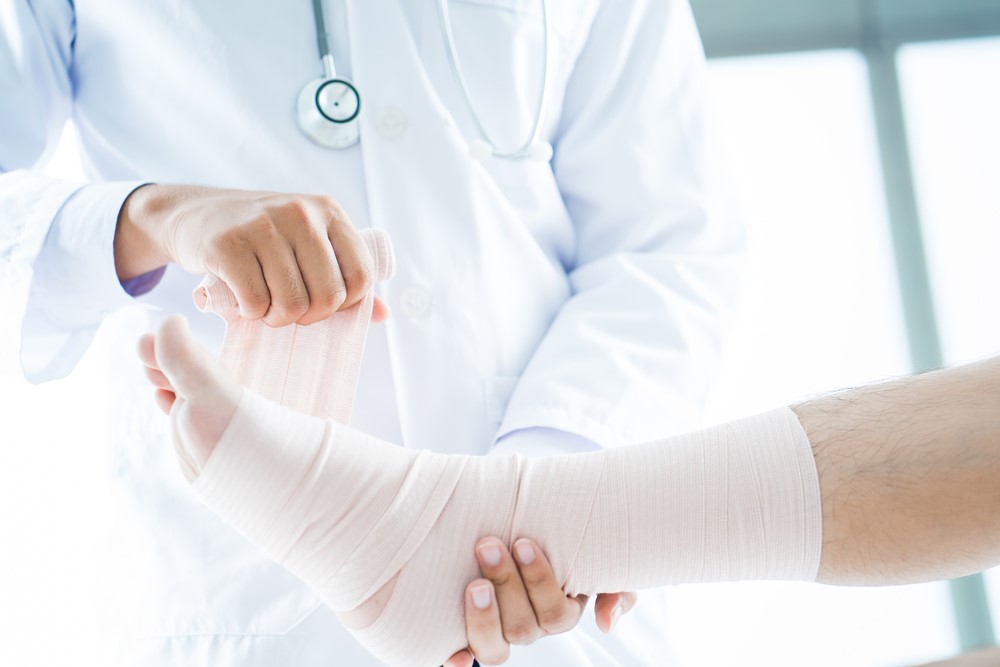 What Not to Wear After Foot Surgery
While it's best to wear only specialised post-op shoes for quite some time after your foot surgery, it is absolutely crucial to avoid shoes with:
Heel elevation (high heels)
Toe spring (sports shoes)
Toe taper (pointy shoes)
Rigid soles (hiking boots)
By staying away from these shoes, you will help to prevent any unwanted damage from occurring to the foot during recovery.
What Should I Look for in a Post-Op Shoe?
The perfect post-operative shoe should first and foremost respect the natural foot and toe anatomy. Key points to look for in a post-op shoe are:
Square-Toe Design: Comfort should come first, so your post-op shoe should feature a square-toe design and greater depth to accommodate dressings or swelling
Non-Slip Sole: Make sure the shoe has a non-slipping sole and fits you perfectly to prevent any unfortunate incidents or difficulties
Pressure Relief: Different post-operative shoes will focus on alleviating pressure to different points of the foot, so it's important to match the shoe to your needs
Best All-Round Post Op Shoe
Darco All Purpose Boot for Post-Surgical Healing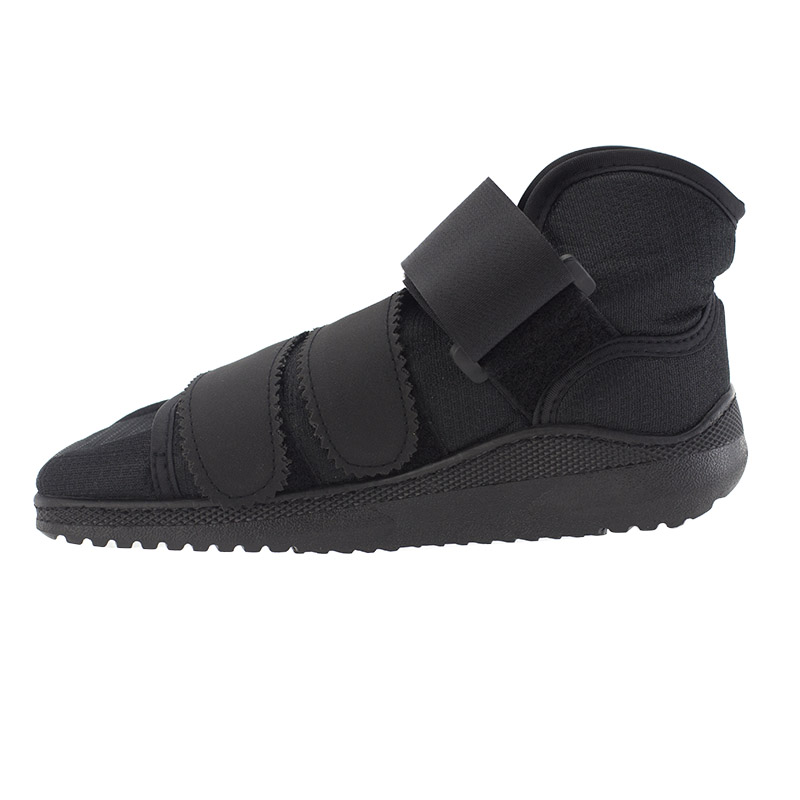 Darco have become our leading manufacturer of post-op footwear, and the Darco All Purpose Boot for Post-Surgical Healing is an ideal all-round choice. Adjustable to fit bulky dressings with a rocker bottom and padded sole, this is a great choice for those requiring relief and protection without a need for an open toe.
Key Features: Rocker sole for comfortable gait; closed-toe design to protect dressings
Best Open Toe Post-Op Shoe
Jura Post-Op Shoe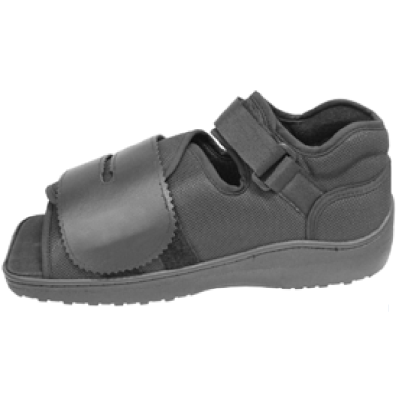 For surgeries affecting the toe, an open-toed wound shoe like the Jura Post-Op Shoe is almost always the best choice. A square toe offers protection from stubs while accommodating dressings, while a rocker sole and EVA insole provide an "offloading" effect to take the pressure off the sole of your foot to reduce pain.
Key Features: Open toe ideal for toe surgery; square toe design protects from toe impact
Best Post-Op Shoe for Heel Injuries
Darco HeelWedge Shoe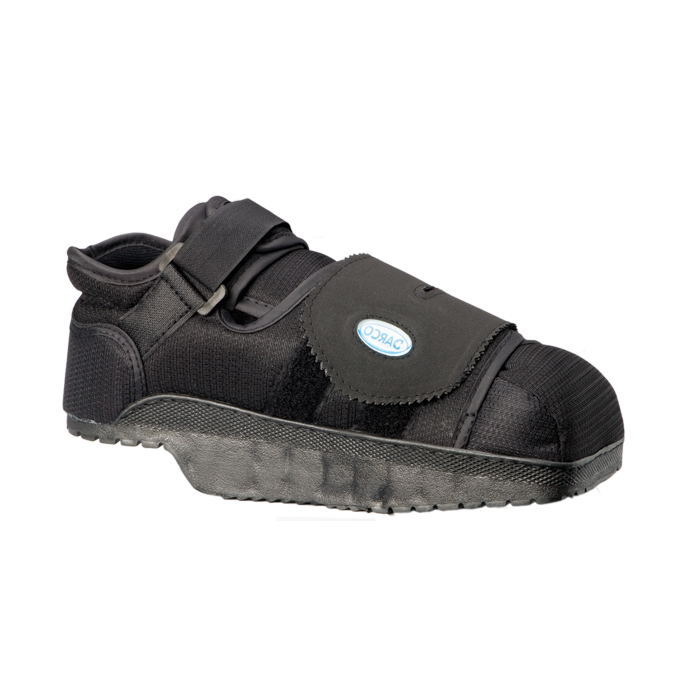 Surgeries or trauma to the rear of the foot can be especially difficult to deal with, and the best option is to offload heel pressure with a specially-shape shoe like the Darco HeelWedge Shoe. This shoe reduces heel pressure by over 26%, and maintains stability with a firm ankle strap and aggressive mid-foot tread.
Key Features: Cutaway reduces heel pressure 26%; tread and ankle strap for stability and grip
Best Post-Op Shoe for Forefoot Injuries
Darco OrthoWedge Shoe for Post-Surgical Healing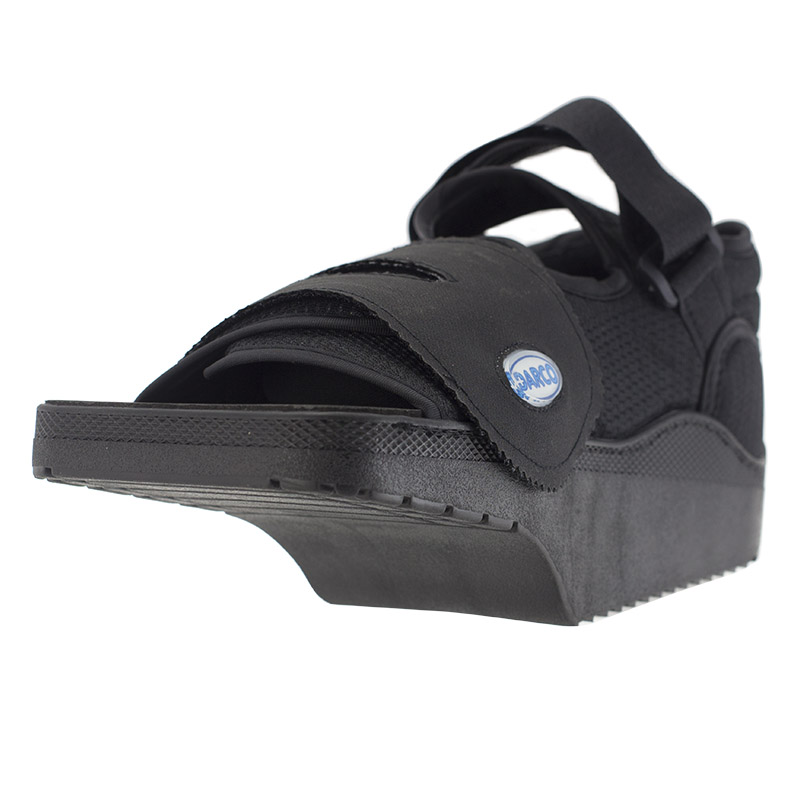 Similar to the post-op shoe above, the cut-away of the Darco OrthoWedge Shoe reduces pressure for forefoot trauma and metatarsal wounds. Designed with a similar ankle strap and tread, this wound shoe relieves pressure while accommodating bandages and supporting stability.
Key Features: Front cutaway reduces pressure on the forefoot; aggressive tread for stability
Lightest Post-Op Shoe
Donjoy Podalux II Post-Op Wound Shoe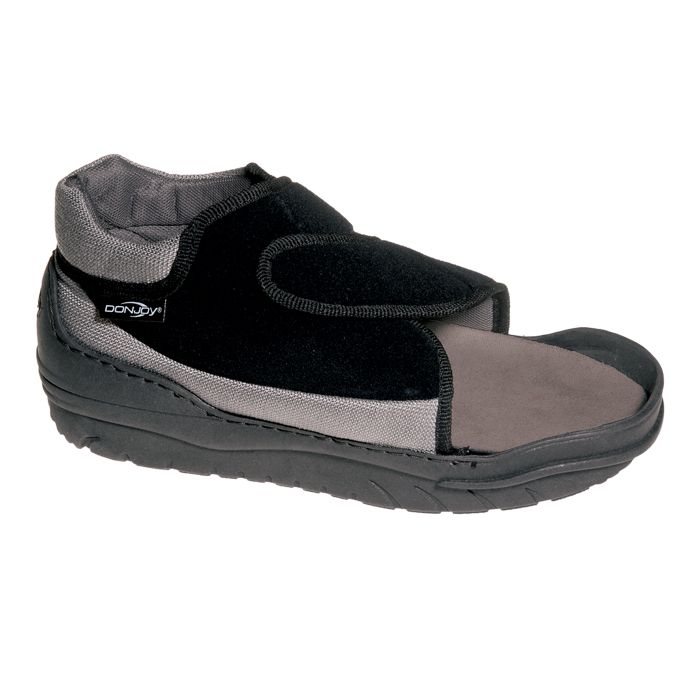 Highly versatile, the Donjoy Podalux II Post-Op Wound Shoe focuses on soft, light materials for maximum comfort. Ensuring the forefoot stays in the correct position for recovery, this is an ideal option for use with a range of bulky dressings.
Key Features: Lightweight and soft materials; removable sole to suit larger dressings
Best Pediatric Post-Op Shoe
Darco Slimline Paediatric Cast Boot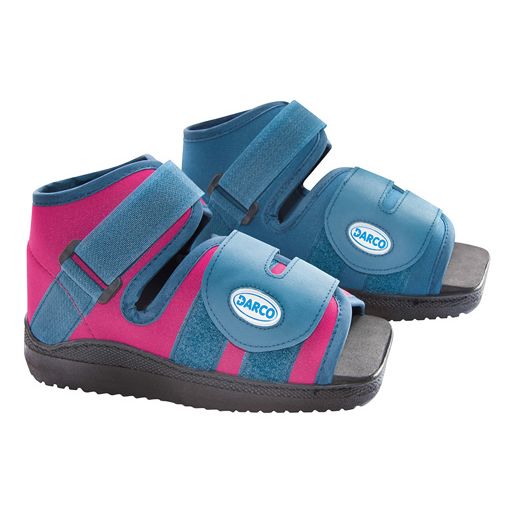 Available in two kid-friendly colours, the Darco Slimline Paediatric Cast Boot offers protection and support to a child's injured foot, as well as their cast or dressing. Weather-resistant and comfortable, this shoe provides Darco-grade protection for smaller feet.
Key Features: Lightweight and soft materials; removable sole to suit larger dressings
Most Affordable Post-Op Shoe
Medi Shoe for Post-Operative Healing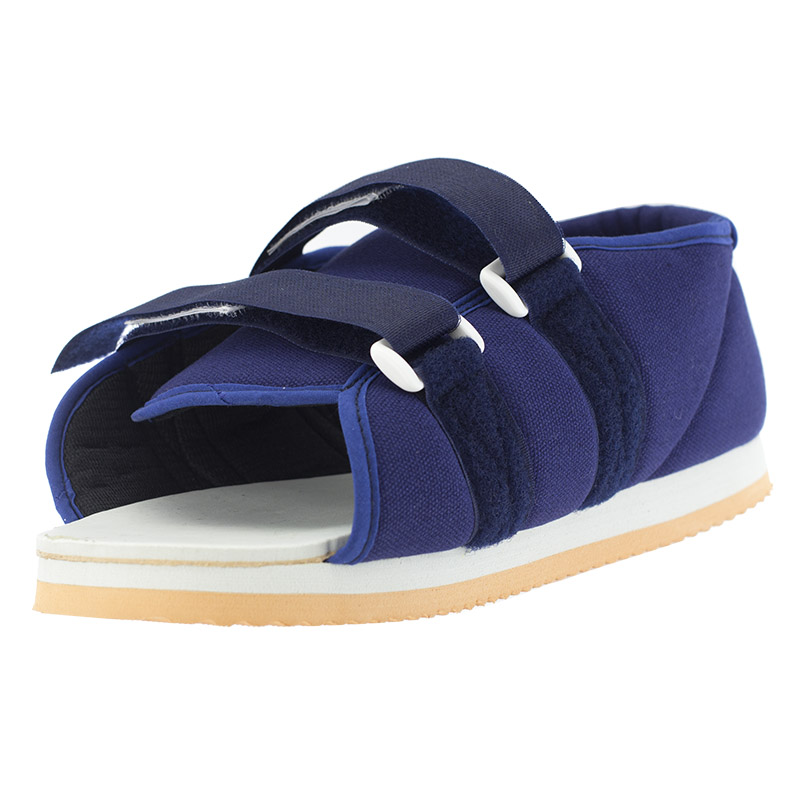 While choosing the best and most comfortable support is best, cost will also be a primary driver for most people, making the Medi Shoe for Post-Operative Healing a top choice. It offers protection, comfort and grip, and comes in slightly cheaper than the options mentioned above.
Key Features: Offers reliable grip, protection and comfortable at a relatively low cost
Best Post-Surgical Walker Boot
Aircast AirSelect Elite Walker Boot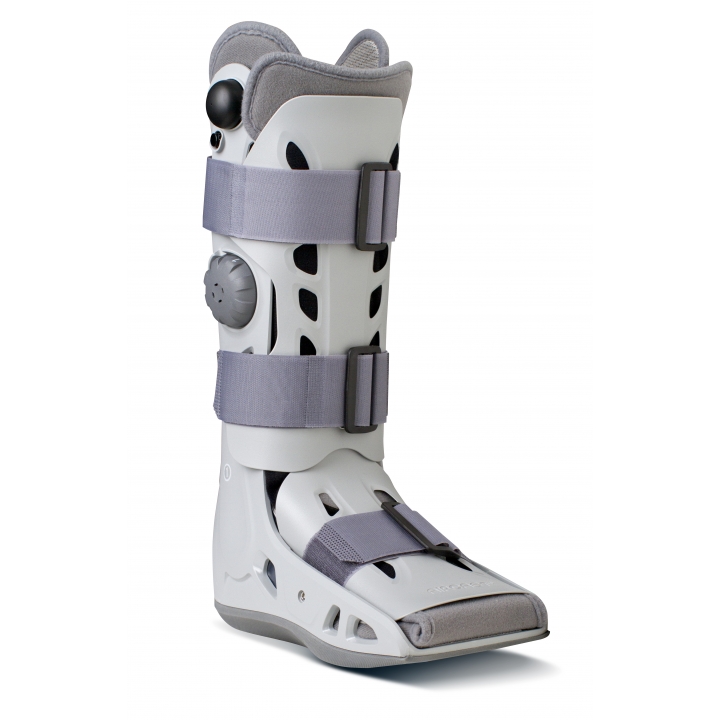 If your surgery is more complicated, or involves more than just the foot, you'll most likely need a larger walker boot like the Aircast AirSelect Elite Walker Boot. This is an ideal option for surgery and fractures of the lower leg, providing a comfortable gait and plenty of protection.
Key Features: For surgeries and fractures of the ankle and lower leg; cushions the entire sole
Put Your Best Foot Forward
While our product experts have selected these post-surgical shoes as the best in our range, we do have plenty of others that narrowly missed the cut. You can see all of the post-op shoes and cast sandals we have to offer in our Post-Operative Shoes category.
Has a post-op shoe helped in your recovery? Let us know in the comments below, or find us on Twitter and Facebook!
Tags: Cast Care, Foot Care, Post-Op Shoes, Post Surgery
Shop Related Products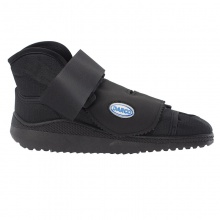 Adjustable shoe to assist with post-operative recovery
Suitable for unna boots, casts and bulky dressings
Fully customisable with removable EVA insole
Reinforced sole under the metatarsal heads
---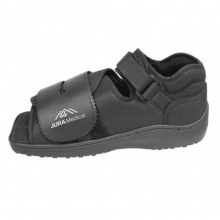 Post operation recovery shoe
Square toe configuration for extra protection
Rocker-sole aids gait and distributes pressure evenly
Non-slip outsole for reduced metatarsal movement
---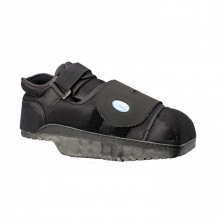 Healing shoe to alleviate heel pressure by at least 26%
Ideal for diabetic ulcerations or post-operative healing
Includes a comfortably padded and customisable insole
Ankle strap seats the foot firmly to reduce heel slippage
---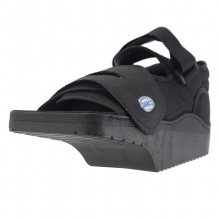 Adjustable post-surgical healing shoe
Suitable for forefoot trauma or ulcerations
Reduces weight on the forefoot to help healing
Square toe bumper for excellent protection and fit
---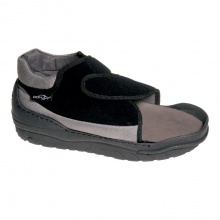 Lightweight and comfortable post-op shoe
Ideal for various post-op and post-traumatic applications
Protects your foot to facilitate healing
Fits either the left or the right foot
---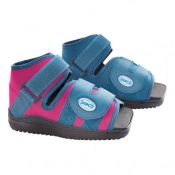 Adjustable closure technology for bulky casts or bandages
Can be used over a fibreglass or zinc cast
Uses weather-resistant upper material
Ideal protection against wear and tear
---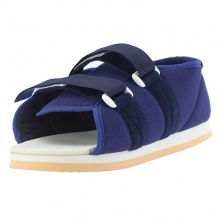 Adjustable post-operative medical shoe with padding
Ideal for those undergoing post-operative healing
Features adjustable straps for thick bandages or swelling
With a rigid, non-slip sole for stability and injury prevention
---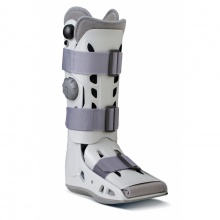 Aircast boot that absorbs shock and dissipates impact forces
Ideal for post-op immobilisation, severe ankle sprains and more
Provides intermittent pneumatic compression for fast oedema reduction
Ensures increased comfort during your recovery