Best Pillows for Shoulder Pain
Monday, 8 October 2018 | Paul
A good night's sleep is something most of us take for granted, and it's only when we have to deal with the lack of it that we realise what an important role it plays in our lives. If you're suffering from chronic shoulder pain, your chances of sleeping undisturbed through the night are close to none, resulting in low energy during the day, moodiness and even increased sensitivity to pain.
That's why it's important to do everything in your power to get the most out of your nights and try to sleep as soundly as your condition is permitting you. The choice of orthopaedic pillows that promise to do that for you can be overwhelming, which is why we've decided to put together this list of suggestions for some of the best pillows for shoulder pain out there.
Best Pillow for Side Sleepers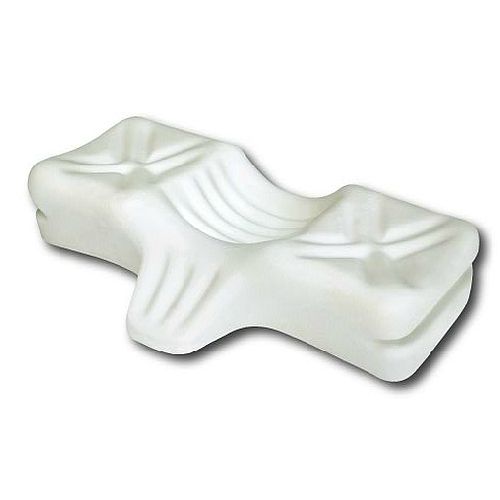 When you're suffering from pain in your shoulders, sleeping on your side is especially uncomfortable. If that's your preferred sleeping position, no wonder you've been been struggling with restless nights.
Without a doubt the best ergonomic pillow currently available on the market, the Therapeutica Spinal Alignment Sleeping Pillow is perfect for sleeping in all positions, including side sleeping. It provides you with crucial support for your head, neck and shoulder, making it the ultimate side sleeper pillow. This support will allow you to avoid back, shoulder and neck pain, and enjoy sleeping on your side as much as possible.
Key Features: Suitable for all sleeping positions; especially well-suited for side sleepers; supports shoulder and neck region; made from hypoallergenic, non-toxic foam
Ideal for Those with Sensitive Neck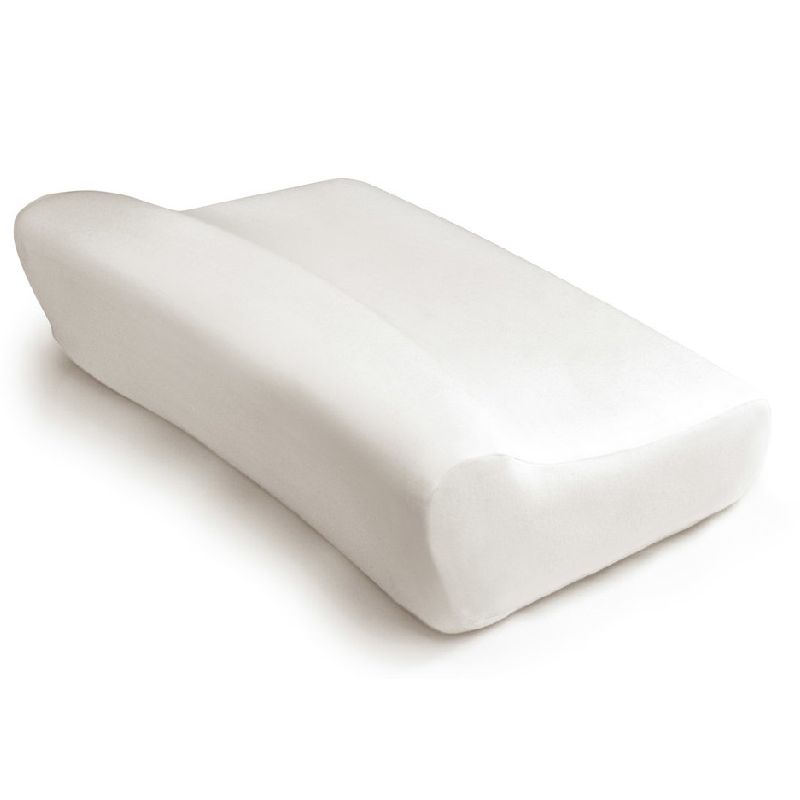 Neck and shoulder pain often go hand in hand, so it's important for your orthopaedic pillow to support both the shoulder and neck region. The Sissel Plus Orthopaedic Pillow is specially shaped to fit the neck and shoulder, leaving you feeling well-rested when you wake.
The Sissel Plus Pillow features substantial support to the lower cervical spinal column, supporting your entire shoulder and neck region. Due to its unique angle, the pillow snugly fits between the shoulder and cervical column, gently leading the spinal column into the anatomically correct position.
Key Features: Supports the lower cervical spinal column; ideal for sensitive necks; ventilated for better heat control
Reduced Pressure on Neck, Shoulders and Ears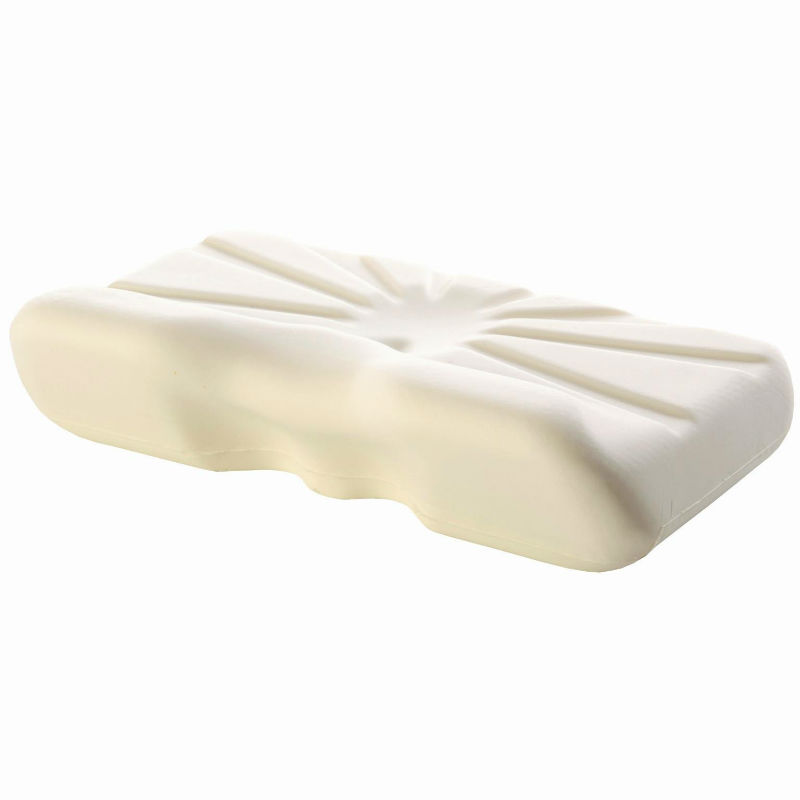 Side sleeping, especially sleeping on your left side, can alleviate acid reflux and heartburn, boost digestion, stimulate the drainage of toxins from the lymph nodes, improve circulation and help your brain filter out waste. So no wonder that over 50% of all people are side sleepers. Unfortunately, sleeping on your side is next to impossible when experiencing shoulder pain.
The Putnams Cervical Neck Pillow has a unique contoured design that provides comfort while correcting spinal alignment. Its curved leading edges reduce pressure on the neck and the shoulders, while the thoughtfully planned ear recesses reduce pressure on the ears to eliminate sore ears in the morning. The pillow is made of foam and designed to improve ventilation to keep you cool and comfortable throughout the night.
Key Features: Guarantees maximum support for shoulders, neck and head; ideal for both back and side sleepers; foam construction ensures ventilation
Discreet Neck and Shoulder Support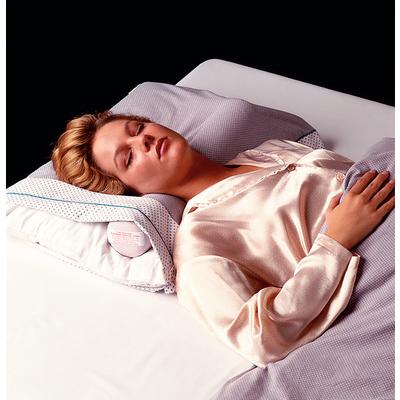 Sometimes replacing your existing pillow with a specially designed orthopaedic one isn't the most practical solution. The McKenzie Cervical Roll Cushion is a versatile fibre and foam roll that can be placed inside your pillowcase, along with your regular pillow, to provide excellent postural support and relieve postural neck and shoulder pain.
This is perfect if you want to avoid changing your bedroom style, or if you spend a lot of time on the road. The Cervical Roll is small and compact enough to fit discreetly in your luggage, and suitable for use in any situation that requires additional neck support while resting.
Key Features: To be used with your existing pillow; highly discreet and suitable for use anywhere; helps relieve postural neck and shoulder pain
Perfect for Travelling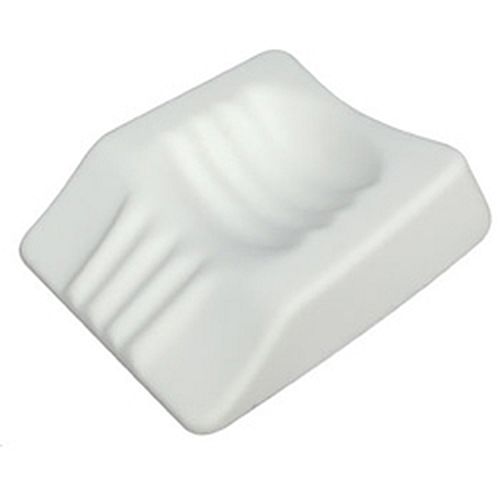 Sleeping on uncomfortable hotels pillows can quickly ruin even the best holiday, especially if you're suffering from sensitive neck or shoulders. The Therapeutica Spinal Alignment Travel Sleeping Pillow offers all the benefits of the classic Therapeutica Spinal Alignment Sleeping Pillow while in a convenient travel size.
Like the full-size version, this Travel Sleeping Pillow can be used if you sleep on your back or side, and offers relief for shoulder, neck and back pain. It fits conveniently into virtually any suitcase and ensures maximum comfort even when you're not sleeping in your own bed.
Key Features: Excellent alternative to hotel pillows; small and compact design; offers shoulder, neck and pain relief; suitable for back and side sleepers
Finding What Suits You Best
If you want to find the perfect pillow to help you relieve your shoulder pain, it's important to know exactly what your expectations are. Are you only suffering from shoulder pain, or do you want to keep your neck, head and upper back comfortable as well? Do you mostly sleep on your side, back or stomach? Do you want to be able to take your pillow with you when you travel? We have the right solution for each one of those demands.
What would your ideal pillow be like? Let us know in the comments below, or find us on Twitter and Facebook!
Tags: Aids for Daily Living, Pillows, Shoulder Pain, Sleep Better, Therapeutica Spinal Alignment Sleeping Pillow, Top 5 Guides
Shop Related Products
Orthopedic pillow for neck and shoulder pain
Designed as a spinal alignment and sleep comfort pillow
Can be used as a pillow for side sleeping
Non allergenic and non toxic materials for safe sleep
---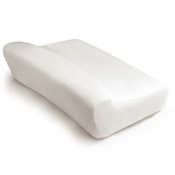 Orthopaedic pillow, ideal for those with sensitive necks

Adjustable height using pad

Increased isolated pressure distribution

Shoulder and neck region is well supported
---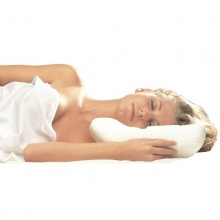 Contoured pillow with ergonomic shape for neck support
Corrects spinal alignment for more comfortable sleeping
Reduces pressure on neck, shoulders, and ears
Ideal for both side sleepers and back sleepers
---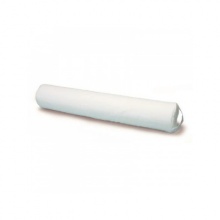 Helps relieve postural neck and shoulder pain

Includes washable poly-cotton cover

To be placed inside an existing pillowcase

Can improve sleep quality and spine health
---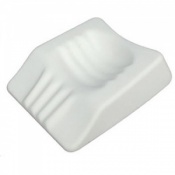 Convenient travel size;
Ability to sleep on side or back;
Relief for shoulder, neck and back pain;
Supports the natural curve of the upper spine.