Best Knee Braces for Water Sports
Tuesday, 5 September 2017 | Paul
Surfing the crest of a wave or cruising at top speed on water skis: water sports can be a truly exhilarating experience. Unfortunately, they can also put a huge amount of stress on the joints of the body, particularly the knees. The impact of repetitive landing on water is itself a common cause of Anterior Cruciate Ligament (ACL) injuries, and twisting caused by incorrect landings and collisions can worsen this. It's not surprising, therefore, that many athletes decide to wear a water sports knee brace, either as a preventative measure, or as a rehabilitation aid following injury or surgery.
How Can a Knee Brace for Water Sports Help?
The basic function of any knee brace is to provide support and stability to the knee. A water sports knee brace can either be used as a prophylactic (preventative) measure in order to reduce the chances of an ACL injury occurring, or following an ACL injury in order to reduce pain and encourage healing. Since many water sports athletes will be plagued by chronic knee problems, they will often find that they use them for a combination of these purposes.
What's Different About a Water Sports Knee Brace?
Any knee support or brace that is suitable for water sports must be able to withstand the impact forces involved and must be resistant to continual submersion in water. To this end, water sports knee braces utilise specialised water- or corrosion-resistant materials to ensure that they won't break down or rust when subjected to high levels of moisture. Please note that it is always best practice to rinse off your brace in freshwater and air dry it following submersion in chlorinated water or saltwater.
See our top five picks for water sports knee braces below.
Top Five Knee Braces for Water Sports
Donjoy Legend Knee Brace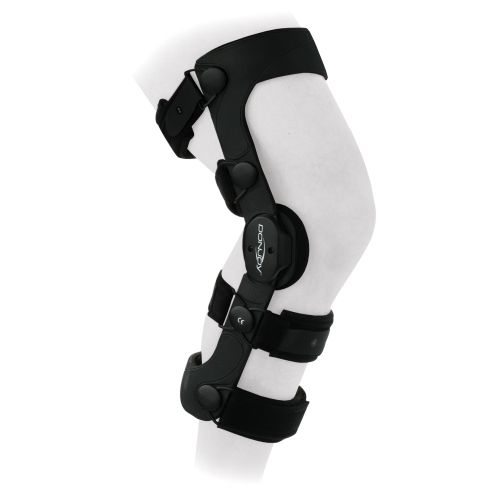 The Donjoy Legend Knee Brace is the ideal support for surfers, kitesurfers, windsurfers and any other sport that takes place on saltwater. With a specialised non-chip Kraton outer coating, the Legend is robust enough to weather repeated contact with saltwater without rusting or breaking down. It also suitable for freshwater.
Offering exceptional comfort as well as functional stability, the Legend features a soft, removable doe skin liner that keeps your knee comfortable during everyday activities. As well as stabilisation of ACL injuries, the Donjoy Legend can be used by people with PCL, CI, LCL and MCL instabilities.
Key Features: Non-chip Kraton outer coating, ideal for saltwater, suitable for a range of conditions
Ossur CTI OTS Knee Brace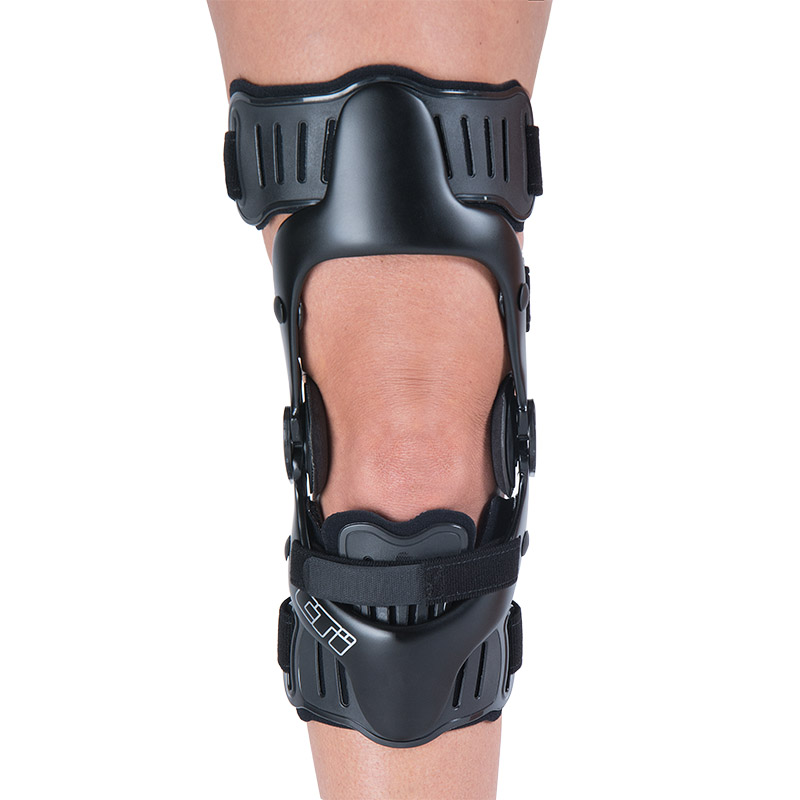 The Ossur CTI OTS Knee Brace has an advanced carbon fibre construction that offers the optimal combination of rigid support and lightness, making it ideal for the sportsperson who needs a competitive edge. This material is also non-corroding, ensuring that the CTI OTS Knee Brace is suitable for use in the water. As such, it is perfect for water sports, and particularly for competitive or professional water sports, where its lightweight construction can be extremely beneficial.
The hinge of the CTI OTS Knee Brace features a patented four-bar linkage system that accurately recreates the knee's natural movement, meaning that knee motion remains as free and fluid as is possible. It is suitable for mild to severe ACL, LCL and MCL sprains and tears.
Key Features: Corrosion-resistant materials, lightweight construction, advanced hinge for natural movement
Donjoy OA Reaction Web Knee Brace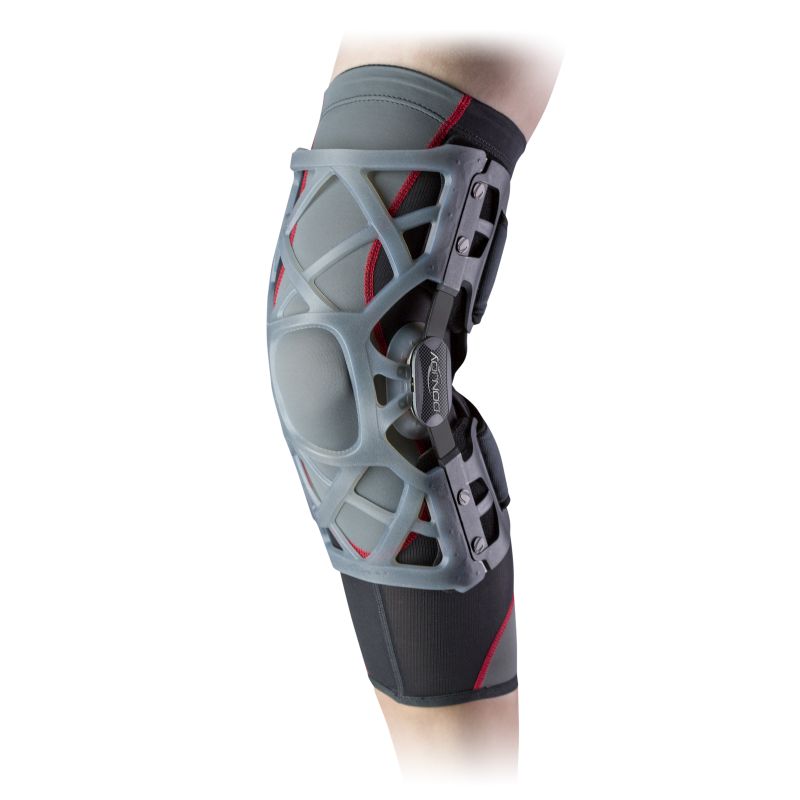 A less expensive option, the Donjoy OA Reaction Web Knee Brace still provides excellent support and stabilisation of the knee area. Comfortable, form-fitting and easy to put on, it is the ideal choice for the occasional surfer, or for those who require more moderate support. It can also be used as a "first time" choice, giving you the chance to get used to wearing a knee brace before transitioning to a more rigid brace later.
The Reaction Web's elastomeric design helps to shift impact force away from the most painful areas of the knee. Combined with a comfortable, lightweight and breathable design, this means that the Reaction Web can really improve comfort when out on the water.
Key Features: Affordable, comfortable, breathable, lightweight
Donjoy Armor Professional Knee Brace with Fourcepoint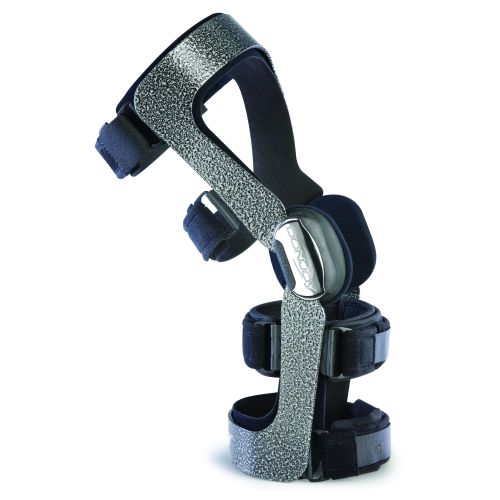 The Donjoy Armor Professional Knee Brace with Fourcepoint features one of the most advanced designs available on the market. Our top recommended brace for skiing, the Armor with Fourcepoint is also ideal for water sports. Its spring-loaded Fourcepoint hinges keep the hamstring in constant tension, almost entirely eliminating the possibility of incurring an ACL injury. It is not suitable for PCL injuries.
Made with aircraft-grade aluminium, the Armor with Fourcepoint is exceptionally lightweight and strong, with a design that is both highly functional and extremely stylish. If you want to look great as well as protect yourself on the water, perhaps this is the brace for you.
Key Features: Made from aircraft-grade aluminium for ultimate lightness and strength, almost eliminates chances of an ACL injury
Donjoy Full Force Knee Brace with Fourcepoint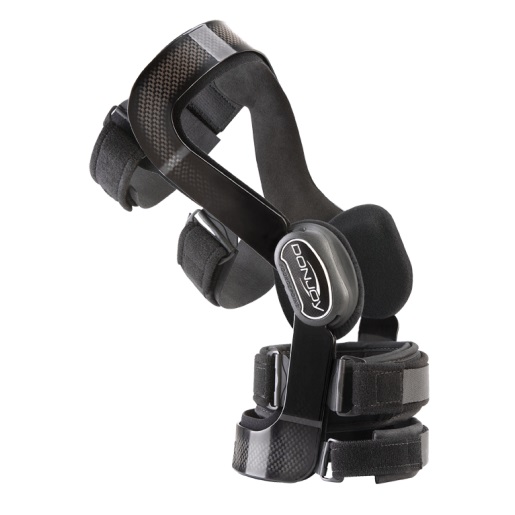 The Donjoy Full Force Knee Brace with Fourcepoint also features Donjoy's highly effective Fourcepoint hinge technology, in a sleek, low-profile and exceptionally lightweight design. Suitable for a variety of applications, the Full Force can provide support for everyone from the everyday user up to competitive and professional athletes.
Donjoy's lightest knee brace, the Full Force can provide highly beneficial performance improvements in relation to other braces where jumping movements are involved, such as in wakeboarding and kite surfing. As well as offering high-quality protection against ACL injuries, the Full Force can be reconfigured to provide support for CI instabilities.
Key Features: Extremely lightweight, suitable for a range of activity levels
Protect Yourself Today
Knee bracing is highly popular amongst water sports athletes, helping in the prevention of ACL injuries before they occur and in recovery following one. Indeed, championships and medals have been won by athletes wearing knee braces, showing that the use of a high-quality knee brace need not result in any decrease in performance whatsoever. If you want the comfort and peace of mind of knowing your knees are protected on the water, why not purchase one of our water sports braces today?
Do you enjoy water sports? Let us know in the comments or find us on Twitter and Facebook!