Best Ice Packs for Ankles 2022
Thursday, 24 December 2020 | Paul
Directly after a twist or sprain to the ankle, cold therapy should be your first port of call. Applying ice to the area will help to reduce both pain and swelling, helping to kickstart the recovery process by slowing down inflammation and allowing the muscles and tendons to rest. While a simple bag of ice can often do the trick, an ankle-specific cold therapy pack is the best choice for frequent use or serious injuries.
How Should I Choose an Ice Pack?
When choosing which ice pack to use, two things need to be considered: the injury you need to treat, and your intended use. To make things simpler, we've consulted with product experts to select our top three ice packs – a versatile pack for general recovery, a more complete cryotherapy unit for severe sprains, and a disposable option for quick use on the go.
Best Versatile Ice Pack for Most Ankle Injuries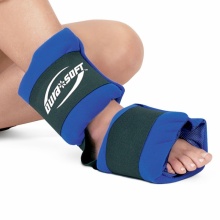 Provides superb continuous cold therapy to the foot and ankle
Easily shapes to the foot and ankle for a comfortable fit
Takes the guesswork out of correct ice therapy positioning
The choice of professionals - better than a bag of frozen peas
Expert's Note: It can be really tricky to find an ice pack that can contour to all the parts of the ankle, which is where the Dura Soft Ankle Wrap really shows its class. Providing complete coverage of the key catch zones in the ankle, this wrap allows simple application in seconds for hassle-free cold therapy.
Best Ice Pack for Severe Ankle Sprains and Injuries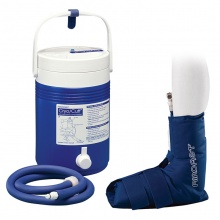 Includes Ankle Cryo/Cuff and Gravity Cooler Unit
Cooler administers up to eight hours of cryotherapy
Compression level is adjustable in design
Helps minimise swelling and reduce pain
Expert's Note: Designed for long-term recovery of serious ankle injuries, the Cuff and Cooler Unit combine to provide some of the most reliable continuous cold therapy available. It can deliver controlled cold compression that works to minimise haemarthrosis, reduce swelling and reduce pain, while its anatomical design fits across the whole ankle to ensure that those deep-set injuries will feel the benefit.
Our Best Instant Ice Pack for Sports Injuries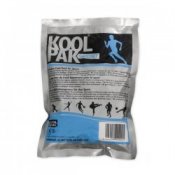 Instant ice pack provides instant pain relief

Designed for the treatment of sports injuries

Takes only seconds to activate

Ideal for use on all soft tissue injuries
Expert's Note: Athletes and trainers will understand the importance of getting ice to a sports injury as quickly as possible. A must have for physiotherapists, trainers and athletes, the Koolpak is an excellent tool to have on hand for when you need it, allowing you to start the recovery process immediately after the injury occurs.
Our Best Combination of Cold Therapy and Support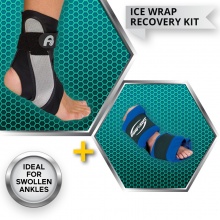 Stabilising ankle brace with an ankle-specific ice wrap
Ideal for recovery of a weak or previously-injured ankle
Support your ankle during activity and control swelling afterwards
Two items supplied together at a reduced cost
Expert's Note: Getting back to exercise after an injury requires more than just cold therapy, as you'll need to make sure your ankle is supported to prevent re-injury. This kit is ideal as it includes targeted cold therapy for the ankle, alongside a brace that lets you move while guarding against rolled and twisted ankles.
Choose the Right Ice Pack for Your Ankle
The difference between ice packs can be large, so you want to be careful and make sure that you buy the correct ice pack for the job. Remember that serious cryotherapeutic equipment such as the Cryo Cuff is generally best suited to long term severe injuries, the Dura Soft is ideal for maintenance of injuries and more minor sprains, and the Koolpak is the best choice for instant treatment on the sidelines.
If you haven't found what you're looking for here, we would recommend taking a look at either our Hot & Cold Packs Page, or our Hot & Cold Therapy Page, where you're bound to find the ice pack for you. Do you have any questions about our ice packs, or want some advice on the best ice pack for you? Please don't hesitate to let us know in the comments, or find us on Facebook and Twitter.
Tags: Ankle Pain, Cold Therapy, Health and Care Expert Series, Rehabilitation, Top 5 Guides
Shop Ankle Ice Packs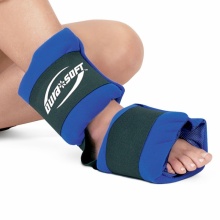 Provides superb continuous cold therapy to the foot and ankle
Easily shapes to the foot and ankle for a comfortable fit
Takes the guesswork out of correct ice therapy positioning
The choice of professionals - better than a bag of frozen peas
---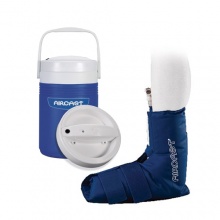 Includes the Ankle Cryo/Cuff and IC Cooler Unit
Provides up to eight hours of cryotherapy
Helps to minimise swelling and reduce pain
Automated system allows you to relax during treatment
---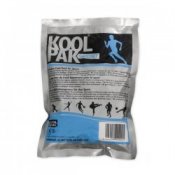 Instant ice pack provides instant pain relief

Designed for the treatment of sports injuries

Takes only seconds to activate

Ideal for use on all soft tissue injuries
---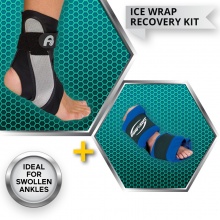 Stabilising ankle brace with an ankle-specific ice wrap
Ideal for recovery of a weak or previously-injured ankle
Support your ankle during activity and control swelling afterwards
Two items supplied together at a reduced cost