Best Copper Bracelets for Arthritis
Tuesday, 23 January 2018 | Eugene
Arthritis can be a highly debilitating condition, affecting all facets of life and making even the simplest tasks difficult. Turning door handles, typing on a keyboard or using the phone can all be affected, so when a remedy is out there, it's worth looking for it. Copper is one such remedy, and has recently seen a resurgence in its use to target arthritic pain directly at the source. For arthritis-related pain in the wrist, copper bracelets are an excellent tool, so we've compiled a list of our favourite Copper Bracelets for Arthritis.
How Can Copper Help My Arthritis?
Copper is a metal that is essential to our health and wellbeing, but it can only be obtained through an outside source, as it is not produced naturally by the body. If your diet does not provide the necessary amount of copper that your body needs, you may require an additional source, such as a bracelet worn tightly around the wrist, to get the full benefit.
Available in a range of styles to fit seamlessly with your lifestyle, copper bracelets fit tightly to your skin, allowing trace amounts of copper to rub off and be absorbed by the body. This copper can then help to relieve general aches and pains of the wrist, allowing you to get on with your day more comfortably.
Regency Copper Bracelet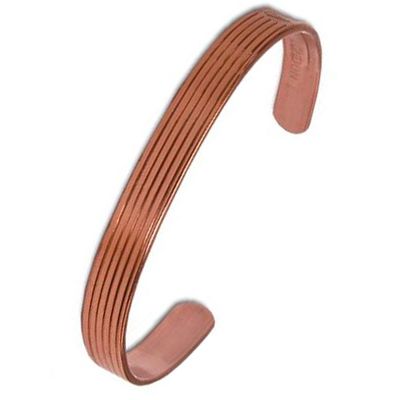 We start our list with a low-key and discreet bracelet, designed to blend with any outfit in your wardrobe. The Sabona Regency Copper Bracelet features a narrowly-ribbed Regency design, making it stylish enough for virtually any occasion. Combining simplicity with elegance, this bracelet is made with 99% pure copper for maximum effect. To suit your style, it's available in a 7mm or 9mm width.
Key Features: Made with 99% pure copper, features a stylish Regency design.
Windsor Silver Plated Copper Bracelet (9mm Width)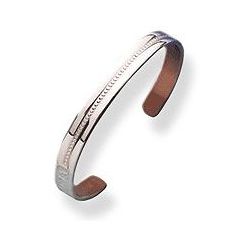 While most copper products feature a simple elegance, some may prefer a more traditional silver colour for their jewellery. The Sabona Windsor Silver Plated Copper Bracelet provides all the benefits of a 99% pure copper bracelet, with a silver-plated exterior. The silver is embellished with a simple dotted band design, making it one of the most stylish arthritis-relieving products around. Like the majority of Sabona bracelets, this product is available in 7mm and 9mm widths to suit your style.
Key Features: Same quality copper with a classy silver plated exterior.
Magnetic Copper Bracelet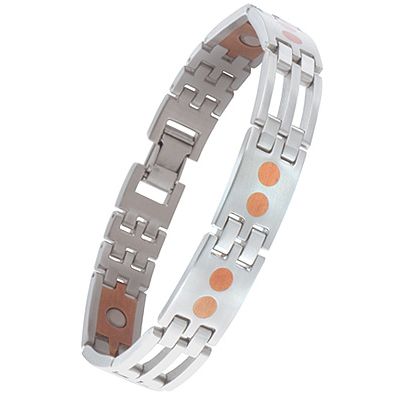 While copper is an excellent home remedy for arthritis pain, magnetic therapies are becoming increasingly popular as well. If you're having trouble deciding, there's no need, as the Sabona Magnetic Copper Bracelet provides the best of both worlds. Featuring pure copper strips combined with 1200 Gauss magnets, your arthritic wrists will benefit from two remedies as once, providing you with all the benefits of both materials.
Key Features: Combines the benefits of copper and magnetic therapy for powerful relief.
Plain Copper Bracelet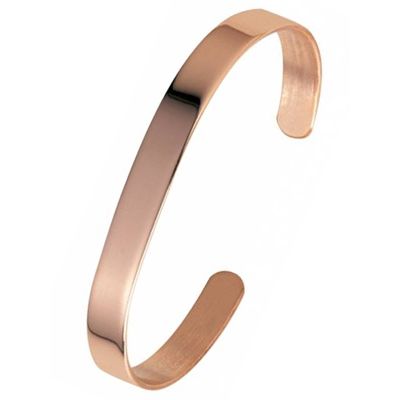 Many copper products go to great lengths to combine efficacy with style, but we feel that copper can be stylish without all the bells and whistles. The Sabona Plain Copper Bracelet provides a no-frills approach to arthritis relief through copper, as it features a plain and discreet design. Relying on the natural beauty of the metal, this bracelet fits tightly to the skin to provide maximum effect.
Key Features: Plain copper design, made with 99% pure copper that fits tightly to the skin.
Tudor Silver Plated Copper Bracelet
The final bracelet on our list is another that combines style with all the natural anti-inflammatory benefits of copper. Made from the purest copper, the Sabona Tudor Silver Plated Copper Bracelet features silver plating on the exterior, providing discreet yet effective arthritis relief. Available in a 7mm or 9mm width, this bracelet is ideal for those who prefer a bolder fashion statement but still wish to experience the full effects of copper for arthritic relief.
Key Features: Made from the purest copper, features a tudor design on silver external plating.
While the healing benefits of copper are not yet fully understood, millions of people around the world are enjoying its effects with the simple act of wearing a bracelet or other piece of clothing. Whether you're looking for the benefits of copper alone, or are looking to make a fashion statement at the same time, this list of copper bracelets should have you covered.
Want to find other great ways of relieving your arthritis? Why not check out our massive range of Arthritis Relief products?
Do you have any questions about these bracelets, or some other of our arthritis-relief products? Let us know in the comments, or find us on Facebook and Twitter!
Tags: Arthritis, Brand Focus, Pain Management, Top 5 Guides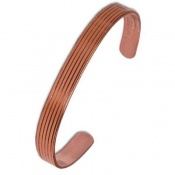 Made from 99% pure copper for safe use and maximal efficiency
Especially suitable for people suffering from arthritis
Features a narrow-ribbed Regency design for a stylish appearance
Available in Small size
---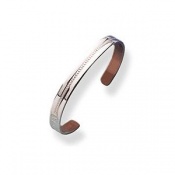 Made from the purest, 99% copper for maximum efficiency
Slightly wider design for those who prefer bolder jewellery
Especially suitable for people suffering from arthritis
Available in four sizes, from Small to Extra Large
---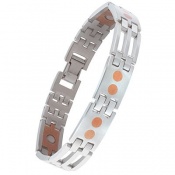 Magnetic bracelet with added benefits of copper
Each copper strip contains a 1200 Gauss magnet
Made from stainless steel for a smart look
Available in five sizes, from Small to XX-Large
---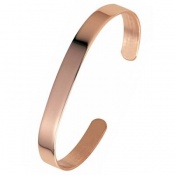 Made from 99% pure copper for maximum efficiency
Manufactured to maintain its shape and quality appearance
Can help with relieving general pain and aches
Available in six sizes, from Extra Small to XX-Large
---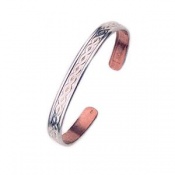 Made from 99% pure copper for maximum efficiency and safe use
Wider design for a bolder fashion statement
Especially suitable for people suffering from arthritis
Available in four sizes, from Small to Extra Large