Best Bed Wedge Pillows of 2021
1 Comment
Saturday, 12 December 2020 |
Eugene
Sleeping flat on your back, stomach or side is the norm for most of us, but you may not know that this flat sleeping position may be hurting your sleep in a number of ways. For your breathing, digestion and spine, sleeping at an elevated position with a bed wedge offers a number of health benefits, and can leave you feeling better and more rested in the morning. To help you find the most comfortable elevated sleeping position for you, we've had our product experts pick out the best bed wedge cushions for the coming year!
Why Use a Bed Wedge Pillow?
Using a bed wedge under your regular pillow for an elevated sleeping position can help you in a number of ways, leading to better and more restful sleep. Bed wedges can help you with:
Snoring and Sleep Apnoea - Sleeping in an inclined position reduced pressure on your airways, leading to less restricted breathing. This is especially beneficial for snorers or those with sleep apnoea, as it can help reduce vibration, and in some cases relieve the problem entirely!
Acid Reflux and GERD - Acid reflux, GERD and heartburn are all exacerbated by a flat sleeping position, as it makes it easier for fluids to gradually flow upwards into your oesophagus. Predictably, sleeping at an incline puts gravity on your side, helping to keep acid in your stomach where it belongs.
Back Pain - When sleeping flat, parts of your lower back may not always be supported by your mattress, and the sudden neck bend that a pillow causes can put your spine in an unnatural position. Sleeping at an incline provides natural support to your lumbar and cervical vertabrae, helping to relieve strain on your back to avoid waking up with aches and pains.
Reading in Bed - Bed wedge cushions are great for healthy sleep, and they're also great for providing comfort on those lazy Sundays. Whether reading, eating or watching TV in bed, a dedicated bed wedge will always provide more comfort and support than your precarious stack of pillows!
Our Best Bed Wedge Pillow
Harley Bed Relaxer Bed Wedge Support Cushion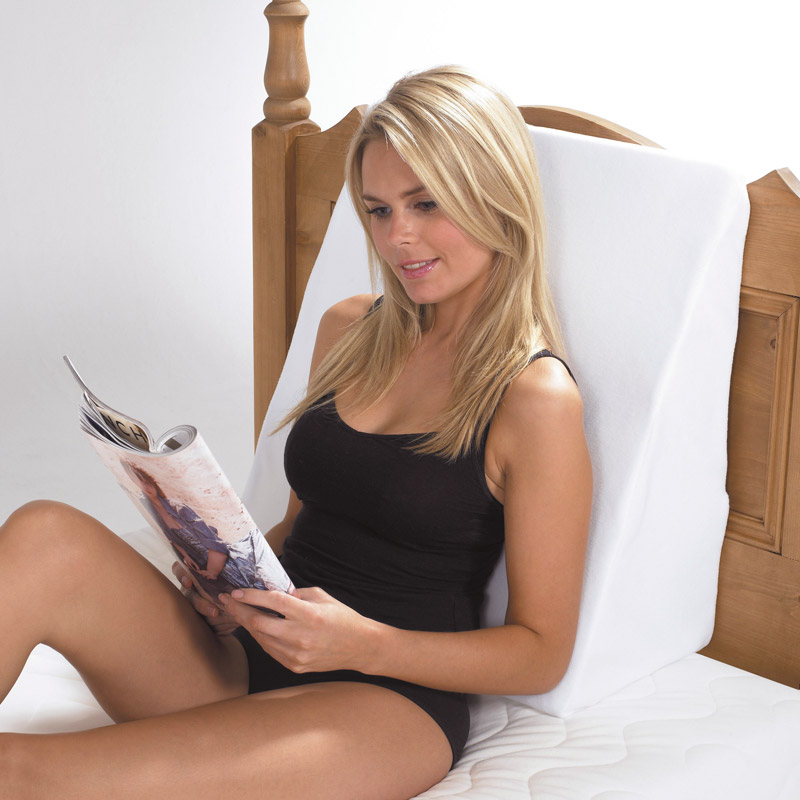 One of the main benefits of most bed wedge pillows is their versatility, as they can be laid flat for a slight incline while sleeping, as well as laid upright to provide a comfortable upright sitting position. The Harley Bed Relaxer Bed Wedge Support Cushion is a perfect example, made with a height and width to support both positions comfortably. Laid flat, this cushion provides the ideal raised sleeping position to eliminate snoring and acid reflux, while upright (as in the provided image), it's perfect for reading or eating in bed.
Memory Foam Bed Wedge Pillow
Putnams Memory Foam Bed Wedge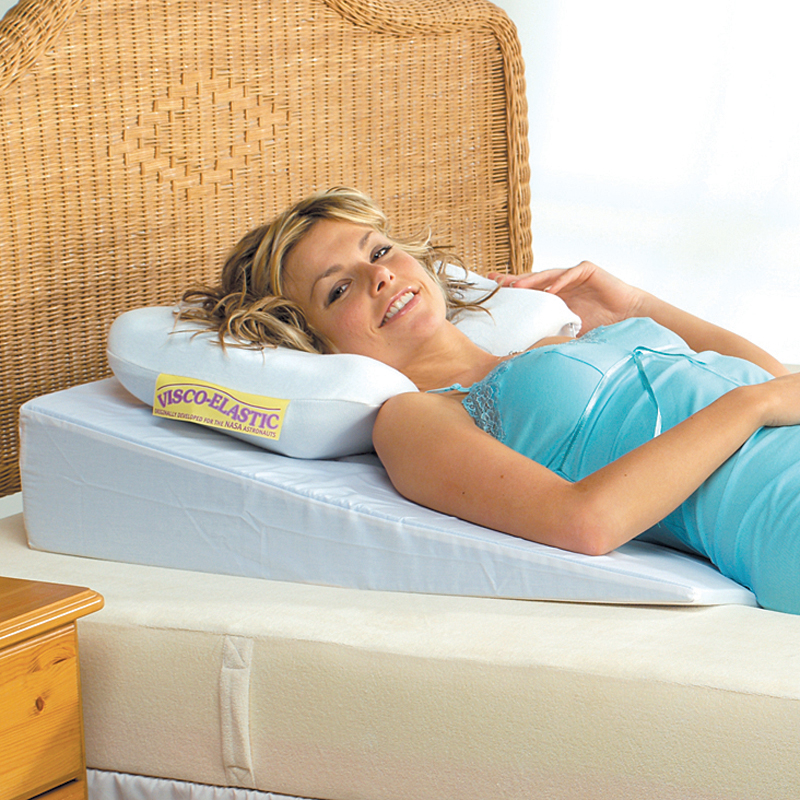 When it comes to getting comfortable in bed, many people are willing to spend a little extra for a bit of premium comfort. The Putnams Memory Foam Bed Wedge is that premium option, made with luxurious memory foam that is both soft and supportive. Shown here laid flat, this wedge can also be laid upright for sitting in bed, and provides all the bed wedge benefits with the added luxury of memory foam.
Our Best Adjustable Mattress Raiser
Mattress Genie Adjustable Mattress Tilter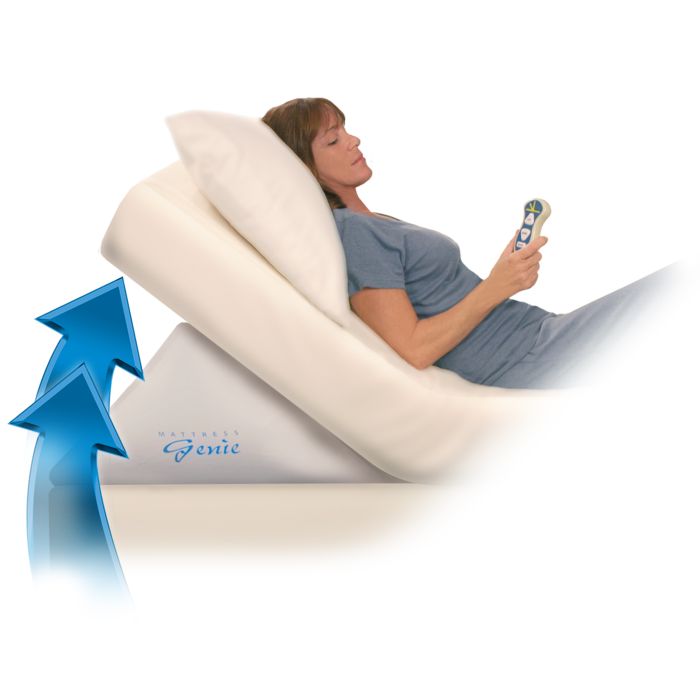 Bed wedges are an excellent option for boosting your comfort, but some people may find it difficult to repeatedly adjust the wedge's position, and would prefer a remote-adjustable option. The Mattress Genie Adjustable Mattress Tilter sits flat under your mattress when not in use, and can be adjusted to provide you with any level of incline you desire. Controlled with a remote, this mattress lifter features an air chamber that fills and deflates with the touch of a button, providing you with instant and easy raising and lowering. If you're looking for all the comfort of a bed wedge without any of the bother, you can't really do any better.
Leg Raiser for Even More Comfort
Harley Leg Raiser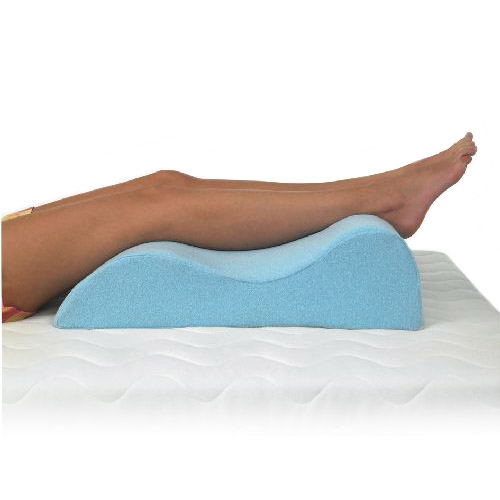 Since we've spent most of this article talking about proper sleeping position, we would be remiss not to mention another position with a range of health benefits: leg elevation. Sleeping with a leg raiser such as the Harley Leg Raiser can help to remove pressure from your lower back and aid with circulation, which is great if you suffer from back pain, varicose veins, or symptoms of oedema and fatigue. Sleeping with just 6 to 12 inches of leg elevation can provide these benefits, so if you're looking to completely revolutionise your sleep, a leg raiser is one of the first places you should look.
Elevate Your Sleep Quality
Sleeping with a wedge cushion for elevation is a proven and simple way to improve your sleep, and comes with so many other health benefits that it seems odd the practice isn't more widely adopted. If you suffer from back pain, acid reflux, sleep apnoea, back pain or snoring, you owe it to yourself to try a bed wedge cushion for yourself, and put the claims to the test. If you'd like to take a look at some other options to boost your sleep quality, feel free to browse our entire range of Bed Cushions, Supports & Rolls, where you'll find all sorts of comfortable sleep solutions.
Do you have any questions about our bed wedge cushions, or another product to help you sleep? Please don't hesitate to let us know in the comments, or find us on Facebook and Twitter.
Tags: Back Pain, Comfort, Harley Bed Relaxer Bed Wedge Cushion, Pillows, Sleep Better, Snoring
Shop Related Products
Bed wedge cushion for back support and neck support
Foam bed wedge can be used for sitting and sleeping
Improve conditions such as back pain, neck pain, acid reflux and bad posture
Includes a bed wedge and a soft, fleecy white cover
---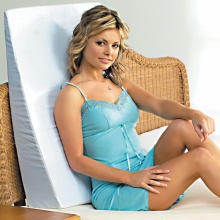 Bed wedge made with memory foam
Allows you to sleep at an angle for respirator benefits
Allows you to raise your legs to improve comfort and circulation
Memory foam version of the top selling Putnams Bed Wedge
---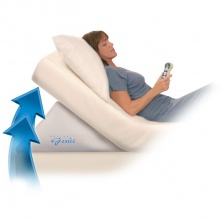 Fully adjustable inflatable bed wedge; fully inflates in less than 1 minute
Sit up in bed comfortably when relaxing
Turn your normal mattress into a reclining mattress for a fraction of the cost
Achieve the perfect reclining angle every time
---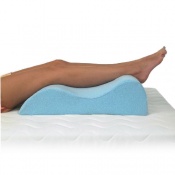 Made to an ergonomically beneficial angle, this raiser supports the back of the knee and heel, allows the calf to relax, takes pressure from the lower back and stimulates circulation.