Best Arthritis Pillows of 2021
Tuesday, 1 December 2020 | Eugene
Neck pain can happen for all sorts of reasons, but nothing causes neck pain more than poor posture while you sleep. While this risk is apparent in everyone, neck pain resulting from poor posture is made much more likely if you suffer from arthritis. Since arthritis can drastically increase your risk of joint damage and pain as a result of poor posture, making sure your head and neck are in the right position while you sleep becomes more important than ever. Luckily, with the right pillow you'll be able to ensure your head and neck stay in the right position while you sleep, letting you manage your arthritis throughout the night.
Which Pillows are Best for Arthritis?
While a pillow can't cure you of your arthritis, it can help you manage your pain and stiffness. When it comes to choosing the right pillow for you, it all comes down to how you sleep. The best positioning will result in your head being perfectly aligned with your spine, so you should never be bending your neck unnaturally to the side, forwards or back. Here are a few golden rules to keep in mind.
Sleeping on Your Back – When sleeping on your back, you need to make sure your head isn't being tilted too far up or down so that it can remain in line with your spine. A flat pillow, or one that flattens too easily, is a bad idea as it will most likely cause your head to fall below the level of your spine.
Sleeping on Your Side – Sleeping on your side is generally seen as the most healthy option for a number of reasons, but it can introduce a few different risks that should be taken into account when choosing your pillow. The best pillow for side sleepers will fill the gap between the mattress and your ear to avoid collapse and keep your head in line with your spine. For this reason, pillows with a contour to support the neck are usually the most comfortable.
Sleeping on Your Stomach – When it comes to stomach sleeping, the only rule worth mentioning is: Don't! Sleeping on your stomach forces you to turn your head and hold it in an unnatural position throughout the night. This can exacerbate neck pain, and is especially harmful for those with arthritis.
After breaking down our criteria, we'll show you a few of our expert picks for both side sleepers and back sleepers. Our customers love these pillows, and we're confident you will too.
Best Arthritis Pillows for Side Sleepers
Harley Contour Neck Support Pillow for Neck Pain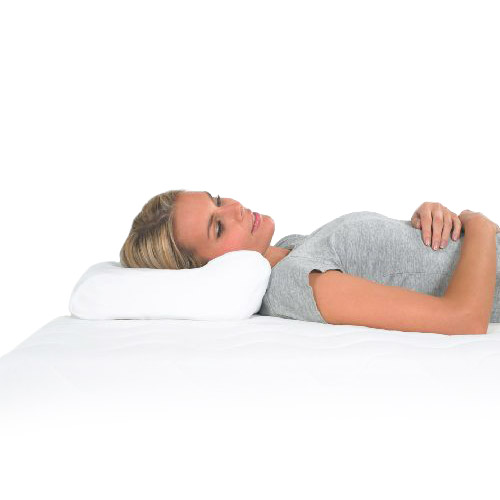 As we mentioned above, an ideal arthritis neck pillow will usually feature a contour at the bottom to fill the gap between your ear and the mattress. The Harley Contour Neck Support Pillow for Neck Pain is made with that contour, and is ergonomically contoured to mould around the neck. Manufactured using liquid foam, this pillow is an ideal choice for those with upper back problems and neck arthritis, as it is specially designed to support the vertebrae, shoulders and neck. Contoured to accommodate the shoulder with a stress relief recess, this is an ideal choice for those with arthritis in the neck.

Great for Both Back and Side Sleepers
Putnams Cervical Neck Pillow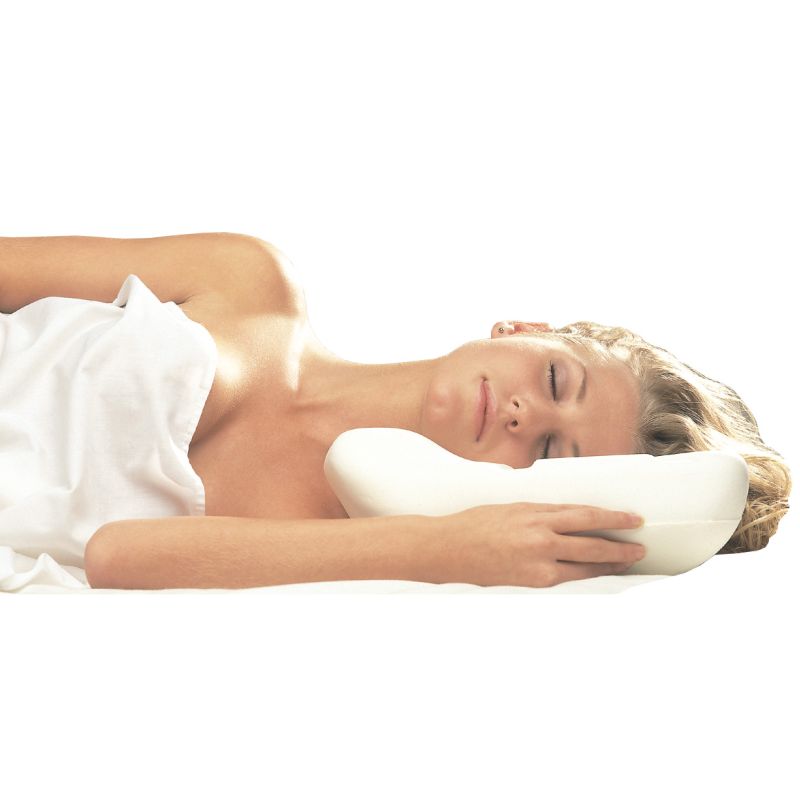 While some people sleep exclusively on their side or back, many of us can switch between a combination of the two, making choosing the perfect pillow a little tricky. The Putnams Cervical Neck Pillow is designed with features for both side and back sleepers, featuring contours to fill the mattress-to-ear gap as well as rounded soft contours to accommodate back sleepers. It includes unique features to provide extra ventilation during the night, as well as an intelligently-designed ear recess to reduce pressure on the ears for side sleepers. If you suffer from arthritis and tend to toss and turn at night, this arthritis pillow is a perfect option.
Best Arthritis Pillow for Back Sleepers
Mediflow Water Base Orthopaedic Pillow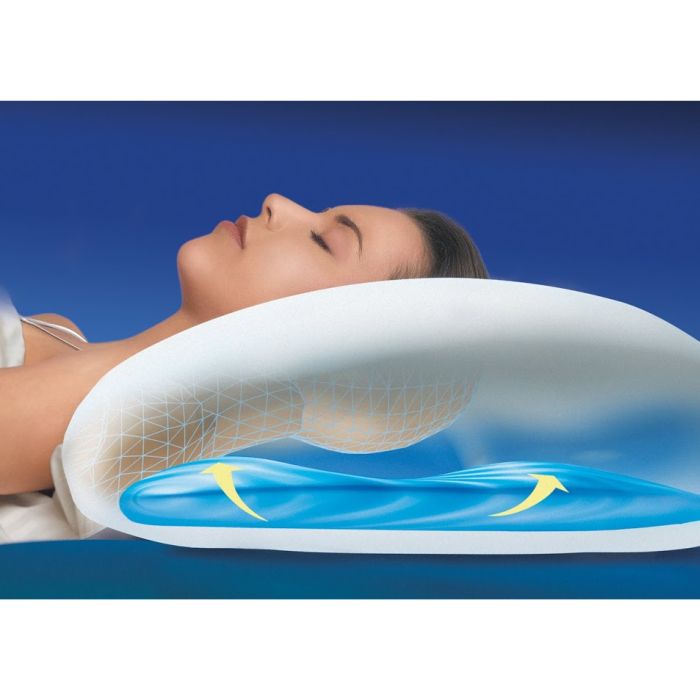 When it comes to sleeping on your back, as we mentioned above, the most important thing is to make sure your head isn't being pushed too far forward or back. The Mediflow Water Base Orthopaedic Pillow is the natural choice, as it is adjustable to ensure you can achieve the perfect alignment for you. By simply filling the secure water chamber to your desired level, you'll be able to adjust not only your neck position, but the level of support you receive as well. With a top 10cm hypoallergenic cushioning layer, a middle insulating layer and a water base, the pillow will gently cradle your head when on your back, ensuring you get the proper position and support to help keep your neck arthritis at bay.
Neck Arthritis Pillows for Better Sleep
When you suffer from arthritis, it can seem impossible to get rid of your neck pain, but with the right pillow you should be well on your way. By ensuring your head stays aligned with your spine, these pillows will eliminate one of the main causes of arthritis-related neck pain, helping you wake up feeling fresh with less pain. If you're still curious about what the best pillows for arthritis really are, take a look at our full range of Neck Pillows and Orthopaedic Pillows, where we stock plenty of options for every type of sleeper!
Do you have any questions about our pillows for arthritis, or any of our other products to prevent neck pain while you sleep? Let us know in the comments, or find us on Facebook and Twitter!
Tags: Arthritis, Sleep Better, Pillows, Neck Pain, Aids for Daily Living
Shop Related Products
Orthopaedic pillow recommended for neck pain and support
Supports the neck to reduce shoulder, upper back and neck pain
Comfortable pillow for back, side and stomach sleepers
Available in five different sizes to suit your precise requirements
---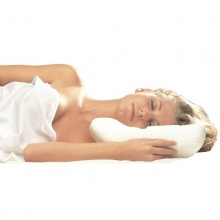 Contoured pillow with ergonomic shape for neck support
Corrects spinal alignment for more comfortable sleeping
Reduces pressure on neck, shoulders, and ears
Ideal for both side sleepers and back sleepers
---
Water-based pillow that reduces neck pain and improves sleep quality
Designed for those who suffer from neck pain, back pain, poor sleep and migraines
Outperformed all water-based pillows during a clinical test that measured sleep quality
Helps to rejuvenate, freshen and soothe daily stresses