Best Ankle Supports - Top 10 Ankle Supports
Friday, 27 February 2015 | Paul
At Health and Care, we're often asked by our customers: "Which ankle support is the best?" It's a great question. With plenty of choice and a variety of high-quality brands on the market, we understand finding and buying the best ankle support for your needs can be difficult! To help minimise stress and save you time in your search for the ideal ankle brace, we've compiled our list of Top 10 Ankle Supports.
You can find out more about our personally picked and most popular top ten ankle supports featured by clicking on the related links, taking you to our comprehensive product information. Whether you need to replace an old ankle support or are looking to purchase your first one, we are able to assist you. Read on to find out more about which ankle support will suit your needs.
Health and Care's Top 10 Ankle Supports
1. Aircast A60 Ankle Support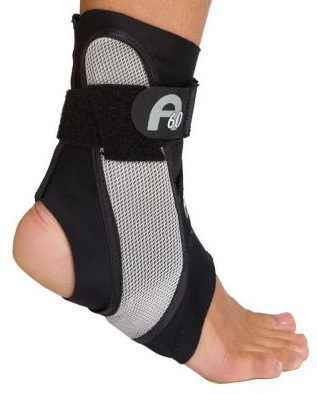 This is a superb, all-round ankle support for sportspeople that provides excellent protection against ankle roll-over and sprains. Used by tennis supremo Andy Murray, the Aircast A60 Ankle Support is one of our best-selling ankle supports and it's easy to see why. The support is trusted by professional sports stars as it has two internal struts running down either side of the ankle that are constantly working to prevent your ankle from collapsing or rolling over, which is a common cause of sprains.
The Aircast A60 Ankle Support is lightweight, breathable and slim around the foot, meaning it fits so perfectly into your existing sports footwear that you'll forget you're wearing it. Our customers love this ankle support for the confidence it provides to the wearer.
Key Features: Protects ankle from rollover, fits into footwear without creating additional bulk
2. Bauerfeind CaligaLoc Ankle Brace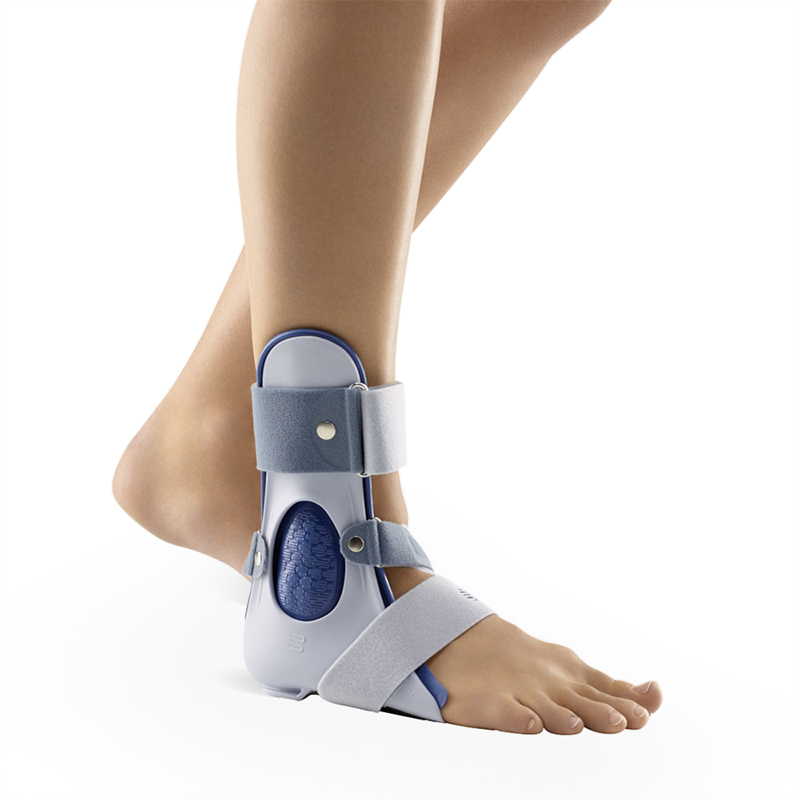 Suffering from an ankle injury is all too common, particularly if you play sports. The Bauerfeind CaligaLoc Ankle Brace ensures your recovery is speedy and free from drama. Combining a cushioned plastic splint with adjustable Velcro strapping, the CaligaLoc Support immobilises your ankle according to your needs to provide you with more personalised care.
The Bauerfeind Ankle Brace is a versatile product that's rated highly by our customers. It can slip comfortably into your shoe for all-day protection or can be used as a night time support that works while you sleep. No matter how you choose to use it, its anatomically contoured fit and separate models for the left or right foot will make you feel as though it's not even there.
Key Features: Cushioned splint to immobilise ankle, can be worn during the day or night
3. Donjoy Malleoforce Elastic Knitted Ankle Support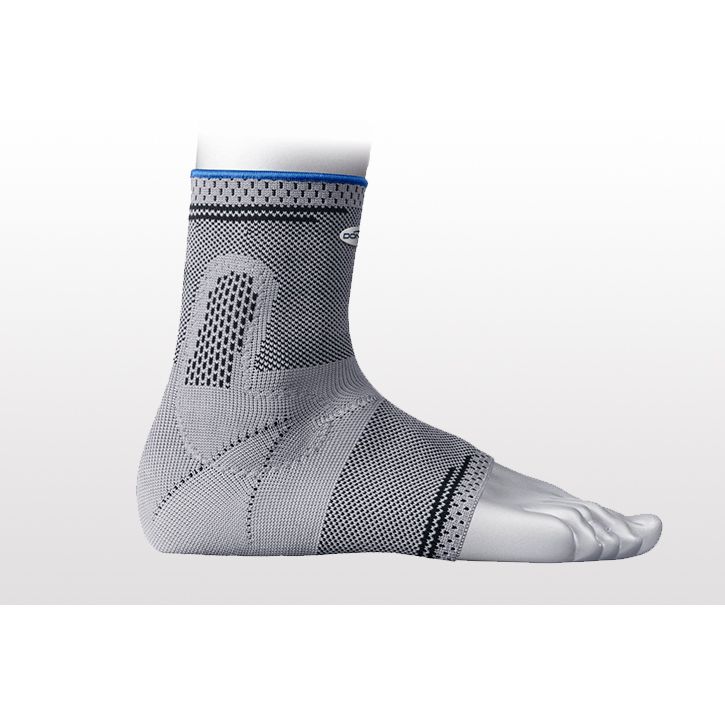 The Donjoy Malleoforce Elastic Knitted Ankle Support is number three on our list because it's one of the most versatile ankle supports available on our online store. It is ideal for a range of different indications and features a 3D anatomically contoured knit that provides advanced compression and enhanced support to its wearer. Elasticised, simple to put on and incredibly comfortable to wear, the Malleoforce Elastic Knitted Ankle Support can be worn on both the left and right ankle.
A great choice for those with more sensitive skin, the Donjoy Ankle Support is made from breathable and hypoallergenic materials that keep you cool and minimise skin irritation. This is a true all-rounder and versatile ankle support! Popular with those looking for compression and enhanced support, this ankle brace is ideal for both men and women.
Key Features: Has a 3D contoured knit, provides advanced compression and support
4. Dynamix 4-Way Compression Ankle Support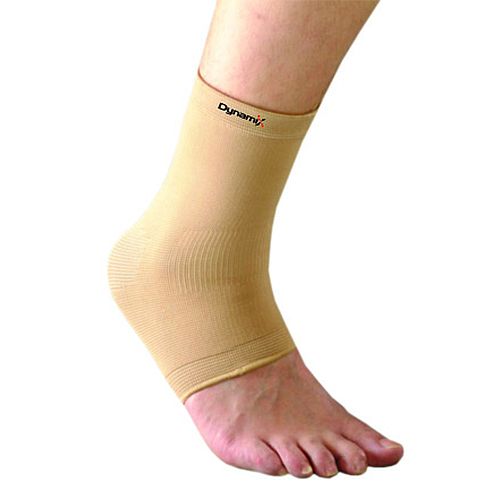 Despite its low price, the Dynamix 4-Way Compression Ankle Support is a quality orthopaedic brace that provides strong compression. Made from high-density knitted elastic fibres, the support offers complete four-way support to ensure you remain protected in every way possible. Its snug design helps improve blood circulation in the foot, which promotes natural healing and recovery.
The Dynamix Compression Support has been designed to reduce discomfort and swelling, making it ideal for athletes and those who spend a lot of time on their feet as it helps you recover quickly. The brace can also help prevent the need for surgery as it works with your body to reduce the symptoms of your injury.
Key Features: Provides complete four-way support, improves blood circulation in the foot
5. Silipos Gel Malleolar Ankle Cushion Pad Sleeve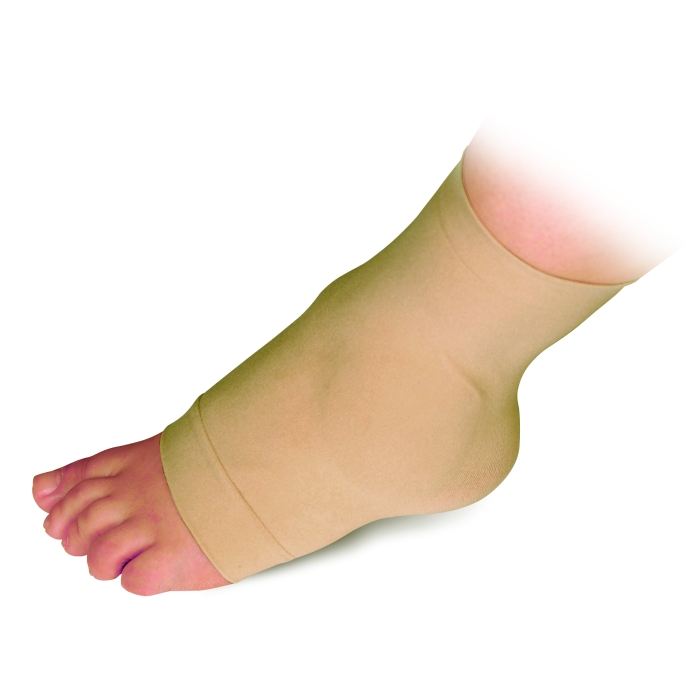 The Silipos Gel Malleolar Ankle Cushion Pad Sleeve features two discs of gel moulded to each of your protruding ankle bones to protect them against impact, pressure and friction. Providing gentle compression to the ankle, the Malleolar Cushion Sleeve delivers pressure relief where it's needed most. The sleeve is popular for its effectiveness in preventing discomfort caused by ski boots, cleats and other athletic footwear.
The gel cushions of the Silipos Ankle Cushion Pad Support protect the body against impact, pressure and force while also releasing moisture-rich mineral oil that gently hydrates the skin without the use of additional creams or lotions. This ensures the sleeve is comfortable and free from abrasions while it provides gentle compression to your ankle. All Silipos gels are clear, non-toxic and hypoallergenic.
Key Features: Moisture-rich mineral oil hydrates your skin, protects your ankle bones
6. Donjoy Velocity Ankle Brace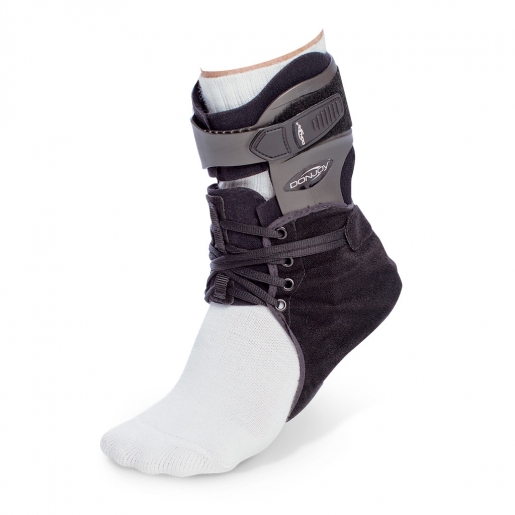 If you're looking to get back into sports and physical activity after an injury, you'll need some protection on top of the immobilisation most braces provide. The Donjoy Velocity Ankle Brace is designed to provide protection, restriction and compression, making it ideal for restarting sports after surgery or injury. Rigid uprights are included on either side of the ankle, providing robust protection from any impacts that might negatively affect your injury.
Since sporting footwear like football and rugby boots are often tight-fitting and slim, this brace is made to be as low-profile as possible, allowing it to fit your ankle without making your shoes uncomfortable. It's made with lightweight and breathable materials, ensuring your ankle will stay as cool and comfortable as possible throughout your exercise.
Key Features: Designed to protect and stabilise the ankle for protection during sports; lightweight, low-profile design to fit football and sports boots.
7. Aircast Plantar Fasciitis AirHeel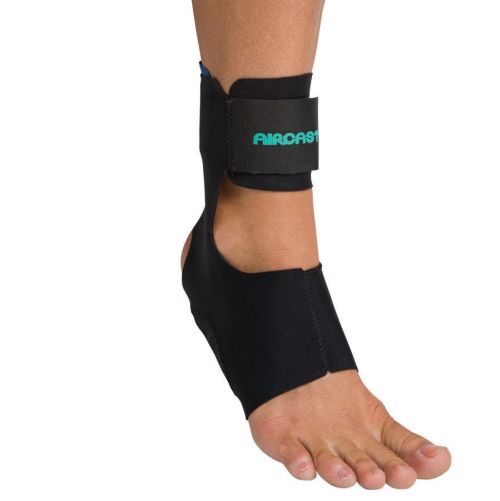 While not a "traditional" ankle support, the Aircast Plantar Fasciitis AirHeel this does fall under our Ankle Supports and Braces category and is featured on this list because unfortunately heel pain is incredibly common. If you have been diagnosed with plantar fasciitis, you're probably all too aware of the intense and aching pain that occurs under your heel when pressure is applied, especially when doing something as simple as walking!
The unisex AirHeel is designed to alleviate the symptoms of plantar fasciitis, Achilles tendonitis and heel pain and to provide relief from these uncomfortable conditions. It's easy to apply; all you have to do is pull the AirHeel on like a sock, so taking the first step to relieving pain and swelling associated with the above conditions is easy. The Plantar Fasciitis Support also enhances circulation to speed up your recovery.
Key Features: Alleviates the symptoms of heel conditions, can be pulled onto foot like a sock
8. Donjoy Strapping Elastic Ankle Support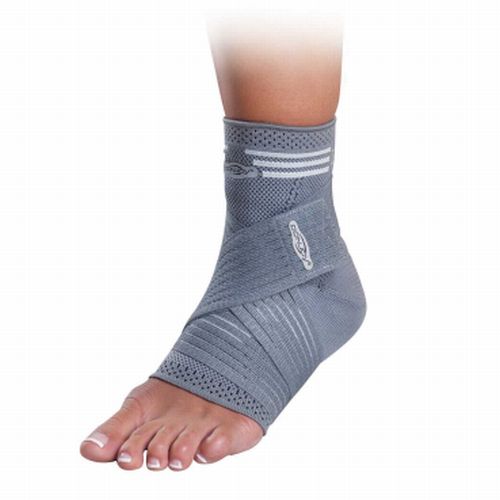 The Donjoy Strapping Elastic Ankle Support provides support and compression following an ankle injury or instability and can even be used by those who need to strap their ankle to prevent further injury. Ideal for sports, the Elastic Ankle Support features an additional elastic strap for added ankle support and compression. This strapping support is latex free and constructed with an anatomical, multi-directional elastic fabric for improved compression.
The Donjoy Strapping Brace is versatile in more ways than one as it fits both the left and right ankles and is suitable for men and women. Its additional elastic strap provides you with added compression and support to help you heal quickly from your ailment. The Strapping Elastic Support is ideal for acute ankle instability, chronic ankle instability and is perfect for preventing sporting injuries.
Key Features: Uses multi-directional material for better compression, ambidextrous design
9. Vulkan AE Advanced Elastic Ankle Support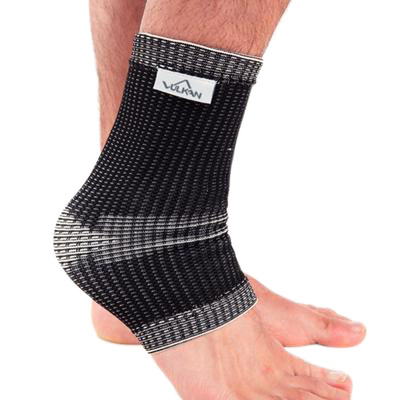 Offering comfort and support, the Vulkan Ankle Support Advanced Elastic is ideal for weak ankles and those with slight strains and sprains. The Vulkan Ankle Support is another one of our affordable yet effective ankle supports on Health and Care. Constructed with antibacterial material, the ankle support remains free from odours and can be washed by hand so it can be used for years to come.
The Advanced Elastic Support has been designed to help retain heat, which can speed up your body's natural healing processes. The closed heel design offers an excellent fit yet doesn't restrict movement. This makes it ideal when you're performing repetitive or physical actions. Ideal for those who require light support, the Vulkan Advanced Ankle Support features a design that holds its shape even after washing by hand.
Key Features: Remains free from odours, retains heat to facilitate natural healing processes
10. Thermoskin Elastic Ankle Support Wrap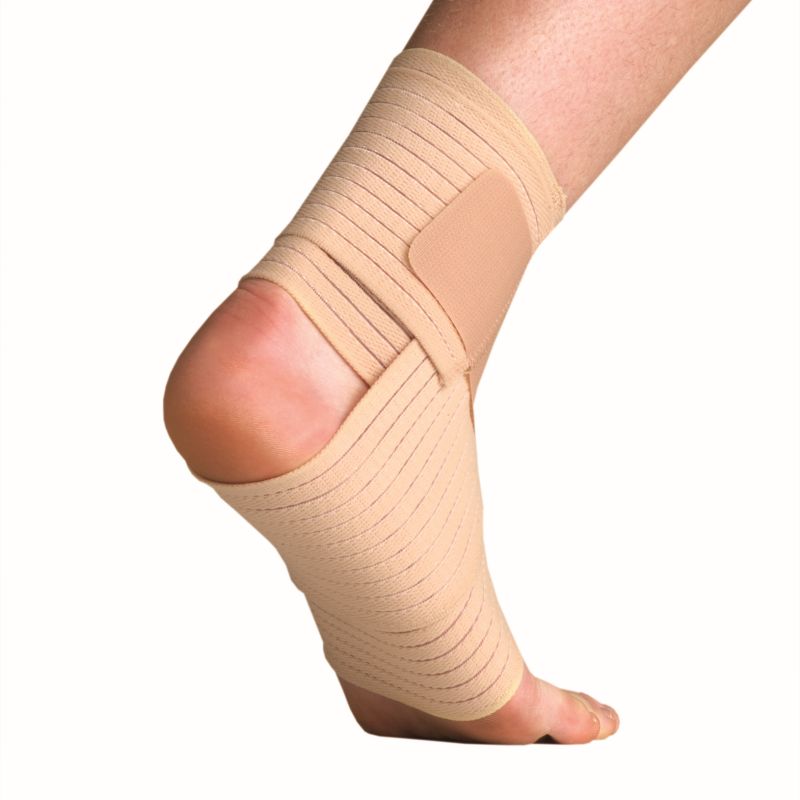 The Thermoskin Elastic Ankle Support Wrap offers support to weak or injured ankles. Often featuring in our bestsellers' list, the Thermoskin Elastic Ankle Support Wrap is a woven sock wrap that has an adjustable Velcro strap for additional compression. The additional pressure can be adjusted both medially and laterally when required, making this a great choice for those who require different pressure requirements throughout the course of the day.
This support wrap can be reversed to allow for use on both feet and is available in two sizes so you can find a style to suit you. Ideal for supporting weak or injured ankles, this makes the list as a "traditional" elastic support that is both functional and affordable.
Key Features: Compression is adjustable, ideal for support injured or weak ankles
Ask a Health and Care Ankle Support Expert
Our ankle supports are selected according to stringent criteria to ensure we offer quality products to our customers. Our team of ankle support and ankle brace experts work with you to find the best ankle support for your needs.
This top ten is just a small snapshot of the range of ankle supports available to order from our online store. If you can't find an ankle support to fit your needs on this list, please browse our comprehensive range of ankle supports and ankle braces here. If you have a question or you feel we can personally assist with your ankle support selection, please contact our customer service team on 020 7720 2266.