Best Ankle Supports for Weak Ankles 2021
Sunday, 13 December 2020 | Eugene
If you've suffered an ankle injury in the past, you may not be as confident in your ankle's stability as you once were. Until you strengthen your ankle back to where it should be, an ankle support is the best option to help you prevent injury and gain some confidence in your movements. We've consulted with the product experts at the world's top manufacturers to provide our list of the top ankle braces designed to support weak ankles, pointing out where each might have an advantage over the others.
How Should I Choose My Ankle Brace?
When setting out to decide which ankle brace is for you, it's important to know what you'll be using it for. All of our braces in this article are designed to allow movement, but each will be suited to a different level of activity or instability. Here, we'll lay out our three keys points to examine when choosing your support:
Rollover Protection: This is our number one concern for weak ankles, as they will usually be vulnerable to twists and rolls. A good support will limit your side-to-side movement, helping your weakened ligaments from losing control.
Comfort: This may seem obvious, but you'd be surprised how often people overlook that a brace for weakness may be worn for a long time. Look for lightweight, soft materials that are easy on the skin.
Bulk: Supports for a weak ankle should be worn during both everyday activities and exercise, so they'll need to fit into all your footwear. This is especially important for getting back to physical activity, as only low-profile braces will fit into athletic footwear like football boots.
Our Overall Top Pick to Support Weak Ankles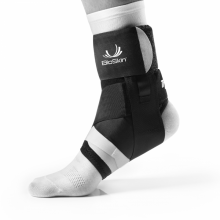 Ankle support for conditions that range from sprains to arthritis
Works by controlling the motion of the forefoot for correct positioning
Suitable for use with socks, shoes and while playing sports
Designed to work as an extra ligament to improve foot and ankle problems
Why It's Our Pick: Acts as an extra ligament to take strain off ligaments and reduce pain
Our Best Support for Weak Ankle in Sports
Prevents rollover and ankle sprains with a plastic stabiliser
Designed for professional and amateur athletes alike
Comfortable to wear in almost any trainer or shoe
Quick and easy to put on Click for Sizing
---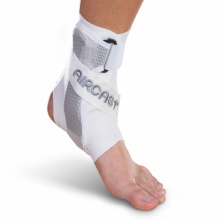 Sports ankle brace designed to prevent rollover and ankle sprains
Designed for professional and amateur athletes alike
Comfortable to wear in almost any trainer or shoe
Quick and easy to put on over socks
Why It's Our Pick: Our top choice for comfort, breathability and rollover protection
Our Easiest Ankle Brace to Apply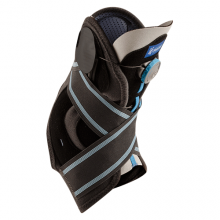 Lightweight ankle brace offering a high level of support
Ideal for restarting sports after mild to moderate sprains
Quick and easy fitting with the Boa Lacing System
Extra straps and a flexible metallic splint maximise stability
Why It's Our Pick: Boa lacing system allows adjustment in seconds in all types of footwear
Our Most Supportive Ankle Brace for Weak Ankles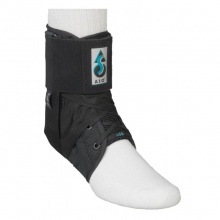 Breathable ankle support suitable for sports
Provides ankle stability to prevent ankle injury
Lace enclosure provides support and allows easy application
Suitable for either the left or the right foot
Why It's Our Pick: Holds the ankle in place with a combination of lacing and figure-of-eight strapping
Our Best Compression Ankle Brace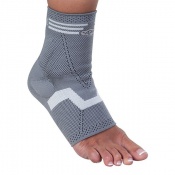 Supports and compresses your ankle to reduce swelling
Elastic in multiple directions for an anatomical fit
Includes malleolar inserts for additional comfort
Made from breathable yarn for extended use
Why It's Our Pick: Low-profile to fit in all shoes and increase proprioceptive awareness
Our Best Kit to Strengthen Weak Ankles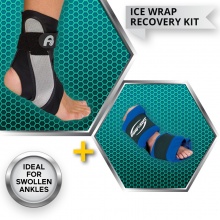 Stabilising ankle brace with an ankle-specific ice wrap
Ideal for recovery of a weak or previously-injured ankle
Support your ankle during activity and control swelling afterwards
Two items supplied together at a reduced cost
Why It's Our Pick: Combines our top-rated ankle brace with an ankle-specific exercise band (suitable exercises are provided)
Take the Sprain Away
If your ankle has mostly healed up after a past injury and you're looking for some extra support and confidence, all of these braces will do the trick. Walking and exercising with support will allow the ligaments in your ankle to slowly strengthen while minimising pain and injury risk. If you'd like to browse the vast range of ankle braces, sleeves and supports that we've chosen these selections from, feel free to browse our entire Ankle Supports & Braces category.
Has an ankle support helped you support your ankle while you strengthen the area? Let us know in the comments below, or find us on Twitter and Facebook!
Tags: Ankle Pain, Ankle Supports, Foot and Ankle Pain, Learn About Conditions