Best Ankle Supports for Football
2 Comments
Tuesday, 26 September 2017
If you play football, you know how important it is that your ankles are fully supported. Few sports involve the frequency and repetition of quick twisting, turning and running that are crucial for every good football player, so ankle support isn't optional, it's a must. This is especially true if you've injured your ankles in the past, as with each new injury, aggravation becomes easier and time spent out of action becomes longer.
This fear doesn't have to keep you off the field though, as at Health and Care, we've put together a handy guide to help you choose an ankle support, with some helpful tips regarding what to look out for. We'll show you a few of our favourite ankle supports for football, with some reasons why we think they separate themselves from the competition. After that, we'll provide some handy tips on to choose the best ankle support for you. If you're looking for the best supports that have been specially designed for footballing ankles, look no further.
Aircast A60 Ankle Brace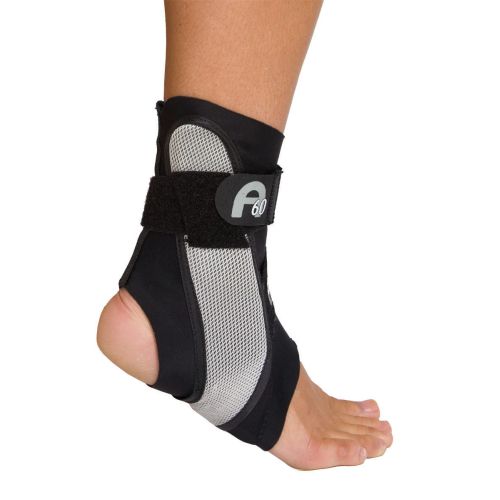 When we're starting off a list of our favourite ankle braces, it would only seem fair to start with the best one around: the Aircast A60 Ankle Brace. While this support meets all of our footballing criteria, it's also the top choice of sporting superstars in other disciplines like Andy Murray and Rory McIlRoy, which should tell you all you need to know.
Made with a lightweight anatomic design, this support is specially made to fit into all sorts of sporting shoes and boots, no matter how slimline the fit. It includes sleek stabilising stays on either side of the ankle, guarding against sprains and providing some pretty serious support. On top of that, it's made with patented Breath-O-Prene material to keep your foot cool while you perform, and is applied with only one strap that instantly provides snug support. It also allows you to move without putting your ankles in jeopardy so, as far as sporting ankle support goes, it doesn't get much better.
Key Feature: Sleek design to fit your boots, rollover protection, and the choice of Andy Murray.
Donjoy Strapping Elastic Ankle Support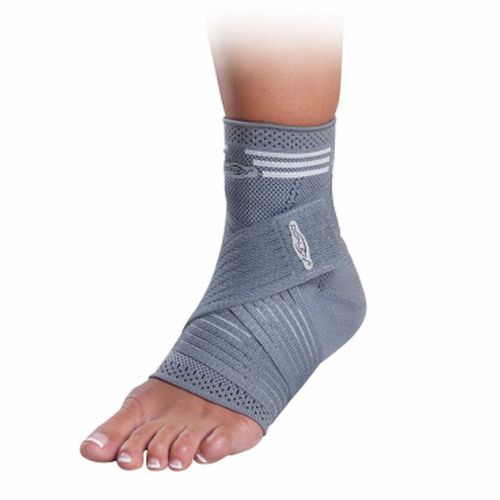 Next on our list is a support that provides compression and support for those with acute or chronic ankle instability: the Donjoy Strapping Elastic Ankle Support. This support is also ideal for sports, meeting our criteria with an anatomic fit and plenty of support. It focuses on compression of your ankle, helping you reduce the swelling associated with injury while protecting the ligaments from any damage on top of your original ailment.
It is made with anatomically knitted and multi-directional elastic fabric, providing highly versatile support to all areas of your ankle at once. It is latex-free, so it's great for anyone with a latex allergy, and as an added bonus, it can work for either your left and right foot. That means if you're someone prone to injury, you'll only need to buy one and can save some money for when you really need it. The strapping of this ankle support is easy to apply, and wraps all the way around your ankle for a great fit that you can adjust at any time.
Key Feature: Ideal for preventative sporting use, with a fit that works for your left and right feet.
Neo G Ankle Support with Figure of 8 Strap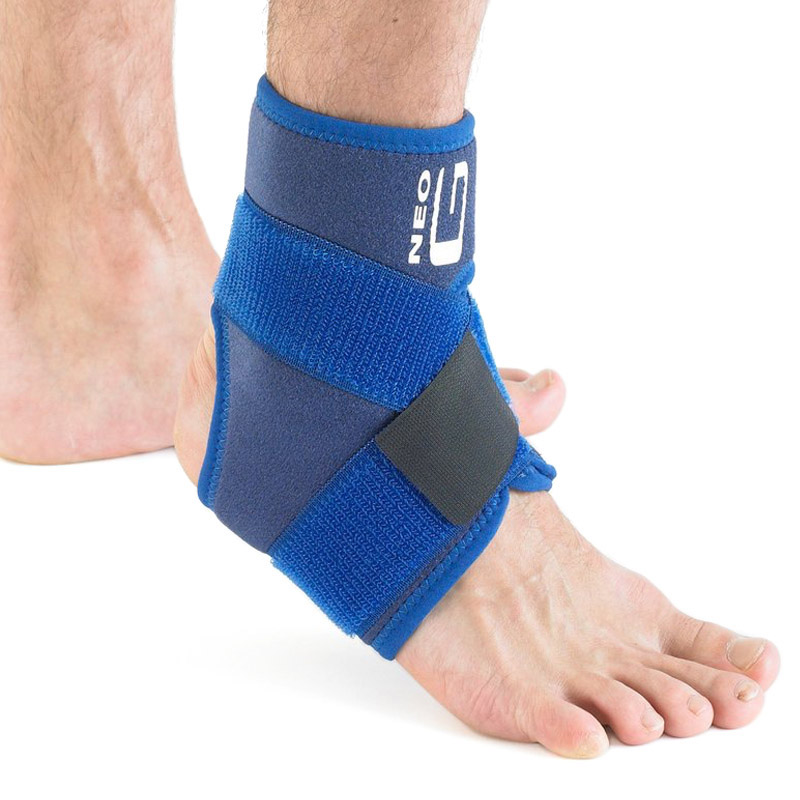 Last on our list, but still a great ankle support for football, is the Neo G Ankle Support with Figure of 8 Strap. Whether your problem is ankle sprains, strains, or general instability, this brace is cleverly designed to provide you with the protection and confidence you need to put weight on your ankles and perform to your full capacity. It will support your ankle in all directions, preventing injuries throughout a wide range of movements.
The defining feature of this support is the figure of 8 strap that wraps all the way around your ankle, helping to avoid injury and promote recovery with compression. It is made with therapeutic neoprene that breathes, while also helping to retain heat in your muscle to keep it loose and ready to move. Both pronation and supination will be prevented, stopping all of the most common causes of ankle injury while you're on the pitch. Made with one universal size, there's no guesswork, and it will fit both your left and right ankles.
Key Feature: Universal fit for both feet with a figure of 8 strap for therapeutic compression.
Three Keys to a Choosing the Best Football Ankle Support
Now that you've taken a look at the best ankle supports for football, we'll break down what sets them apart from the rest. The fact is, when it comes to football, most ankle supports just aren't designed properly. Some are uncomfortable in your shoes, some are unwieldy and complicated, and others are so bulky that they can ruin your first touch and kill off your game. After trial and error, here are our top keys to choosing an ankle support for football.
1) Support
Ankle supports are no good if they're not, well, supportive. For football, you need one with good rollover protection, to help stop you rolling your ankle. Rolling your ankle is the most common cause of ankle injury in football, so your support needs to stop excessive pronation (where your foot rolls inwards) and supination (where your foot rolls outwards).
2) Low-Bulk
When most footballers think of what they need in an ankle support, a low-bulk and slim brace is what comes to mind. Bulky ankle braces will not only ruin the fit of your favourite football boots, they'll hurt your first touch as well. Over the years you've learned how to use your foot to control the ball, so the last thing you want is to have to learn new contours, sharp edges and excessive padding.
3) Comfort
While this key is wrapped up with our previous point as well, here we're focusing on materials and breathability. If your ankle brace is built for football, it will contain stays to provide support on either side, so it doesn't need a construction of rigid materials. These supportive stays allow football ankle supports to be made with cooling and forgiving materials that let you move, and keep you comfortable.
Now that we've gone through what to look for in an ankle support, we'll suggest a few of our favourites that meet these criteria. All these ankle supports are available here at Health and Care, with free delivery as long as you're in the UK.
Get Your Footballing Ankle Brace Today
Now that you've seen some of our favourite ankle braces, it's time to make a decision for yourself. Weigh up your needs, your style of play, and your budget, and ensure your ankles are properly supported. If you aren't convinced, you can check out our entire range of ankle supports by clicking here.
Have any questions about our braces, or want help deciding which one is for you? You can contact our Customer Care Team at 020 7720 2266, or contact us on Facebook and Twitter! If you have something else you'd like to add, why not tell us about it in the comments section below?