Aircast A60: Best Ankle Support for Sports
Tuesday, 19 September 2017 | Eugene
The more sports you play, the more pressure your ankles are going to be put under. The frequent jumping, twisting, turning and running motions that are crucial to almost every sport are the very same ones that can often result in ankle sprains, strains, and other injuries that can leave you on the sidelines.
Likewise, after these injuries occur once, you're more susceptible to incurring them again and again, leaving you prone to an exponentially increasing amount of time out of your favourite sports. That's why it's important to stay protected, but that's often easier said than done.
The Woes of Ankle Protection and Sports
Taping Method
The fact that ankle injuries happen is no revelation, and we've all experienced them on ourselves, or seen our teammates suffer. After injury, some athletes opt for an ankle taping before each time they head out onto the field. This taping can be effective if done correctly, but leaves you with a whole new time-consuming step to add to your pre-game routine. There's also the fact that when this taping is done by an amateur, or done incorrectly, it can leave you unsupported, and can even do more harm than good.
Conventional Ankle Supports
When taping is too time-consuming, or not a practical option, many athletes will opt for ankle supports. While these can often be quicker to apply than tape, they usually come with their own set of problems as well. Since most sporting boots and shoes are meticulously designed for performance, comfort and wearability, the often-bulky design of most ankle supports tends to ruin the fit and comfort to a point where performance can suffer. That's not even to mention the chafing, blistering and loss of motion that have become synonymous with many types of ankle supports.
The Andy Murray Method: Aircast A60
No matter what level of athlete you are, for most things, your best bet is to follow the pros. While they may be performing at a different level to yourself, the choices they make are often based on plenty of research, testing and inside knowledge. That's why, when someone like Andy Murray, who has had plenty of ankle problems in the past, chooses one ankle brace above all others, it's worth taking notice.
His choice is the Aircast A60 Ankle Brace, and you only have to watch him in action to tell why.
Andy Murray testing out his Aircast A60 in practice
What's so Great About the Aircast A60?
If the fact that top stars like Andy Murray choose the Aircast A60 doesn't convince you, we can lay out why we feel there really isn't any competition for the Aircast A60. Since it's been created with painstaking research and the athlete in mind, its designers have really narrowed in on the three things every athlete cares about most: support, comfort and convenience.
Support
The most important aspect of any ankle brace is the support it provides. The Aircast A60 features a 60° stabiliser to guard against sprains and prevent the rollover that can cause your injuries to worsen. By wrapping under the arch of the foot, the A60 anchors the ankle in the correct position and prevents the support from moving out of place.
Comfort
For athletes, or anyone who likes to move, comfort is the next most important factor. The Aircast A60 is designed to fit into almost any footwear, including sleekly-style football boots and running shoes. The open heel and toe design lets your feet breathe and move, while the slim design contours to your foot for the least bulk possible.
Convenience
As we've mentioned above, taping your ankle before every run, walk or match is a pain, there's no getting around it. That's why the Aircast A60 includes only one strap, unlike most other ankle supports that require three or even four to get going. The A60's strap is also simple to apply, going around your ankle in a quick and easy motion. No more lacing, no more taping, no more navigating criss-crossing straps. The A60 solves it all.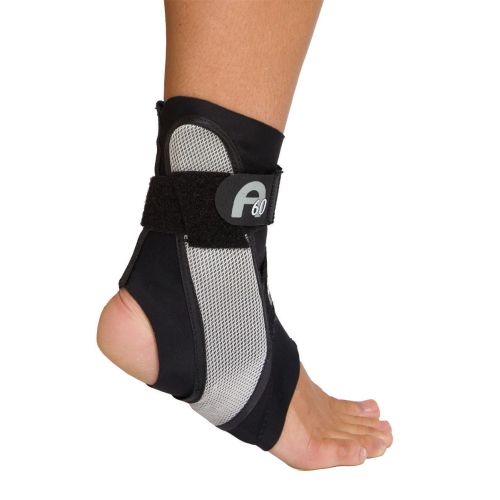 Sleek, contoured design of the Aircast A60 ankle support
Get Your Own Aircast A60
Once all the options are weighed up, it's hard to argue that there is any better sporting ankle brace than the Aircast A60. If you'd like to get your hands on your own A60 today, you've come to the right place.
Here at Health and Care, we supply the Aircast A60 Ankle Brace with free and fast UK delivery. Click here to purchase your Aircast A60.
Have any questions about the Aircast A60 Ankle Brace? You can contact our Customer Care Team at 020 7720 2266, or contact us on Facebook and Twitter!
If you have something else you'd like to add, why not tell us about it in the comments section below?