Bauerfeind: Motion Is Life
Thursday, 16 May 2019 | Paul
Bauerfeind are a family owned company that sticks close to their traditional roots. From humble beginnings, Bauerfeind have transformed themselves from a small-town rubber stockings manufacturer, to one of the global leaders in sports supports, orthotics and compression clothing. Here at Health and Care, we pride ourselves on our world class selection of rehabilitation supports and braces, and we couldn't take ourselves seriously without including Bauerfeind.


Bauerfeind: Motion Is Life
Sticking to Their Family Roots
So who are Bauerfeind? They were founded in a town in East Germany called Zeulenroda-Triebes in 1929. Their sole focus was medical rubber stockings, which was before they moved to Dermstadt-Eberstadt in Western Germany because of East Germany's nationalisation policy.
It was here that they expanded, moving into compression bandages, orthotics and sports supports and braces. This expansion was fast, with a new factory worth 100 million Euro, as well as a research facility and headquarters that represent the cornerstone of their success. The company is now international, with over 2,000 employees in Germany, Austria, France, Great Britain, Italy, Spain and the United States.
Products That Keep You Moving
One of the most important parts in any injury recovery process, is the ability to keep moving. Bauerfeind recognise that movement brings recovery, and the majority of their products are designed to meet this goal. Whether you need supports for your knees, backs, hands, elbows and shoulders, or orthotics for your feet, Bauerfeind products will reduce pain and make movement easier.
Finding Your Bauerfeind Product
If you want to buy Bauerfeind, but aren't sure where to start, then this is a good place. We've given you the lowdown on Bauerfeind supports, orthotics and stockings, so you know exactly where to start.
Supports and Braces
Bauerfeind's range of supports and braces are designed to restore mobility and improve performance. They are all designed from knitted fabric, and are designed to provide a therapeutic massage and support while you are on the move. This stimulates circulation and improves the healing process.
Their supports and braces are so renowned that they have supplied everyone from amateur to professional sportspeople with equipment during injury recovery. Perfect for athletes and active people looking to keep moving, and those who aren't active but need support in moving around, the wide range of Bauerfeind supports can help you get moving again. To find our full range, please view our Bauerfeind Supports and Braces category, or view our top picks below:
Bauerfeind CaligaLoc Ankle Brace
CaligaLoc is a type of stabilising brace that has been designed by Bauerfeind to be worn while wearing shoes. The Bauerfeind CaligaLoc Ankle Brace is a top pick, designed for stabilising the foot after injuries, surgery and a period of instability. It is ideal for wearing post-surgery, when you want to get out of the house but not prevent movement.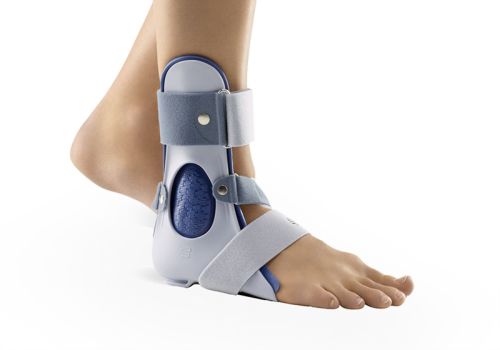 Bauerfeind SacroLoc Back Support
The Bauerfeind SacroLoc Back Support is designed to provide the correct support for people suffering with lower back pain. It stabilises and relieves pressure on key areas such as the pelvis, and similar to all Bauerfeind supports it will stimulate circulation and improve the healing process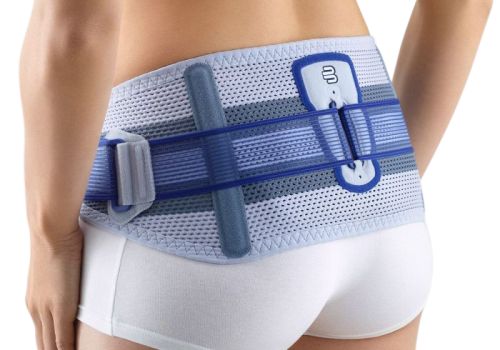 Bauerfeind SacroLoc Back Support
Bauerfeind GenuTrain P3 Knee Brace
Our final recommendation finishes at the knee, with the Bauerfeind GenuTrain P3 Knee Brace. Acting as a brace, this lower back support is perfect for wearing while playing sports, and recovering from knee injuries. It is a top pick here at Health and Care, used by sportspeople across the UK.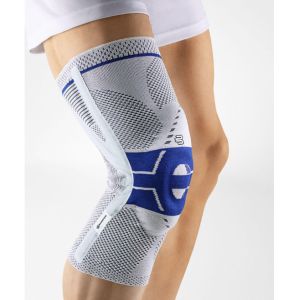 Bauerfeind GenuTrain P3 Knee Brace
Our full range includes supports and braces for your back, shoulders, knees, ankles and more. You can view the range by clicking on the link below:
Orthotics and Compression
Bauerfeind recognise that making the feet comfortable enough to keep on moving is crucial to injury recovery. That's why they sell a wide range of shoe insoles that encourage pain relief to injuries associated with the feet. Top sellers include the Bauerfeind ViscoPed Insoles and the Bauerfeind ErgoPad Redux Hallux Orthopaedic Insoles that both offer advanced technology to encourage movement when your feet are recovering from a range of different injuries.
We mentioned at the start that Bauerfeind stick to their roots, which is why they have a wide range of Compression Garments that encourage circulation to reduce the chances of DVT and other circulation related conditions. The Bauerfeind Venotrain brand includes a variety of lengths, colours, compression levels and style, ensuring that you can find the compression garments for you.
Keep Moving and Recover Faster
Bauerfeind understand that movement is the key to injury and rehabilitation recovery. All of their products are designed to encourage movement, and offer therapeutic, compression and warming properties to ensure that you recover fast. You can view our range of Bauerfeind Supports and Braces on our website, and find our Bauerfeind garments and insoles via the search bar at the top of the page.
Want to find out more about Bauerfeind? Leave your comment below, or find us on Facebook and Twitter.
Tags: Ankle Supports, Back Pain, Brand Focus, Bauerfeind, Sports Support and Braces
Shop Related Products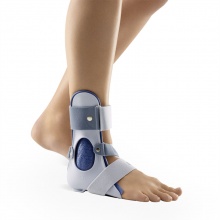 Stabilising brace for partial immobilisation of ankle
Ideal for recovery after injury or as alternative to surgery
Can be worn in any casual shoes and barefoot
Prevents the ankle from twisting outwards
---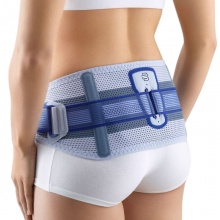 Back support to stabilise and relieve pressure in the lower back
Cushion pad massages joints to stimulate circulation for healing
Suitable for wearing under clothing with its anatomical design
Easy to fasten with practical finger pockets for reduced exertion
---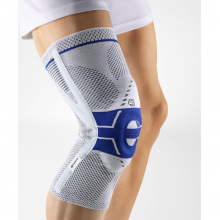 Supportive brace to improve patellar tracking
Stabilises the knee cap and relieves associated knee pain
Breathable knit for improved comfort
Ideal for use during sporting activity
---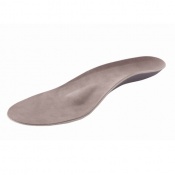 High-quality synthetic foot orthosis with a low construction height
Aids the conservative treatment of hallux limitus and hallux rigidus
Incorporated 'redux' reinforcement element prevents supination
Can be purchased for the left or right foot or as a pair
---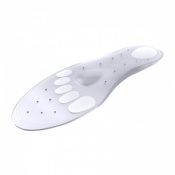 Shock-absorbing viscoelastic foot orthoses
Can be worn in walking, sports and work shoes
Special pressure relief zones that deflect pressure peaks
High-quality silicone; gentle on the skin, easy to clean and durable