Bathroom Aids to Assist with Mobility Issues
Tuesday, 7 November 2017 | Paul
Bathing, showering and using the toilet should be relaxing and uncomplicated, however, for the elderly and disabled these activities can be extremely difficult, and sometimes even impossible. Fortunately, you don't need a complete overhaul of your bathroom in order to make it a safe and functional area for someone with mobility problems, as simply using bathroom aids such as rubber bathmats, grabrails, arm supports, shower seats and bath steps, can provide comfort and security – as well as some independence – to disabled and elderly individuals.
Shower Seats
Shower seats make it easier and safer to shower when you have trouble standing, or when you are unable to stand for long enough to take a shower. These seats come in many different designs – including full, padded chairs, such as the Invacare Aquatec Ocean Universal Soft Seat, tilting wheelchairs with footrests, like the Etac Swift Mobile Tilt Shower/Toilet Chair with Pan Holder, and folding benches, such as the Economy Wall Mounted Shower Seat, that bolt to the wall.
Grabrails, Arm Supports and Toilet Surrounds
Safety rails and arm supports can provide stability and prevent slips, improving overall safety in the bath and shower. They can also be used for leverage when standing up – whether from the toilet or from a shower seat. Our range of hinged arm supports includes the Trombone Drop Down Grab Rail With Adjustable Leg. Toilet surrounds, like the Adjustable Height Toilet Surround, are also ideal for use as a mobility aid at the toilet, as they provide balance and support when sitting down and standing up.
Grabrails are available in many different lengths, sizes and angles, so there's something to suit everyone and every space. Grabrails come in a variety of designs, including ones that bolt to the wall and grabrails with suction cups that adhere to tiled surfaces.
Bath Steps and Rubber Mats
Bath steps can make getting in and out of the bath much easier when you have a disability or stiff joints. Choose a bath step with a non-slip surface and non-slip feet for added safety and security.
Rubber bath mats can greatly reduce the risk of slipping in the bath or shower – both of which can cause or worsen mobility problems. Our range of non-slip rubber mats includes the Homecraft Sure Tread Shower Mat and the Standard Size Rubber Bath Mat.
Toilet Seat Raisers
A toilet seat raiser improves the accessibility of a toilet for older people and those with disabilities by making it easier to sit down and get up again. These are available in a variety of styles including foam cushions (Luxury Padded Toilet Seat Raiser), toilet seats that attach to the bowl and freestanding frames (Etac Swift Freestanding Toilet Seat Raiser).
Buy Bathroom Aids at Health and Care
At Health and Care our range of bathroom aids includes grabrails, arm supports, shower seats, changing benches and bath steps. Click here to browse our full range of affordable bathing and showering products or here to view our toileting products.
Shop Related Products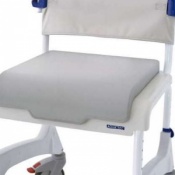 Full seat for comfort and support
Makes showering more comfortable for users
Does not feature cut-out
Works with all models across the Ocean Series
---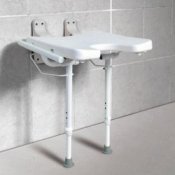 ---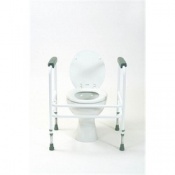 Convenient height adjustability

Arm rests for grip

Suitable for industrial cleaning

Available with or without floor fixers
---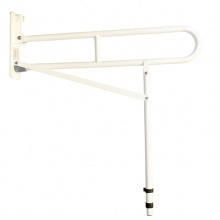 Grab rail with supporting leg for stability

Safe and secure fitting (up to 115kg)

Designed to be used next to a toilet

Provides reassuring support to the infirm
---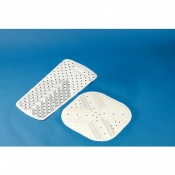 Mat can be machine washed at 40°C
Provides additional sense of security
Grips securely to the shower floor
Has raised ridges to prevent slips
---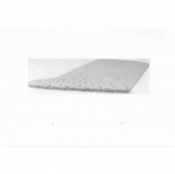 Rubber bath mat for security and comfort
Slip resistant mat thanks to basket weave pattern
Suckers secure the mat for a safe product
Machine washable at 40°C
---
Ideal for users with arthritic conditions or pressure problems.

Forms a comfortable raised toilet seat.

Made from high grade foam and water proof cover.

Simple to use hook and loop attachment.
---
Stable, free standing support;
Excellent floor grip;
Height adjustable.