Backcare Awareness Week – We look at the best back supports for back pain
1 Comment
Wednesday, 15 August 2012 |
Paul
Key product: Bauerfeind Sacroloc Back Support

Backcare Awareness Week aims to provide information and education to all people affected by back pain. Running from the 8th to the 12th October 2012, Back Care Awareness Week this year is focusing on the problems encountered by builders and the stresses and strains placed upon their backs. It is reported that the building industry has the highest rate of back related injuries. We will look at the best back supports and lumbar roll cushions designed for relieving back pain and helping to improve posture.
Back pain is extremely common and is likely to affect most people at some point in their lives. Back injuries can be caused by a number of activities, particularly heavy lifting which can lead to long term damage to the back. Sitting incorrectly, poor posture and bending can also cause back pain and injury. In working environments such as warehouses and factories the importance of lifting items correctly is regularly emphasised. However it is day to day tasks such as carrying shopping or lifting children where the care needs to be taken.
For lower back pain, lumbar pain and sciatica the Serola Sacroiliac Back Support Belt is one the most highly rated sacroiliac supports available. The Serola Back Support works by compressing and supporting the sacroiliac joints and thus relieving stress and instability. The Serola Belt can also be used as a prophylactic back support belt as it provides support to the base of the spine, minimising the risk of injury. The Bauerfeind Sacro Loc Back Support has also been designed to relieve the stress on the pelvic and sacroiliac joints. Bauerfeind are widely regarded as one of the leading manufacturers of sport supports and braces and provide excellent support, comfort and breathability.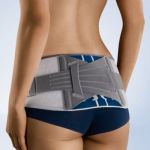 The Bauerfeind Sacro Loc Back Support

For helping to prevent and treating back injuries caused by lifting, the Elastic Industrial Lumbar Support has been designed to be worn where manual lifting is required. The Elastic Industrial Lumbar Support is a lightweight back support featuring adjustable shoulder straps making it comfortable to wear during manual handling. The Thoraco Lumbar Support is ideal for use for those suffering with muscular back injuries that require all round support. To help maintain posture the Thorco Lumbar Back Support features elastic crossover straps to assist with maintaining posture.
The Harley Correcting Shoulder Support has been designed to help relive upper back pain and correct round shoulders. Suitable for men and women, the Harley Correcting Shoulder Support fits discreetly under clothing. This posture correcting support provides gentle and stable support to the shoulders and upper back whilst stabilising the hip, pelvis and spine. Another excellent item to help treat back pain and poor posture is the Original McKenzie Super Lumbar Roll. This McKenzie Super Lumbar Roll has been designed by world-renowned physiotherapist Robin McKenzie. The McKenzie Super Lumbar Roll is ideal for office chairs and its curved shape contours comfortable around the body.