Avoid Slipping and Falling on Ice
Monday, 16 October 2017 | Paul
You may think there's nothing to worry about, and you might even giggle when your mate goes down, but the truth is that there is nothing funny about slipping and falling on ice. It can lead to serious injuries that can take ages to heal. So don't let yourself become another statistic and do what it takes to avoid ice-related injuries.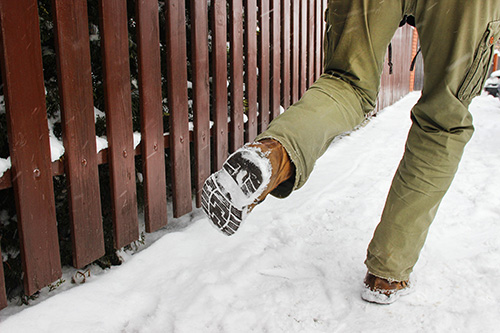 Who Is Most at Risk?
While people over the age of 65 are most prone to falls, slipping and falling on ice can happen to every one of us. Most falls on ice occur due to one of the following reasons:
Inappropriate footwear that doesn't have a good grip
Carrying bulky items and being careless
Hurrying and even running on ice

What Can I Do to Prevent a Fall?
Staying in and cuddling in front of a fire would prevent most ice-related injuries, but since most of us need to go out even in icy conditions, being careful and paying attention to our surroundings can help avoid most unfortunate incidents.
These are our top ten tips for avoiding a fall:
Wear appropriate shoes with a good grip
Walk slowly and deliberately
Take small steps to keep your centre balance under you
Keep both hands out of your pockets and free for balance
Avoid carrying heavy loads
Always be aware of potential icy areas
Use handrails wherever you can
Plan your journey ahead and give yourself extra time
Pay special attention when getting in and out of vehicles
Use Nordic walking poles (or similar) if you have them
Most Common Ice-Related Injuries
In spite of our best intentions, sometimes slips and falls still happen. While most falls end in bruised egos, certain accidents can lead to a range of conditions. These injuries can vary in severity, but most usually fall into one of the following categories.
Muscle Sprains and Ligament Strains
Sprains and strains, also known as pulled or torn muscles, are the most common type of injury following a fall. They occur when muscle tissues are stretched too far and usually affect either the ankle, the lower back, the hamstring muscle or the wrist.
Fortunately, sprains and strains more often than not leave no permanent damage and can easily be treated by immobilising the affected joint and allowing the tendons to heal and recover. The best way to stabilise a joint is with the help of a high-quality brace or support.
We recommend the Vulkan AE Advanced Elastic Wrist Support for immobilising your wrist, and the Air-Gel Ankle Brace for your ankle. If you have strained your hamstring muscle, try the Neo G Thigh & Hamstring Support.
Herniated Discs
A herniated disc, also called a ruptured or slipped disc, usually affects the lower back and causes significant pain. This type of injury is not as common as a sprain or a strain, and people often mistake muscle and ligament strains in the lower back area for herniated discs.
Compression Fractures
While rare among most people who slip and fall, compression fractures are frequent among seniors, especially those who suffer from osteoporosis. They occur to the vertebrae and are extremely painful, so make sure you always lend a helping hand to your elderly relatives during periods of cold weather.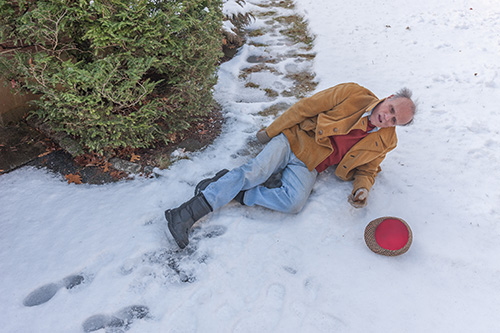 Have you ever slipped and fell on ice before? Share your thoughts below or find us on Facebook and Twitter.
Shop Related Products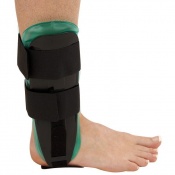 Suitable for strans, sprains and instabilty
Medial and lateral supports allow normal dorsiflexion
Air and gel bags work to reduce swelling
Fits left and right ankles for maximum versatility
---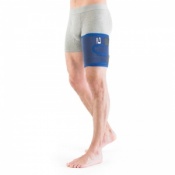 Ideal for quad and hamstring strains.

Adjustable thigh and hamstring support allowing variable compression.

Enables you to customise the level of support.

Ensures good blood flow to the thigh and hamstring.
---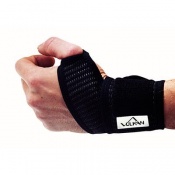 Can be worn under clothing for daily protection and injury prevention
Retains heat to speed up healing of sprains and strains
Relieves pain and discomfort following a wrist injury
Provides wrist support while playing sports