Avoid Ski Injuries with a Ski Knee Brace
Wednesday, 3 January 2018 | Paul
Skiing is a fun and freeing activity, but it can be dangerous if you don't take sufficient care. Knee injuries account for around a third of all skiing injuries, so it's important that you get the protection you need to reduce the likelihood that you'll sustain this type of injury. At Health and Care, we have a range of knee braces that have been designed specifically for skiers to prevent the typical injuries that are caused by the hobby.
But how can a knee brace help you, and what do you need to have to use one? Find out all about this handy gadget by reading our blog.
Skiing with Bad Knees
If you've already had a taste of skiing, it might be difficult to stop performing the activity even when your knees start playing up. Well, often you don't have to, though you should always ask your doctor first. If it's okay for you to ski, using a knee brace is often enough to stabilise your knee and ensure it won't move in uncomfortable positions.
Braces like the Donjoy Armor Professional Knee Brace with Fourcepoint have been designed to protect the area if you suffer from a moderate-to-severe ACL or hyperextension injury. The brace delivers incredible strength and protection, allowing you to go all out when you ski.
How Can a Knee Brace for Skiing Help Me?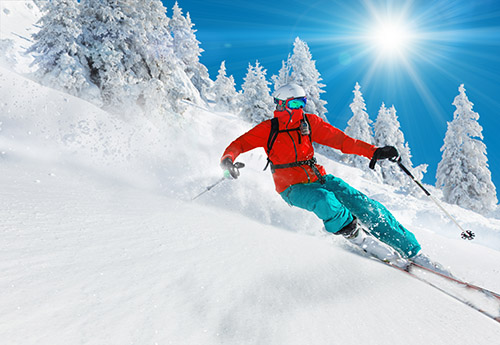 The thrill of skiing has a lot to do with the exhilaration that is caused by careering down a mountain at high speed. As such, falling over often comes with the territory of the sport. As knees injuries make up a third of skiing mishaps, protecting the area even before you get injured can work wonders in preventing you from having to miss out on key slope time.
Our range of Ski Supports and Braces for the Knee have been specifically designed for exactly this purpose. Whether you're looking for light protection or the full amount of support possible, we've got you covered. These braces have been designed so they're able to support you without impeding your movement, as this can be even more dangerous than not wearing a support at all! We have a range of flexible braces that provide you with protection without taking the fun out of the sport.
Knee Protection for Skiing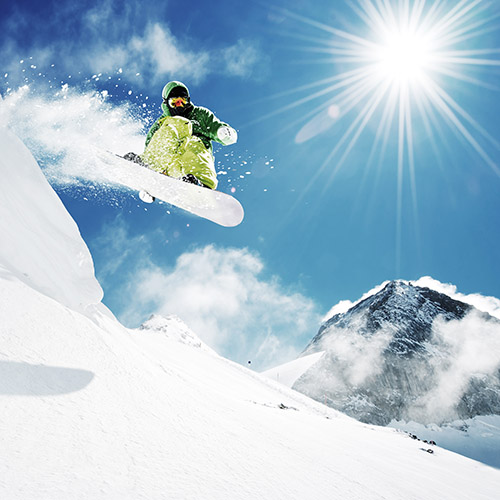 At Health and Care, we have the best knee braces for skiing. These supports have been created with care and attention to ensure you remain safe while you're on the slopes. So whether you're looking to prevent an injury or you want to protect the area following an injury, we have something for you.
How Can a Knee Brace Help Me While I Ski?
As well as their ability to prevent or protect injuries, a knee brace for skiing can have other, unusual benefits. This includes the following.
Feel More Confident
Feeling nervous while you ski is a sure-fire way of losing control and becoming injured. Using a knee brace following an injury can make you feel more confident, which is a necessary part of tackling your fears and embracing the rush. And even if you haven't suffered from a knee injury recently, a knee support can make you feel secure in the knowledge that you'll likely not suffer from an injury to the area.
Get Much-Needed Warmth
If you suffer from arthritis, any amount of warmth can help ease the pain in your joints. Wearing a knee brace that's made out of warm material can help trap the heat in. The perfect temperature to go skiing is around -6°C to -1°C, so any extra layers can help you stay warm.
Ski Knee Brace Reviews
Don't just trust us! Read our customer reviews on a range of different products in the Ski Supports and Braces for the Knee range. For example, our customer Allen gave the Neo G Hinged Knee Support with Open Knee Cap five stars and wrote that he wears the knee support daily while skiing. He said that it's "very comfortable to wear" and has "helped [him] ski with confidence."
How has a knee brace helped you? Let us know in the comments, or alternatively find us on Facebook or Twitter!
Shop Related Products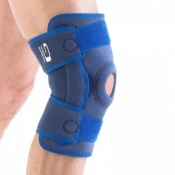 Ideal for mild cruciate ligament strains.
Adjustable hinged knee support allowing variable compression.
Enables you to customise the level of support.
Ensures good blood flow to the knee.
---
The ultimate ACL knee brace providing support to the knee joint
Ideal knee brace for skiing, high impact and contact sports
For severe ACL instabilities, reconstruction and deficiencies
Fourcepoint hinge provides added ACL support to improve your gait
---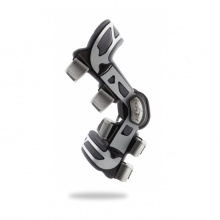 Lightweight unloader knee brace for relief of pain
Ideal for mild to moderate knee osteoarthritis (OA)
Comfortable fit to help you stay active and move freely
Offloads pressure to help the user avoid surgery