Anatomy of an Evacuation Sledge
Tuesday, 26 September 2017 | Eugene
Ensuring that your employees, customers or colleagues are safe is a crucial part of running any business, and to properly ensure their safety, you'll need the correct equipment. Fire extinguishers, smoke detectors and other common items are required by law, but for those with special needs, you may require the use of special gear. In most cases, especially in buildings that include stairs or other obstacles, an Emergency Evacuation Sledge is a must.
These sledges are available from Health and Care in a number of packages for businesses, with free UK delivery on all orders. Once you've installed your sledge though, you and those around you will need to know how to properly use it. While we offer access to a range of training courses on both evacuation sledges and chairs, some prior knowledge is always beneficial.
Guide to the Anatomy of Your Evacuation Sledge
That's why we've compiled a handy guide to get to know your Evacuation Sledge, with some tips and insight into what each part of your sledge does, and why it's there. Without any further ado, let's get started.
Storing Your Sledge
With any luck, the only way you'll ever see your Evacuation Sledge in your business or building is in storage on the wall. The entire package is compactly secured within a red pouch, which is conveniently designed to hang on a wall without taking up too much space. This allows for easy deployment at a moment's notice, and makes it simple to keep a number of sledges around your premises at strategic points.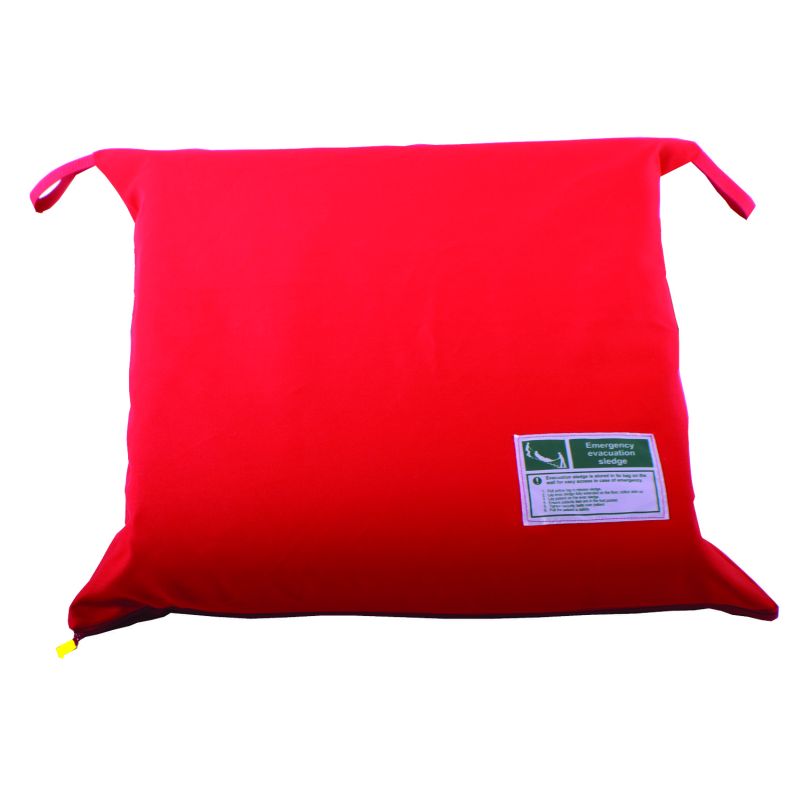 Emergency Evacuation Sledge packed in red pouch
Dual Inner Foam Protection
Since the most important part of any emergency evacuation is the safety of the evacuated person, this sledge includes dual inner foam to protect from any impacts. This foam construction consists of a tough and more rigid lower layer, which is perfect for protecting your patient from any bumps or bruises that may occur while riding over rough surfaces like stairs, doorways, carpets and concrete.
The inner layer is made of a softer foam, similar to what would be seen in the patient's normal bed or chair. Combined with the lower layer, this top layer makes the entire experience comfortable for the patient for a smooth and fully safe evacuation.
Safety Belts and Foot Pocket
Emergency evacuations must often be carried out very quickly, and will not always allow for a calm, comfortable carry. That's why the Evacuation Sledge features two safety straps, one to secure the chest of the patient, and the other to secure the upper leg area. These will prevent any unwanted turned or slipping of the patient during the more difficult manoeuvres, such as those that take place while turning corners or going down stairs.
To provide even more stability for the evacuee, a foot pocket is featured at the bottom of the sledge, keeping the legs in place during movement. Since the legs are often the most difficult part of the patient's body to keep secure during an evacuation, this foot pocket provides crucial protection that will save time and reduce obstacles to safety.
Strategic Pulling Loops
Depending on the size of the patient and the carrying capacity of the operators, this Evacuation Sledge will require between two to three people to operate. There are two pulling loops, one at the head end and one below the foot pocket. With controlled and careful movement, these loops will allow the two evacuators to safely navigate hallways, corners and other obstacles.
Stairs provide the most difficult obstacle in most evacuations, and require a slightly different technique. The pulling loop at the head end is specially designed to facilitate transfers down flights of stairs, with extra material to protect the head. When descending stairs, the evacuator at the head end must pull the loop upwards, allowing the head to be protected and the patient to be kept safe.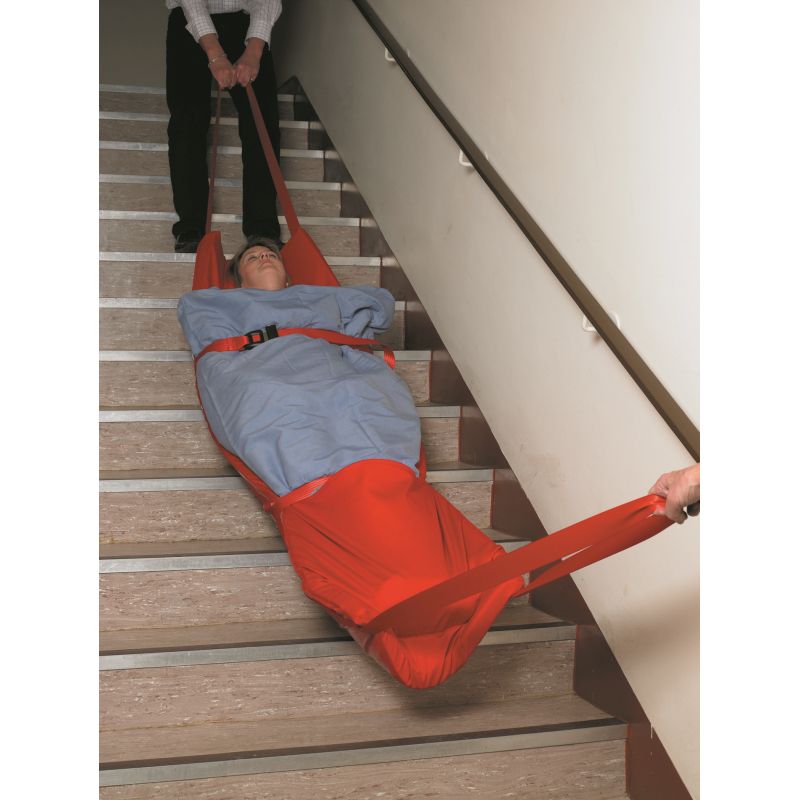 Emergency Evacuation Sledge in use descending a stairway
Tough and Slippery Bottom Surface
While this Evacuation Sledge is designed primarily for patient comfort and safety, in emergency situations efficiency and speed are always crucial. The bottom of the sledge is coated with a slippery material, allowing it to be easily pulled over obstacles quickly and with minimal effort. This slick surface is necessary for flooring and surfaces with rough textures, and is designed with extra-tough materials to avoid damage to the sledge during transfer.
Additional Evacuation Sledge Information
Dimensions (LxWxD): 2000 x 680 x 50mm
Foam thickness: 50mm
Maximum carry capacity: 170kg
CE Marked
Get in Touch for More Information
With this in-depth information, you have hopefully gained a more complete understanding of your Evacuation Sledge, and the way in which it will operate during an evacuation procedure in the event of an emergency.
If you have any additional questions regarding your Evacuation Sledge, please contact our Customer Care Team at 020 7720 2266, or contact us on Facebook and Twitter! If you have something else you'd like to add, why not tell us about it in the comments section below?